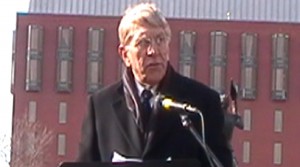 Barack the messiah has no crown / What did you say the national motto was Mr. President? / The tax compromise that isn't / Don't Ask, Don't Tell repeal stopped / Rauf's "religion of peace" followers prefer stoning / Demonstration supporting Iraqi Christians held near White House / US Ambassador visits known terror mosque in UK / Asia Bibi still faces death
NEW DECEMBER 2nd CHAIRMAN'S REPORT – The December 2nd edition of my Chairman's Report for the Religious Freedom Coalition contains new information on the Ground Zero promoters' demand for tax dollars and the continued persecution of Christians in the Middle East. NEW: You can now make comments at our new site!
PRESIDENCY
THE MESSIAH HAS NO CROWN – Just two years ago the mainstream media celebrated after raising Barack Obama to a godlike image and helping to elect him to the presidency. Whether doctor, preacher or president, no human can live up to the status of messiah for long. Now the liberal press has noticed that Obama's crown is missing and perhaps the robes are not purple enough. Members of Obama's own party are debating his electability in 2012 and the hard left is delivering him punishing blows. The tax rate deal Obama struck with Republicans has turned his purple robe into a red cape in the eyes of many Democrats.
AND THE NATIONAL MOTTO IS? – Does the president of the United States know what the national motto is, or is he so self-centered on his leftist ideology that he does not care what it is? Members of Congress would like to know. Congressman J. Randy Forbes (R-VA), and 42 other Members of the Congressional Prayer Caucus, today sent a letter to President Barack Obama asking him to issue a correction to his speech in Jakarta, Indonesia, in which he referred to the national motto as being "E Pluribus unum." Forbes said, "For the President of the United States to incorrectly state something as foundational as our national motto in another country is unacceptable. The President is the primary representative of our nation to the world, and whether mistake or intention, his actions cast aside an integral part of American society." Full text of letter to the President.
THE CONGRESS
THE COMPROMISE IS NOT – Just two years ago San Francisco radical Nancy Pelosi was leading House Democrats in a love fest for then President-elect Barack Obama. Some thought she would try to change the Constitution to declare him "president for life" ala Hugo Chavez. How times have changed! Now Pelosi is leading the charge to fight what she sees as Barack Obaba's sell out of the left's desire to redistribute wealth. She and other Democrats are livid that Obama has agreed to extend the current tax rate rather than raise taxes on those who work hard and have good incomes. Both Pelosi and Harry Reid are holding hostage the entire nation with the threat that tax rates will increase for all Americans in just a few weeks.
CULTURE AND RELIGION
DON'T ASK, DON'T TELL – Much to the dismay of President Barack Obama and Admiral Mullen, the Chairman of the Joint Chiefs of Staff, Senate Republicans have blocked the repeal of "Don't ask, don't tell." This means the rule which blocks open homosexuals from serving in the military will stay in effect. While Mullen supported the repeal, most of the generals did not. In a survey, most of those in non-combat roles appeared not to care one way or another, but that was not true of front line troops. There is a big difference between sitting next to a homosexual operating a computer in an office and having one in a foxhole sharing the hole in the ground used for a toilet.
CHRISTIAN ORNAMENTS FOR CHRISTMAS? What a novel idea … An entire Christmas store focused on Christ instead of on "Black Friday." Our Christian Internet store carries tens of thousands of items including foods, books, CDs, DVD's, and much more. Please visit our Christmas store!
NO 911 MOSQUE!
RAUF'S RELIGION OF PEACE – Slum landlord and Muslim spiritual leader Feisal Rauf recently told the Associated Press that the "tumult" of last summer is over and he is ready to build even more Islamic Centers in the United States and other countries to show how peaceful Islam is. Meanwhile, a new Pew Poll shows the majority of Muslims support the death penalty for anyone leaving Islam. In a new poll by Pew, a majority of Muslims in many of the world's Islamic countries say they are very much in favor of killing any person who converts from Islam to any other religion. The poll also found that a majority in the Muslim faith favor cutting off hands for theft and stoning people to death for adultery. The overwhelming majority of Muslims also want Islam to play a major role government.
NO 911 MOSQUE – Visit the RFC site dedicated to the Ground Zero mosque controversy at www.no911mosque.org
WWW.NO911MOSQUE.ORG Updated story on tax dollars for the mosque!
INTERNATIONAL
DEMONSTRATION SUPPORTING IRAQI CHRISTIANS – On Saturday, December 4th, 2010 a number of organizations held a demonstration in Lafayette Park across the street from the White House to call attention to the continued persecution of Christians and other religious minorities in Iraq. As chairman of the Religious Freedom Coalition, I was one of the speakers at the event. My comments are now available at Youtube.com
US AMBASSADOR TO TERROR – U.S. ambassador to the UK, Louis B. Susman, visited the East London Mosque (ELM), ELM, to express his "great admiration" and to further state that he was "looking forward" to a dialogue with mosque leaders. The East London Mosque has hosted speakers such as Anwar al-Awlaki, who is the leader of al-Qaida in the Arabian Peninsula and who is also on a US terrorist hit list. In addition, the leader of terror group Jamaat-e-Islami Bangladesh, and numerous other radical jihadists have spoken there. When the Susman visit to ELM was exposed by the press, the State Department defended him in an official statement saying that his visit there was, "part of President Obama's call for a renewed dialogue with Muslim communities around the world." Read more
ASIA BIBI – Asia Bibi, A Christian woman in Pakistan, is still slated to be executed for insulting the Koran. She has been jailed for 15 months and has never been able to testify on her own behalf. Her execution is based on the accusation of a Muslim neighbor who was in a dispute with her. Meanwhile, the Center for Legal Aid, Assistance and Settlement (CLAAS), is appealing to the Pakistani government to pardon Bibi. (A court has ordered Pakistan's president not to pardon her, as he had tried to do.) CLASS also is demanding the end to blasphemy laws that allow the arrest of Christians, often on the word of only one Muslim. Read more at Pakistan Christian Post
JEWISH SHARKS ATTACK ARABS?- The story goes that two Arab soccer teams got into a brawl and it was determined that Jews a thousand miles away started the fight. So, who gets blamed when sharks attack Arabs swimming in the Red Sea? You guessed it, the Jews. An Egyptian government official is claiming that Israel's Mossad has sent trained sharks to attack its beaches. Perhaps Secretary of State Hillary Clinton could urge a construction freeze of Jewish homes in Jerusalem until an agreement over shark territories is settled between Israel and Egypt … OH NO … I'm starting to sound like I work at the State Department.
CHRISTIAN INTERNET STORE
CHRISTMAS AT OUR STORE – We have lots of great stuff for Christmas at our Internet store. Not only are there books and CD's, but everything from candy to jewelry and all of it has a Christian theme. Unlike Amazon and other major Internet stores we do not sell porn and satanic materials right beside Christian books. Ours is a real Christian store with tens of thousands of items. Please take a look. The store is located at www.rfcstore.com
https://religiousfreedomcoalition.org/wp-content/uploads/2010/12/WJM101204-300x1671.jpg
167
300
Air Spark
https://religiousfreedomcoalition.org/wp-content/uploads/2020/03/RFCFinal.jpg
Air Spark
2010-12-10 15:53:04
2010-12-10 15:53:04
December 10, 2010 - Washington, DC