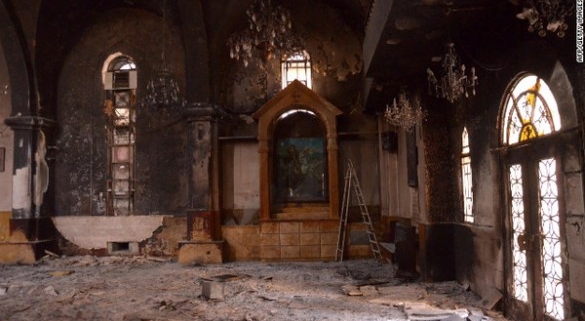 Senators John McCain (R-AZ), Lindsey Graham (R-SC), Obama and others have portrayed the Free Syrian Army as "moderates" that should be funded and trained by the U.S. to overthrow the government of Bashar Assad.
RFC, as well as Senator Rand Paul (R-KY) have been warning for years that the Free Syrian Army is not our friend and that we should not be providing any assistance to them.
A recent report confirms our claims. According to Almasdarnews.com:
Reports from the resort-city of Al-Zabadani have confirmed that the western-backed "Free Syrian Army" (FSA) is currently fighting alongside two terrorist groups, the Syrian Al-Qaeda group "Jabhat Al-Nusra" and the Islamic State of Iraq and Al-Sham (ISIS), as the Syrian Arab Army's 63rd Brigade of the 4th Mechanized Division and Hezbollah continue their offensive on the Syrian-Lebanese border.
For almost a year, the FSA, ISIS and Jabhat  Al-Nusra have been deeply entrenched in the vast Qalamoun and Western Mountains of Lebanon and Syria, while they attempted to maintain their strategic supply routes from the 'Arsal District of the Beqa'a Governorate (Lebanon) amid relentless airstrikes from the Syrian Arab Air Force (SAAF).
However, the Syrian Armed Forces and Hezbollah began a long-awaited offensive in the Qalamoun Mountains of Syria and Lebanon in April of this year, capturing over 250 square kilometers of territory from the FSA, Jabhat Al-Nusra, and ISIS after 46 days of non-stop fighting along the Syrian-Lebanese border; this offensive paved the way for the eventual assault on Al-Zabadani.
The humanitarian tragedy taking place in Syria and Iraq is a direct result of the policies of the Obama Administration with the foolish support of men like John McCain and Lindsey Graham. This idiocy must stop.
Additional Reading: Free Syrian Army articles, Religious Freedom Coalition.
Support the work of the Religious Freedom Coalition in providing meals for Syrian Christian refugee children this Christmas. Learn more about our refugee ministry and Donate today!
https://religiousfreedomcoalition.org/wp-content/uploads/2015/01/Allepo-Church-destroyed-by-FSA.jpg
330
585
Air Spark
https://religiousfreedomcoalition.org/wp-content/uploads/2020/03/RFCFinal.jpg
Air Spark
2015-07-13 10:05:53
2015-07-13 10:05:53
Free Syrian Army Fights Alongside ISIS & Other Terrorist Groups