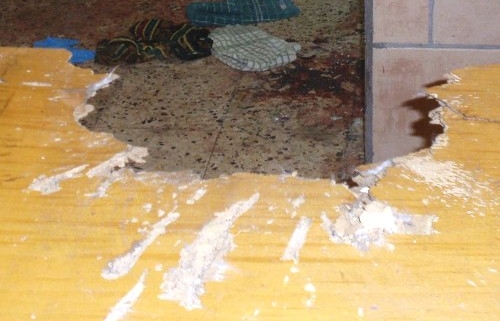 Editor's Note: I had stayed numerous times at the apartment of David and Leah Ortiz before the 2018 bombing that nearly killed Amiel. The Religious Freedom Coalition has supported the mission of the Ortiz family for nearly two decades. In December, my wife and I once again stayed in the apartment which was bombed by Teital knowing full well we had the protection of the Lord. Ami was in the hospital for nearly a full year and nearly ten years later still requires some surgery. Yet he has forgiven Teitel and prays for his Salvation.
The Jewish terrorist convicted of nearly killing a Messianic teen with a pipe bomb disguised as a Purim gift is requesting a leave of prison to attend his newborn son's circumcision (brit milah) on Saturday.
Yaakov (Jack) Teitel is currently serving two life sentences for murdering two Palestinians as well as planting a bomb at the home of David and Leah Ortiz on March 20, 2008. They weren't home at the time, but their 15-year-old son, Amiel, opened the box which was wrapped as a holiday gift . The bomb nearly killed the teen, severed two of his toes, damaged his hearing, subjected him to multiple operations and left him fighting for his life.
[su_button url="https://diapersforrefugees.org/helping-christian-refugees/#DonateLanding"]A gift of just $11.00 provides 100 diapers to a Christian refugee mother in Iraq[/su_button]
"We pray that God would use all this so (Teitel) would know him," David Ortiz told KNI responding to the news of the convict's furlough request. "We're thinking more of his salvation at this point more than anything else, that, at the end, salvation would come to his house."
The Ortiz family, even Amiel, have adopted a posture of forgiveness and refuse to seek any form of revenge on Teitel or his family. Read more
https://religiousfreedomcoalition.org/wp-content/uploads/2018/01/OrtizTable2.jpg
433
500
Air Spark
https://religiousfreedomcoalition.org/wp-content/uploads/2020/03/RFCFinal.jpg
Air Spark
2018-01-10 10:17:03
2018-01-10 10:17:03
Jewish terrorist who nearly killed Messianic boy seeks prison furlough