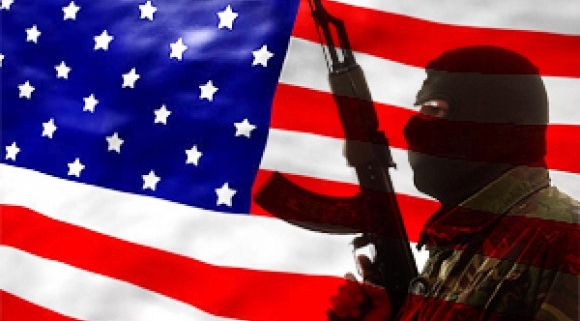 Editor: William J. Murray
Join me in a fact finding mission to Israel – A once in a lifetime mission led by William J. Murray, William Federer and Frank Gaffney, all three experts on Israel and Islamic affairs. Not a standard "tour," the mission includes visits to settlements and military bases plus evening panels.
Read more

In this issue: Obama forgets kidnapped bishops / Obama's fantasies about Islam revealed / Huckabee says Obama will resign over Benghazi / Disgraced governor wins House seat / Congressman almost victim of abortion / Democrat says Senator Cruz not really Hispanic / General fights for religious freedom in military / Domestic servitude in Virginia / Converts from Islam may face death in Morocco / Germany's Muslim polygamy problem / Killing kids for Islam in Thailand / Saudi anti-terror grad kills "many' Christians in Syria
The Presidency


Obama forgets kidnapped Bishops? –
Obama's former ambassador to Syria illegally crossed the border from Turkey into Syria to "assist" Islamist fighters this week, but made no effort to release kidnapped Orthodox Christian bishops held by US supported Islamists just a few miles away.
Read more
Obama's fantasies about Islam revealed –
President Barack Obama is drawn to Islam as a doctrinaire leftist, as well as for sentimental reasons, reports Don Feder in this excellent sampling of the fantasies concerning Islam that Barack Obama has uttered publicly.
Read more
Obama owns Benghazi –
Mike Huckabee has predicted that the Benghazi scandal will eventually force Barack Obama to resign.
Read more
Congress


Disgraced former governor wins seat in Congress –
In a stunning special election, the former governor of South Carolina, who secretly left his state without a commander-in-chief for several days while he jetted away in a state owned plane for a hook-up with an Argentinian woman he had met online, has won a special election for a vacant House seat.
Read more
Congressman was almost victim of abortion –
Representative Marlin Stutzman (R-IN) recently learned that his then 17-year-old mother nearly aborted him in 1975, when after her house burned she was homeless and alone. A stunning story.
Read more
Majority Leader Cantor has commended those who have worked in Congress to expose the House of Horrors abortion clinic run by Kermit Gosnell in Philadelphia.
Read more
Republican Hispanics are not really Hispanic? –
Former Democrat Governor Bill Richardson (an Hispanic despite his name), suggested that because Texas Senator Ted Cruz doesn't support blanket amnesty for illegal aliens, that he's not truly Hispanic.
Read more
No tax dollars for jihadists –
The Religious Freedom Coalition has begun an online petition asking congressmen to speak out against any funding, military or otherwise, to jihadists anywhere in the world. The petition comes at a time the Obama Administration is furnishing help from the CIA, as well as cash and "humanitarian" aid, to jihadists fighting the secular government of Syria. Provide your name and zip code, and a copy of the petition will be faxed to your congressman free of charge.
See petition here
.
Religion and Culture


Retired General fights for religious freedom in military –
Retired Lt. General William Boykin is calling upon citizens to rally in defense of religious liberty within the U.S. Armed Forces. Boykin warns that there is a concerted effort to silence Christians and prevent them from sharing or openly practicing their faith in the military.
Read more
Domestic Servitude by Saudi diplomats –
Since the initial reports of two domestic slaves being rescued from a home owned by the Saudi government and located in McLean, Virginia, the State Department and the Saudis have been silent. Neither the Saudi Ambassador nor the State Department would reveal the names of the Saudi officials living in the home; however, local records indicate that the most probable resident may be the Saudi Embassy defense attaché, Brig. Gen. Amin Muhammad Shaker.
Read more
Teach your children our country's Christian heritage –
Do your children and grandchildren know the role Christian faith played in the founding of our country? Most public schools today teach a politically correct version of American history, a version even most adults over thirty would not recognize. To help youngsters understand the true story of America, my good friend Governor Mike Huckabee and his team at Learn Our History have created a series of animated DVD's. You can get a sample DVD called One Nation under God
free of charge
.
International


Morocco: Death for converts could become law –
Converts from Islam are unsettled by calls for execution of those who leave Islam. A Moroccan fatwa calling for the execution of those who leave Islam has left many Christian converts in turmoil, as the formally "moderate" nation slips into being another Islamist state.
Read more
Israel: Are Saudis helping — or fighting — Israel? –
The Saudi government condemned airstrikes by Israel in Syria, but then it was announced that the Saudi and Israeli governments plan to work together, sharing secret anti-ballistic missile technology.
Read more
Germany: Paying for Muslim polygamy –
In an amazing expose on German television (English subtitles) the explosion of polygamy in Germany is exposed. Because of the generous German welfare system, even an unemployed Muslim man can afford more than one wife.
Read more
Thailand: Killing kids for Islam –
Killing a Buddhist three-year-old is just as much fun for Islamists as killing Christians and Jews. Some brave Muslims attacked unarmed people in a grocery store in Thailand, killing six including a toddler just starting out his life.
Read more
Saudi anti-terror school grad kills Christians –
In this bizarre story a "former" jihadist who graduated from a Saudi school designed to "cleanse" radicals of terrorist thought, was "martyred" in Syria after killing "a large number of Christians"
Read more
More from the Religious Freedom Coalition


New Chairman's Report –
Now available, the May 2nd, 2013 edition of the Religious Freedom Coalition. This edition includes: New campaign to expose Saudi evil / Congressman investigates Saudi arrests of Ethiopian Christians / A humble and righteous congressman revealed / Details of kidnapped Bishops and the fight to release them –
READ IT HERE
My Life Without God –
William J. Murray's first book, My Life Without God, is now back in print, as 2013 marks the 30th anniversary of his atheist mother's lawsuit to remove prayer from the schools. Murray writes of his life in the dysfunctional home of infamous atheist/Marxist leader Madalyn Murray O'Hair.
Learn more
Christian Bookstore and more –
books, CD's, DVD's, cards and much more available at the Religious Freedom Coalition Internet Store.
Please visit today
!
https://religiousfreedomcoalition.org/wp-content/uploads/2013/05/USflagterror.jpg
435
580
Air Spark
https://religiousfreedomcoalition.org/wp-content/uploads/2020/03/RFCFinal.jpg
Air Spark
2013-05-10 16:17:21
2013-05-10 16:17:21
Report From Washington - May 10, 2013