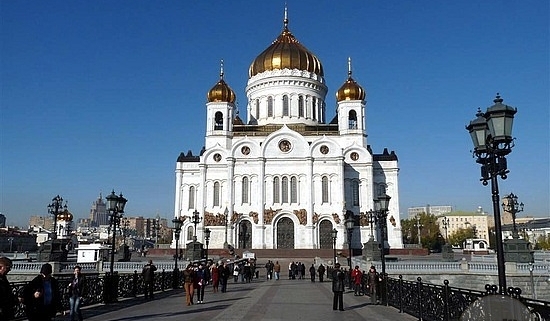 William Murray to speak at World Russia Forum 2014
Advancing a Constructive Agenda for U.S. – Russia Relations to be held September 8 – 9, 2014 in Moscow, Russia 
The current state of U.S. – Russia relations is coming to resemble the confrontational Cold War era. This is extremely harmful to both nations and underscores the urgency for a more proactive diplomacy to reestablish mutual security through political, commercial, scientific, educational, and cultural cooperation.
The World Russia Forum will be held at the President Arbat Hotel in Moscow, Plotnikov Pereulok 12, and will feature many insightful panels with the leading American and Russian experts including former congressmen such as Dana Rohrarbacher and Curt Weldon. Various subjects will be covered from economics to religion. Religious Freedom Coalition chairman William J. Murray will speak on the need for cooperation between the United States and Russia in protecting the persecuted Christian communities in the Middle East.
While in Moscow William Murray will also speak on the same subject at a conference held by social conservative organizations from Russia and Europe to be held in Moscow the same week. When Russia was still a part of the Soviet Union William Murray operated tours for evangelicals to Moscow and other cities to preach the Gospel and pass out Bibles at evangelistic events. He was in Moscow at the time of the first coup the same year the Soviet Empire collapsed.
Here is the schedule and preliminary list of speakers in alphabetical order:
Monday, September 8 
President Arbat Hotel, Plotnikov Pereulok 12
10.00 AM – 1.00 PM – Two panels on US – Russia business cooperation (including possible effects of sanctions)
1.00 – 2.30 PM Lunch
2.30 – 5.30 PM Two panels on US – Russia relations (mainly political and security issues)
6.00 – 8.00 PM Reception
Tuesday, September 9 at the Moscow State University
11.00 AM – 1.00 PM :
US – Russia Educational Cooperation
1.00 – 2.30 PM Lunch
2.30 – 4.30 PM General Discussion on the more proactive public diplomacy to advance US – Russia cooperation, including the establishment of a permanent structure similar to the old Committee for East – West Accord.
Elena Branson – President, Russian Center in New York
Mikhail Delyagin – Director, Institute for Globalization
Marshall DeRosa – Professor, Florida Atlantic University
Gilbert Doctorow – Founder, European Committee for East – West Accord
Brian Hanley – Professor, University of California
Gerard Janco – President, Eurasia Center
Victor Kremenyuk – Deputy Director, Institute of USA & Canada, Russian Academy of Sciences
Todd Lefko –President, International Business Development Council
Robert Legvold – Professor, Columbia University
Edward Lozansky – President, American University in Moscow
Sergei Markov – Director, Institute of Policy Studies
Daniel McAdams – Executive Director, Ron Paul Institute
Raymond McGovern – Co-Founder, Veteran Intelligence Professionals for Sanity
Sergei Mironov – Head of the "Just Russia" party
George Muradov – General Secretary, Russian Association for International Cooperation
William Murray – Chairman, Religious Freedom Coalition
Sergei Myasoedov – Vice-Rector, Presidential Academy of Economy
Igor Okunev – Vice-Dean, Moscow State University for International Relations (MGIMO)
Nicolai Petro – Professor, University of Rhode Island, Fulbright Scholar in Ukraine
Alexis Rodzianko – President, US – Russia Chamber of Commerce
Dana Rohrarbacher – U.S. Congressman (R-CA)
Vladimir Rybachenkov –Senior Fellow, Center for Arms Control Studies
Boris Shiriaev – Chair, Department of North American Studies,St. Petersburg State University
Martin Sieff – Chief Global Analyst and columnist for the Globalist and Post-Examiner
David Speedy – Director, U.S. Global Engagement Program, Carnegie Council for Ethics
Sergei Stepashin – President,Russian Association for International Cooperation, former Prime Minister of the Russian Federation
Michael Stopford – Former NATO Deputy Assistant Secretary General for Strategic Communications
Andrei Sushentsov – Professor, MGIMO
Curt Weldon – former U.S. Congressman
https://religiousfreedomcoalition.org/wp-content/uploads/2014/08/cathedral-of-christ-the-saviour-moscow.jpg
367
550
Air Spark
https://religiousfreedomcoalition.org/wp-content/uploads/2020/03/RFCFinal.jpg
Air Spark
2014-08-01 10:22:53
2014-08-01 10:22:53
Religious Freedom Coalition chairman to speak at Moscow conference