Why so many? Why is there such a horrific need for adult special needs diapers in Iraq?
One of the reasons for the need is physical injuries suffered during 18 years of continuous war in Iraq.
I have previously I told the story of Intesar (38), a paralyzed mother of two who receives adult diapers from our Diapers for Refugees program. She was paralyzed when hit by crossfire between American troops and Islamic State terrorists.
But cases like hers do not explain the large number of young people born with neurological disorders and other issues the last 10 to 15 years that cause them to need diapers the rest of their lives.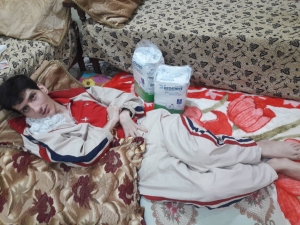 I am beginning to understand the cause and it is not going to go away.
Many of those born with neurological problems have high levels of uranium and thorium in their bodies. Some close to American bases have radiation levels in their teeth 28 times greater than normal. A lot of the ammunition we used in Iraq, Syria and Afghanistan was made out of depleted uranium.
"Depleted" sounds safe, but there is no such thing as uranium that is not radioactive. Even the raw ore coming from the ground is radioactive.
But there is a bigger issue. Chemically, uranium causes the same problems that lead does.
Uranium mines are not safe and mining companies take steps to protect workers. Safeguards are mandated by the Federal government. The state of Virginia has the largest reserves of uranium in the nation and will not allow mining because of the dangers.
A mining association report says that uranium ore "…has chemical toxicity similar to lead, so occupational hygiene precautions are taken similar to those in a lead smelter."
In other words, the uranium can cause the same neurological damage as lead even if it was not radioactive, which it is. Yes, it is a small amount of radiation. The problem is the length of exposure. Children near American bases and in areas where there was heavy combat are showing the signs of neurological damage.
I am not judging the kind of ammunition our military forces use in Iraq or elsewhere. I am no expert on what is effective. All I know is that we need a lot more diapers for special needs children.
In the middle of preparations for the Christmas for Refugees program I can't work on the special needs' diapers program … but I promise you I will beginning in January. This problem is not going to go away.
There are many elderly who did not receive proper medical care during the last two decades who now require diapers. There are many middle-age and young who were injured in bombings and shot by the Islamic State. Then there are the younger ones that break my heart because they will never have normal lives.
The suffering of these younger Iraqi Christians is not abstract for me. My wife Nancy and I have been in their homes. We have prayed with them and we have promised them help. I intend, with the help of the Lord, to keep my promise to them.
https://religiousfreedomcoalition.org/wp-content/uploads/2019/10/60696229_2240626776045599_8073946094460993536_n.jpg
1161
1548
Claire Marlowe
https://religiousfreedomcoalition.org/wp-content/uploads/2020/03/RFCFinal.jpg
Claire Marlowe
2019-10-02 09:19:33
2019-10-02 09:19:36
Shocking Need in Iraq For Special Needs Diapers Even For Young People