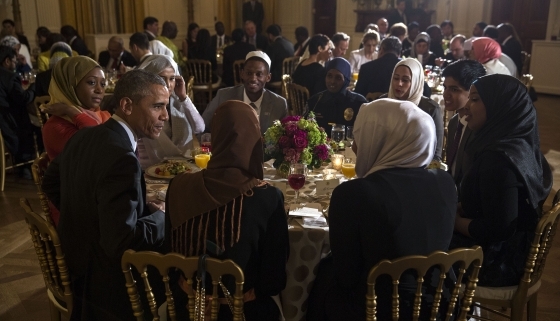 William J. Murray, Chairman of the Religious Freedom Coalition, exposes the Obama bias for Islam
On June 22nd President Barack Obama hosted an Iftar dinner celebrating the beginning of Ramadan at the White House. His speech at the dinner was reported on by virtually none of the news media, perhaps because it exposed his bias in favor of Islam. In it he inferred that Muslims were misunderstood and persecuted in the United States.
One paragraph of his speech, in which he talks about a particular murder case, stands out because it is a flat out lie.
"When our values are threatened, we come together as one nation.  When three young Muslim Americans were brutally murdered in Chapel Hill earlier this year, Americans of all faiths rallied around that community.  And obviously, tonight, our prayers remain with Charleston and Mother Emanuel church.  As Americans, we insist that nobody should be targeted because of who they are, or what they look like, who they love, how they worship.  We stand united against these hateful acts." (White House)
The killings at Chapel Hill occurred because of a long simmering parking place dispute in their neighborhood and had nothing to do with the victims' religion. The killer was a radical atheist who hated Christians, Jews and Hindus equally with Muslims. Then, in a shameless act Obama attempted to tie the killing of the Muslims over a parking lot dispute with the murders of African-Americans in a Charleston church by a young white man who became infuriated after his girlfriend dumped him for a black man.
Obama then seems to slip up on several occasions and identify personally with the Islamic faith, once referring to "our Iftar dinner" and once again while following the line that Muslims are persecuted in the United States:
"Our Iftar is also a reminder of the freedoms that bind us together as Americans, including the freedom of religion — that inviolable right to practice our faiths freely.  That's what Samantha Elauf represents.  She was determined to defend the right to wear a hijab and to have the same opportunities as everybody else.  She went all the way to the Supreme Court — which I didn't do at her age. And she won. So, Samantha, we're very proud of you."
Obama then cites several other alleged acts of oppression against Muslims in the United States while ignoring that virtually all oppression and terror in the world today is perpetrated by Muslims. Toward the end of his speech he asks for prayers for the Muslims of Iraq, Syria and Gaza without mentioning the torment of Christians at the hands of Muslims in those same places.
"So tonight, we keep in our prayers those who are suffering around the world, including those marking Ramadan in areas of conflict and deprivation and hunger.  The people of Iraq and Syria as they push back on the barbarity of ISIL.  The people of Yemen and Libya, who are seeking an end to ongoing violence and instability.  Those fleeing war and hardship in boats across the Mediterranean.  The people of Gaza, still recovering from last year's conflict."
No mention here of the thousands of rockets fired into Israel or the tunnels that carried terrorists into Israel from Gaza. And when Christians were beheaded on a beach in Libya, Obama referred to them as "citizens of Egypt" refusing to admit they were killed because of their faith. Barack Obama's upbringing as a Muslim may cause him to live in an alternate reality.
[su_button url="http://www.Christmas4Refugees.org" desc="Please help refugee children have a real Christmas this year."]Help provide a Christmas meal for a Christian refugee child[/su_button]
The Obama Administration refuses to call the latest attack by a Muslim by its proper name, "terror". Once again an Islamic terror attack in the United States, the latest in Chattanooga, Tennessee killing five service members, may be classified "workplace violence." The FBI has stated there is no evidence the shooter was "radicalized" other than the fact he said he was going to kill people in the name of Islam. Unfortunately, President Obama could actually encourage more acts of Muslim terror by fabricating anti-Muslim incidents in the United States.
To celebrate the end of Ramadan President Obama made another statement on July 17th saying:
"As Muslim Americans celebrate Eid across America, the holiday is a reminder to every American of the importance of respecting those of all faiths and beliefs." (White House)
"Respecting those of all faiths and beliefs" does not include one of the greatest Ramadan body counts ever. According to TheReligionOfPeace.com this is the summary of Ramadan mayhem in 2015: Terror attacks 314 – Suicide bombings 63 – Dead that we know of 2,988 – Wounded 3,696.  All at the hands of Sunni Muslims. Obama in his statement also talked about "… an abundance of delectable foods and aromatic cuisines," but forgot to mention the smell of death. Obama and the Western media can color Islam lily white, but the stains of blood still show through.
(First posted at WesternJournalism.com)
William J. Murray is chairman of the Washington, DC based Religious Freedom Coalition and overseas the Christmas for Refugee program
https://religiousfreedomcoalition.org/wp-content/uploads/2015/08/Obama_iftar_dinner2015.jpg
373
560
Air Spark
https://religiousfreedomcoalition.org/wp-content/uploads/2020/03/RFCFinal.jpg
Air Spark
2015-08-03 10:47:18
2015-08-03 10:47:18
Ramadan at the White House and Obama's reality