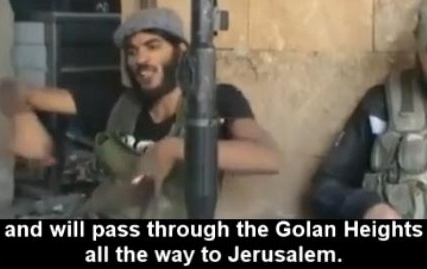 Editor: William J. Murray
In this issue: Obama created Syrian nightmare / Obama Army exposed for smearing Christian groups / Pro-gay agenda activist takes over Homeland Security / Senators demand response to persecution of Christians / Congressman wants abortion coverage disclosed / World Council of Churches ignores persecuted Christians / International Religious Freedom Day ignored? / In Yemen, Muslim father burns teen daughter to death / in Kenya, Muslims murder pastors / In Nigeria, Police in norther states enforce Sharia on Christians / In Syria, Christians turn to Russia for help
The Presidency

Obama created Syrian nightmare – Experts are referring to areas held by Obama's rebels as "the new cauldron for hatching terrorist strikes in the West." A bleak, well researched report in the Washington Times shows a hub of Islamic terror growing stronger every day in areas held by the forces supported by President Obama and Senator John McCain. Read more
Obama Army exposed for smearing Christian groups – Last week soldiers at Fort Hood, Texas were warned about giving money to evangelical groups or to Tea Party groups. They were told they could receive military punishment for doing so. This occurred on the same base where Nidal Hasan killed 13 soldiers and an unborn baby and wounded dozens more – and his actions were labeled "workplace violence" – even as he shouted praise to Allah. Read more
Pro-gay agenda activist takes over Homeland Security – President Obama has picked Department of Defense lawyer – Jeh Johnson – to run the massive Department of Homeland Security. In case Jeh Johnson's name isn't familiar to you, he's one of the primary architects behind the repeal of the ban on homosexuals serving openly in the U.S. Armed Forces. Read more
Congress
Senators demand response to persecution of Christians – In a letter to Secretary of State John Kerry, U.S. Senators Roy Blunt (MO), Bob Corker (TN.) and Lamar Alexander (TN) said recent reports of more frequent, targeted attacks against Coptic churches and individuals in Egypt "warrants a clear U.S. response." Read more
Congressman wants abortion coverage disclosed – Congressman Chris Smith (R) has more than 100 co-sponsors for H.R. 3279, the Abortion Insurance Full Disclosure Act. If passed into law it would force companies to disclose to those buying insurance if they were paying for coverage of abortions. Read more
Religion and Culture
World Council of Churches ignores persecuted Christians – Would the world, let alone Middle East Christians, be better off without the World Council of Churches (WCC)? Why has the WCC, which claims to represent and serve 345 denominations worldwide, done nothing to help the persecuted churches in Iraq, Syria and Egypt? Read more
International Religious Freedom Day ignored? – The issue of religious persecution around the world should be front and center for our government, but clearly it's not, under Obama. In fact, it has been Obama who has been one of the key political forces in creating more religious persecution around the world and in the United States since he took office. Read more
International
Yemen: Muslim father burns teen daughter to death – Only a month after an eight-year old girl from Yemen died on her wedding night after suffering massive internal injuries from her 40-year-old groom, a Yemini father has been arrested for burning his 15-year-old daughter to death because she committed the "crime" of talking to her fiance before their wedding. Read more
Kenya: Muslims murder pastors – Evangelical Christians are mourning the death of two pastors who were killed on Kenya's coast over the weekend amid concerns about growing pressure on devoted believers in the African nation. Read more
Nigeria: Police in northern states enforcing Sharia on Christians – As Christians in Nigeria continue to suffer violent attacks at the hands of Islamic extremists, they are also facing official opposition as the authorities enforce an Islamist agenda in a number of states. Read more
Syria: Disgusted by the West, Christians turning to Russia for help – It is very ironic that Russia, known for its history of atheism and persecution of Christians around the world, should now be looked to as the protector of Syrian Christians. This, while the Obama Administration and other western nations are openly supporting Islamic terrorists who are seeking to kill Christians in Syria and oust President Assad. Read more
SYRIA: A live news broadcast on Lebanese TV on terror attacks in Syria is interrupted when bombs planted by President Obama supported rebels explode in the background.
More from the Religious Freedom Coalition
New Chairman's Report – Now available, the edition of the Chairman's Report for the Religious Freedom Coalition. In this issue: The Religious Freedom Coalition exhibit at the Values Voter Summit exposed the evils of Saudi Arabia including the arrests and torture of Christian guest workers from Ethiopia. RFC Chairman William J Murray met with several Senators concerning the evils of the ruling Saudi royal family. See it here!
Follow us on Twitter @rfcnet
Christian Bookstore and more – books, CD's, DVD's, cards and much more available at the Religious Freedom Coalition Internet Store. Please visit today!
https://religiousfreedomcoalition.org/wp-content/uploads/2013/10/Syrian-Rebels-MEMRI.jpg
269
427
Air Spark
https://religiousfreedomcoalition.org/wp-content/uploads/2020/03/RFCFinal.jpg
Air Spark
2013-10-25 16:19:10
2013-10-25 16:19:10
Washington Report- October 25th, 2013