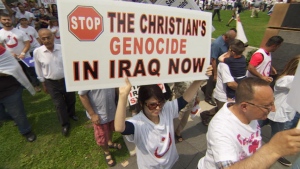 FOR IMMEDIATE RELEASE
June 9, 2017
USCIRF Commends House Passage of Genocide Accountability Act
Urges Senate Action
USCIRF declares that "the perpetrators of genocide must be held to account"
WASHINGTON, D.C. – The U.S. Commission on International Religious Freedom (USCIRF) commends the passage on June 6, 2017, in the U.S. House of Representatives, of H.R. 390, the Iraq and Syria Genocide Emergency Relief and Accountability Act.  H.R. 390 would promote accountability for atrocities committed by the Islamic State of Iraq and Syria (ISIS) and address the urgent humanitarian needs of persecuted religious and/or ethnic minorities targeted for genocide, crimes against humanity, and war crimes. The Commission urges that the Senate swiftly pass this bill.
"ISIS seeks to destroy the religious and ethnic makeup of Iraq and Syria by committing genocide against vulnerable minorities," said USCIRF Chair Thomas J. Reese, S.J. "We commend the House of Representatives, and the leadership of Rep. Chris Smith, for passing H.R. 390 and urge Senator Majority Leader Mitch McConnell and the Senate to act swiftly on this vital piece of legislation. The perpetrators of genocide must be held to account."
The situation is worsening daily for religious and ethnic minorities in Iraq and Syria. Key entities that sustain genocide survivors are running out of food, medicine, and shelter. USCIRF urges the Senate to expeditiously pass H.R. 390 so that those who are suffering will have addressed their humanitarian, stabilization, and recovery needs.
The U.S. Commission on International Religious Freedom is an independent, bipartisan U.S. federal government commission, the first of its kind in the world. USCIRF reviews the facts and circumstances of religious freedom violations and makes policy recommendations to the President, the Secretary of State, and Congress. USCIRF Commissioners are appointed by the President and the Congressional leadership of both political parties. To interview a Commissioner, please contact USCIRF at [email protected] or John D. Lawrence, Director of Communications ([email protected]/+1-202-786-0611)
https://religiousfreedomcoalition.org/wp-content/uploads/2014/08/iraqi-christians-genocide.jpg
169
300
Air Spark
https://religiousfreedomcoalition.org/wp-content/uploads/2020/03/RFCFinal.jpg
Air Spark
2017-06-13 15:44:09
2017-06-13 15:44:09
USCIRF Commends House Passage of Genocide Accountability Act Urges Senate Action