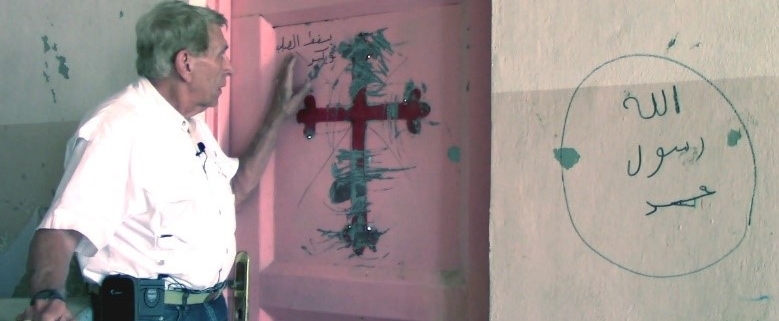 Scars of Islamic State still there: On June 20th I was with the team distributing diapers in Karemlesh which is near Qaraqosh. The first wedding since liberation of the town from the Islamic State was scheduled for June 24th. The marks of the Islamic State are still on the church.
On the ground floor the Sunday School rooms had blue doors for boys and pink for girls and each door was decorated with a Cross. The Crosses have been desecrated and the writing of the Islamic State is still there.
Video below shows Islamic State damage to church
In the photo at left I am pointing to Arabic that says "The Cross is broken and shall be buried." Next to the door, in the round circle that is the symbol of the Islamic State, it reads, "There is no god but Allah. Mohammad is the messenger of Allah." The rebuilding will take years, not only because of the destruction but the looting. Families, businesses and churches are starting over with zero material possessions. They have only their faith in Jesus to guide them.
[su_button url="https://diapersforrefugees.org/helping-christian-refugees/#DonateLanding"]Please help Christian refugee families[/su_button]
The Diapers for Refugees program has brought together Christians in the Nineveh Plain. The Catholic and Assyrian churches are working together with evangelicals to make sure every Christian family with a diaper-age child in need receives aid.
Pray the prices stay where they are: The Middle East is a very volatile place and volatility causes wide price swings. Right now, we can import diapers from Turkey for 3.7 cents each rather than buying them in Iraq for 11 cents each. I believe the Lord intervened in the pricing of the diapers. The exact way it came about, so that we were able to import the diapers directly, can only be described as miraculous.
There is still no way to wash cloth diapers because the well water has as much salt in it as the ocean. The filter systems now in place are barely adequate to provide drinking water for so many people. The Diapers for Refugees program helps prevent diaper rash that can cause severe damage to a baby. Please pray we can meet the need through 2018.    
https://religiousfreedomcoalition.org/wp-content/uploads/2018/07/Karemlesh.jpg
427
779
Air Spark
https://religiousfreedomcoalition.org/wp-content/uploads/2020/03/RFCFinal.jpg
Air Spark
2018-07-13 08:15:20
2018-07-13 08:15:20
Returned from the Middle East