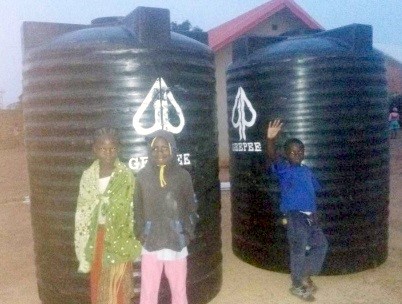 Rainy season caused delay:  Before the new school year begins the new water system promised to a Nigerian orphanage by the Religious Freedom Coalition will be in place.
In April of this year, when I visited the Nigerian orphanage that the Religious Freedom Coalition supports, the available water was marginal.  There was only one running tap for over 200 children and the squatting toilets did not flush.  This is not at all unusual for rural areas.  Many homes still use an outhouse which is a contrast to the well-off districts of some big cities that have five-star hotels such as the Hilton.
The rainy season is one reason that the work of installing the new water system has been slow.  Kids at the orphanage can be seen with rain jackets in the picture at right.
Sadly, the rain is not the only reason for slow construction.  Once again, there have been attacks by Muslim Fulani herdsmen. According to the Nigerian government and the American State Department, when Muslims invade a Christian area and kill people it is a "clash" implying the Christians share equal blame.  The fact that only Christians die on Christian land seems to be irrelevant to the State Department and the American media which does little to report the slaughter of Christians in Nigeria.
Ambassador Sam Brownback visited Nigeria in June for one week.  During his visit, there were six suicide bombings by the Sunni Muslim terror group Boko Haram at the same time as Sunni Muslim Fulani herdsmen massacred 218 Christians in Plateau State where the orphanage we support is located.  For several days the gates to the orphanage could not be opened because of threats.  The road to the orphanage was not safe to bring in materials.
During my mission to Nigeria in April, I spent much time in Plateau State.  So many Christians have been forced out of their homes that hundreds of thousands are now in camps for displaced persons in Benue State.  I visited those camps as well, and the conditions are horrid.  I pray daily that we can bring our Christmas for Refugees program to, at the very least, some of the younger children at those camps.
[su_button url="https://christmasforrefugees.org/donate/"]Please help Christian refugee families[/su_button]
https://religiousfreedomcoalition.org/wp-content/uploads/2018/08/Nigeria-Water-Tank.jpg
304
402
Air Spark
https://religiousfreedomcoalition.org/wp-content/uploads/2020/03/RFCFinal.jpg
Air Spark
2018-08-03 09:27:17
2018-08-03 09:27:17
Construction of new water system underway