Please pray with me that Christmas for Refugees will be a success again in 2020!
For the last eight years, many thousands of Christian children displaced from their homes because of attacks by Sunni Muslim jihadists have had a real Christmas thanks to our Christmas for Refugees programs.
In 2019, Christmas programs were held for displaced Christian children in Lebanon, Jordan, Syria, Iraq, Nigeria, and Bethlehem in the West Bank. Last year was the second year Christmas programs were held in war torn Syria in eight different areas including the Valley of the Christians.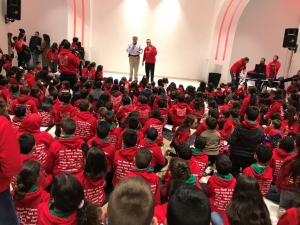 And also for the second year in 2019, Christmas for Refugees programs were held to help Christian children in the birthplace of our Lord … Bethlehem!
In 2019 it was my great honor to be present at three different Christian school auditoriums in Bethlehem and Beit Sahour, as Christian children came together to celebrate the birth of Jesus Christ.
In all, last year more than 10,000 children attended Christmas events where they were able to worship the Lord in song, listen to strong Gospel messages, and have fun with Gospel themed workbooks, coloring books and games.
The Christmas for Refugees programs have become a tradition in several nations, showing the love of Christians here in America for the Christian children who have suffered so much under Islamic oppression.
But now we face Covid-19: The Covid-19 crisis has caused job layoffs from lock-downs that have greatly affected our fund-raising ability, and now Christmas for Refugees is well behind in fund raising for 2020.
The lack of funding comes at a time that Covid-19 will greatly increase the program costs of Christmas for Refugees in Iraq and other nations we serve.
I need to be honest with you about the situation … It is not good.
Almost $390,000 is needed to make real Christmas programs possible for the same number of Christian refugee children who participated in 2019 — because we will be required to hold a larger number of events with fewer children at each event.
Our Christmas events normally range between 100 and 700 kids in Jordan, Lebanon, Iraq, Syria, Nigeria, and Bethlehem. But this year the Covid-19 situation will force me to arrange for smaller and therefore many more events.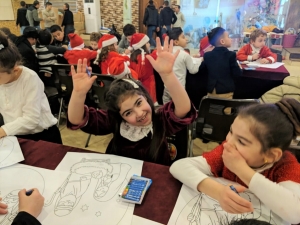 We must arrange all transportation to these many events, sometimes chartering buses. Hot meals must be ordered wherever that is possible.
Arrangements must be made for entertainers and musicians, all of whom are volunteers. And all this must be Gospel themed.
There will be music and the singing of hymns and games to play. Even a coloring contest of a Nativity scene.
The children leave the events with an age appropriate gift that contains Gospel materials. In some areas they receive children's Bibles!
The children's parents will receive either a box of hygiene supplies, blankets, or food depending on the location and need in that area.
But, the single most important part of the program is an invitation to trust the Lord as their Savior, and to say a salvation prayer.
As you can see, the Christmas events we put on are about much more than a hot meal and a gift. They are about Jesus!
The real reason I arrange these events is to instill in the children that regardless of what has happened to them the Lord is still there for them, and that He still loves them.
To reach the same number of these persecuted children again for Christmas 2020, more funds will have to be raised than last year because of Covid-19 precautions that governments will impose upon us.
Can we do it again in 2020???? That is a big question and I am praying we can. I am praying we can reach more children to help them celebrate the birth of our Lord.
William J. Murray, President
https://religiousfreedomcoalition.org/wp-content/uploads/2020/09/79470292_3057326177628988_8760887007778963456_o.jpg
940
1253
Claire Marlowe
https://religiousfreedomcoalition.org/wp-content/uploads/2020/03/RFCFinal.jpg
Claire Marlowe
2020-09-18 10:22:48
2020-09-18 10:29:34
Christmas for Refugees Update