Reporting disadvantages: In the nearly ten years of Christmas for Refugees this is the first time I have not been at events in the Middle East to report on them firsthand. Most of the photos that have appeared in newsletters the past nine years were taken by me or my wife Nancy.
Still, I am getting back some great stories from our ministry partners … the following report is about just one church in Lebanon that offered a Christmas for Refugees program to refugee children.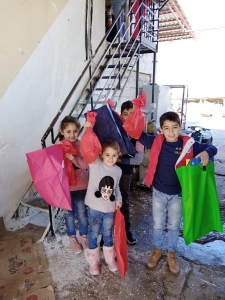 "In one church, the decorations are so captivating that all the children wanted to have their pictures taken there. Children are greeted at the door by costumed characters, making them feel like they have just arrived at Disney World when they enter. Awaiting them there is grandma's bakeshop full of goodies, plus an old pot and stove.
As the grandma stands making Christmas candies, she is visited by her granddaughter. The grandma explains to her what she is making along with the symbolism of the Christmas candies–the red color represents the blood of Jesus, the white color represents Jesus cleansing us from our sins.
The candy cane is in the shape of the shepherd's cane–after all, shepherds are caring. And this leads to the story of Jesus, the Good Shepherd, who leaves the 99 to go find the one lost sheep. What's more, angels appeared to the shepherds to announce the birth of Jesus. Though shepherds may be poor, and not many people want to talk to them, God chose to deliver the good news to them about Jesus' birth!"
After hearing the story, the children received their gifts before leaving. The purpose of these events is to show a message of hope to a lost world in the midst of its brokenness and to let these precious children, who have been neglected or whose parents cannot afford to buy them Christmas gifts, know that they haven't been forgotten.
In these turbulent times, one might think that food is the only necessity, yet many children have felt like they have been left behind. But praise God! He sent his only son to children in troublesome days as well.
One of our churches in Lebanon stayed open for two full days so they could have small groups of children, one group at a time, to receive a full meal and have contests, games and music as has been done with large groups in the past.
In Lebanon I promised a budget for 4,000 children. Our ministry partners were able to stretch out the funds so that 5,234 children in all, mostly Syrian Christians, were able to participate in our Christmas program.
William J. Murray, President
https://religiousfreedomcoalition.org/wp-content/uploads/2021/01/Lebanon-North-Kfarhabo-1.jpg
1152
864
Claire Marlowe
https://religiousfreedomcoalition.org/wp-content/uploads/2020/03/RFCFinal.jpg
Claire Marlowe
2021-01-20 10:26:39
2021-01-20 10:27:47
A Look into Christmas for Refugees in Lebanon