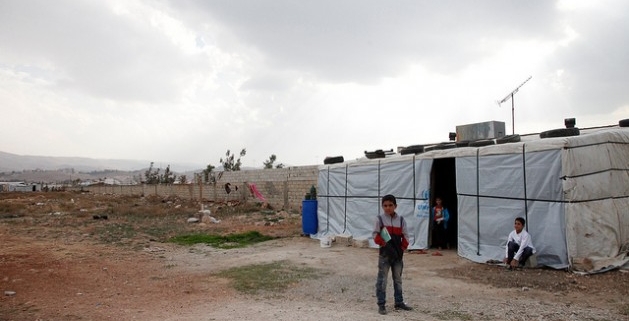 By Zhai Yun Tan
Editor's Note: The Religious Freedom Coalition is operating the Christmas for Refugees program to help Christian Syrian children have a decent Christmas. We are expanding the program from last year and hope to feed hundreds more this Christmas season. Learn more about our program and donate generously to it.
The article below describes the ongoing plight of these refugees who are living in refugee camps throughout the Middle East.
WASHINGTON, Jul 2 2015 (IPS) – The United Nations' food aid organisation, the World Food Programme (WFP), said on Jul. 1 that up to 440,000 refugees from war-torn Syria might have to go hungry if no additional funds are received by August.
WFP, the world's largest humanitarian agency dedicated to fighting hunger, provides food every month to nearly six million people in need in Syria and the surrounding region.
"Every time we take one step forward, we fall ten steps back. I have given up the hope that we will ever live normally again. I know the world has forgotten us; we're too much of a burden." — Fatmeh, a Syrian refugee who fled to Lebanon three years ago
Though the agency received 5.38 billion dollars in 2014, the continuing emergencies in Syria, Iraq and elsewhere mean that needs now far outpace available funding.
From assisting an estimated 2.5 million refugees last year, limited funding has forced the organisation to scale back its operations, with the result that just 1.6 million refugees are currently receiving rations.
A United Nations Development Programme (UNDP) report published in March 2015 revealed that an estimated 3.33 million refugees have fled Syria since 2014, making Syrians the second largest refugee population in the world, after the Palestinians.
The cuts come at a time when Syrian refugees are spending their fourth year away from home, unable to celebrate the annual Ramadan festival, one of the most important religious occasions celebrated by Muslims worldwide.
The upcoming winter may leave up to 1.7 million people without fuel, shelter, insulation and blankets.
WFP is fully funded by voluntary contributions from governments, companies and private individuals. The organisation reports that its regional programme in the Middle East is currently 81 percent underfunded and requires 139 million dollars to help Syrian refugees in Jordan, Lebanon, Egypt, Turkey and Iraq through September 2015.
"Just when we thought things couldn't get worse, we are forced yet again to make yet more cuts," WFP Regional Director for the Middle East Muhannad Hadi said in a press release Wednesday. "Refugees were already struggling to cope with what little we could provide."
The humanitarian funding crisis began in 2013, when the number of Syrian refugees receiving food assistance from WFP dropped by 30 percent.
Food parcels were downsized in October 2014, following a WFP announcement in September that they have no funding available in December 2014 for programmes in Syria.
Ertharin Cousin, executive director of WFP, appealed to the United Nations Security Council and member nations in April 2015 for more funding.
"When we announced the reductions in Jordan our hotlines were overwhelmed. Thousands of appeal calls come in each day. Calls from families that have exhausted their resources and feel abandoned […] by us all," she said. "One woman told us, 'I cannot stay […] if I cannot feed my children.'"
A fundraising campaign in December 2014 raised enough funds for WFP to carry on its programmes through December, but in January 2015, WFP cut the amount of money in electronic food cards provided to refugees from 27 dollars to 19 dollars.
Starting this month, the value fell to just 13.5 dollars.
This is not the first time WFP has faced a funding crisis. In 2009, aid operations in Guatemala, Bangladesh and Kenya faced reductions in supply of food rations due to a lack of funding. In 2011, a similar situation occurred in Zimbabwe.
When faced with funding shortfalls, WFP suspends programmes and only provides aid to the most vulnerable groups – pregnant women, children and the elderly.
International efforts to relieve suffering caused by the Syrian crisis culminated in the Jun. 25 Regional Refugee and Resilience Plan (3RP) that called for 5.5 billion dollars to fund the needs of host governments, United Nations agencies and NGO aid operations in the area.
According to the Financial Tracking Service (FTS) of the U.N. Office for the Coordination of Humanitarian Affairs (OCHA), only 25 percent of the appeal has been met.
https://religiousfreedomcoalition.org/wp-content/uploads/2015/07/SyrianChildrenLebanonBekaaValley.jpg
420
629
Air Spark
https://religiousfreedomcoalition.org/wp-content/uploads/2020/03/RFCFinal.jpg
Air Spark
2015-07-06 10:11:52
2015-07-06 10:11:52
Syrian Refugees Face Hunger Amidst Humanitarian Funding Crisis