In this issue of the newsletter
New: The disaster of December: Our office shut down for most of the month
New: Exploding water heater floods our office and Post Office "misplaces" our mail
Update: Photo spread of our Christmas programs in Lebanon, Syria, Jordan and Iraq
Update: Nigeria orphanage celebrates "Jesus birthday" during classroom construction
What a mess!
The hand of Satan: Office rendered unusable by exploding water heater
"We are persecuted, but not forsaken: cast down, but we perish not." 2 Cor 4:9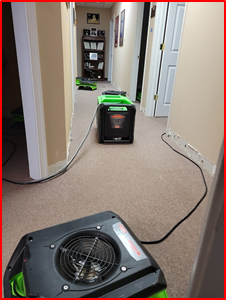 Office unusable from December 7th on: Our office was closed on Monday, December 6th. It was a scheduled work from home day. When our office manager, Mandy Marlowe, arrived early on Tuesday the 7th the first thing she noticed from the outside was that the inside of the windows were dripping wet. The hot humidity hit her when she opened the door.
Mandy called to let me know that there were two inches of water in the office and that she had managed to turn off the power.
The hot water heater had failed, and a hole had blown in the side of it, but it did not stop making hot water. Instead, it spewed hot water and steam out for three days.
Everything was wet, including our servers with supporters' records and all of our electronic documents and photos from mission trips. Fortunately, we do daily backups of our data using an offsite service! Nothing was lost. But this was a major distraction that played out even worse.
As we struggled to get the office operational, we did not realize that none of our mail was being delivered by the post office. It is not delivered directly to our office for security and other reasons. More on that later.
We called ServPro, an internationally recognized company on mitigation and they showed up that day.
The water was pumped out and five huge commercial dehumidifiers and fifteen fans were placed in our office. But those will not get the water out from behind the sheetrock.
The next day holes were drilled every eighteen inches at the base of our walls to suck the water out and then allow it to dry. It took almost ten days for the dehumidifiers and fans to totally dry the office. The carpeting was salvaged.
Next, sections of the dry wall had to be cut out because of damage.
By Christmas Day the situation was under control but the damage could not be repaired until January. Yes, we are now back to full operation!
Meanwhile Mandy noticed that the mail was sporadic, and the bookkeeper reported to me that our revenue for December was down 85% from December of 2020. Some days we had a ZERO mail count. What happened?
Post Office Meltdown – We win because the Lord is with us!
For I am persuaded that neither death, nor life, nor Angels, nor principalities, nor powers, nor things present, nor things to come, nor height, nor depth, nor any other creature, shall be able to separate us from the love of God, which is in Christ Jesus our Lord. Romans 8:38-39 (1599 Geneva Bible)
Our processing service received no mail at our postal boxes in Washington, DC for most days in December. Despite the distraction of the office flooding, we made numerous calls to the Washington, DC post office in the second week of December. It was discovered that our payments made three months early for our special "virtual postal box" accounts had not been posted and that our mail had been "held."
The failure, if it was not deliberate, was purely within the USPS accounting system.
The company that picks up and scans the mail for us worked tirelessly to help retrieve our mail from the post office. (FOR SECURITY REASONS OUR MAIL IS SPECIALLY PROCESSED OUTSIDE OUR OFFICE)
The USPS admitted the error but then told us they could not find our "held" mail. The USPS continued to hold our mail for almost all of December without explanation. The Post office suddenly "found" over 1,300 envelopes addressed to us on December 28th. During the first week of January more mail was "found" and deliveries returned to "normal."
I am very suspicious of motive. Was our mail really "lost" in the postal facility for over two weeks or was it deliberately hidden? Did we receive all the hidden mail? I don't know the answer to that! It gets worse … It was not just mail held in December. Some envelopes were post marked as far back as September 1st. It took four months for those checks to reach us!
In all we held true to the Lord and continued all of our programs. No child we promised a Christmas to went without. Our fund transfers to Nigeria continued!
I will make sure all donations are posted to the proper year! The checks we received in the mail held by USPS dated before December 31, 2021 will be posted as donations in 2021 for tax purposes and a proper year end receipt will be issued.
If you mailed a check to the Religious Freedom Coalition in November or December and it still has not been cashed, please contact our office at 202-543-0300.
Photos from our Christmas for Refugees event pictures are here! Check out the images here.
https://religiousfreedomcoalition.org/wp-content/uploads/2022/01/Picture1-1.png
182
218
Claire Marlowe
https://religiousfreedomcoalition.org/wp-content/uploads/2020/03/RFCFinal.jpg
Claire Marlowe
2022-01-28 17:04:47
2022-02-18 11:40:41
Chairman's Report for January, 28 2022