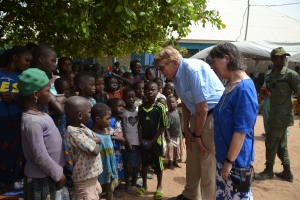 Mission trip planned for March 2020 takes place in January 2022!

A lot changed in two years: On February 24, 2020 my wife Nancy and I obtained visas for a mission trip to Nigeria. The special two-year visas were based on a letter of invitation from Benue State governor Samuel Ortom.
Two days before the March, 2020 departure our flights were cancelled because of Covid-19, Nigeria locked down and allowed no foreign flights.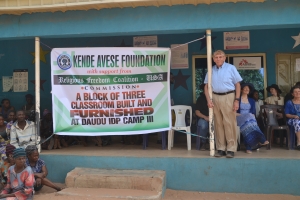 More mission trips cancelled and then disaster – Nancy and I attempted to visit the orphanage and other projects in Nigeria several times in 2021. Each time some cancellation of flights occurred. In the summer of 2021, we were booked on Air France.
We changed to Lufthansa and the flight from Frankfurt to Abuja was cancelled just one day before we were to depart for Nigeria. In late January, we were finally able to fly to Nigeria.
IDP Camp school building: When we first arrived in Nigeria, we drove first from Abuja, the capital of Nigeria, to Makurdi, the capital of Benue State. Both my visa and Nancy's visa were based on a letter of invitation from Governor Ortom of Benue State.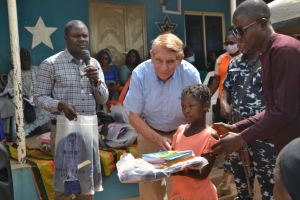 Our main purpose in Benue State was the commissioning of the school building we had constructed at the Daudu IDP camp. The children at the camp had been studying under a tree to stay out of the sun. We built one building with three classrooms for 120 students total. The school building will be used in shifts, 120 students in the morning and 120 in the afternoon.
The queen of the TIV Tribe was the principal speaker at the commissioning of the new school building. The King and Queen's Christian based foundation will manage the schools. The curriculum will be based on Christian Biblical values.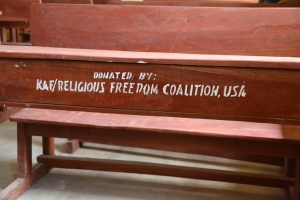 We supplied all needed school materials, including Biblical studies and back-packs for all children. I presented a package of materials to a representative of each grade level during the ceremony. We also supplied furnishings and all educational materials for this building and two others at two different IDP camps.
I will post more information about our trip over the coming week, including information about the situation at the orphanage we support in Jos.
https://religiousfreedomcoalition.org/wp-content/uploads/2022/02/DSC_0632-scaled.jpg
1707
2560
Claire Marlowe
https://religiousfreedomcoalition.org/wp-content/uploads/2020/03/RFCFinal.jpg
Claire Marlowe
2022-02-18 11:39:09
2022-02-18 11:41:41
Nigeria Mission Recap 1 - IDP Camp School Building