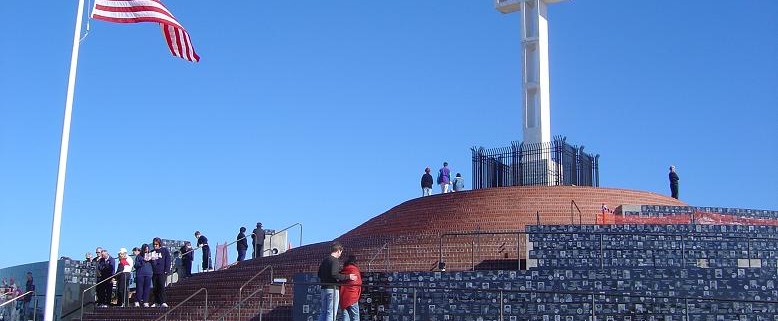 January 12, 2011   by William J. Murray
THE GROUND ZERO MOSQUE
COMMUNITY CENTER ALREADY UNDER CONSTRUCTION – Mayor Bloomberg claims that the "Muslim community center" at Ground Zero is desperately needed by the residents of lower Manhattan. The Cordoba Initiative and the developer, Sharif El-Gamal, say the 15-story Muslim Center will fill a need for meeting halls, dorms, recreational facilities and swimming pools in the area. What none of them say, however, is that there is a $73 million, 60,000-square foot community center already under construction just a few blocks away that may open as early as the end of this year.
The new Battery Park City Community Center, to be managed by a non-profit called Asphalt Green, will be so sophisticated that the pool will actually have an elevator floor to change the water depth for people of varying physical needs. There will be a curving 550-foot long outer glass arcade wall that runs beside two ball fields and a soccer field just north of the Ground Zero. The complex will have everything promised by the Muslim Center at Ground Zero and much more. For one thing, Jews and Christians will not feel uncomfortable at this community center.  Hot dogs with pork can be sold on the premises. Unlike the "rabat" planned by Mayor Bloomberg and his Islamic allies, the Battery Park facility is a real community center operated by a real non-profit.
THE MEDIA AND THE MOSQUE – Oddly, major New York City and national media are ignoring the Battery Park City Community Center even though construction began in October, 2010. Considering the ignorance of Islam by major media figures such as CBS's Katie Couric, this is understandable. She recently stated that Muslims need a Bill Cosby type TV program to show they are normal folks just like African-Americans.
Couric's statement in itself is racist, but that is another issue. Would the show she envisions be honest about Islam and show a father strangling his daughter because she has dishonored the family? Maybe some bomb making techniques would be shown, but the big question concerning a Muslim Bill Cosby family-type show is whether beheadings would be live or taped in advance. The national media in the United States has become the chief PR agency for radical Islam and their main goal is the construction of a trophy Islamic center at Ground Zero that is not needed by the community.
And what about the "bigotry" Couric and other news outlets claim exists against Muslims? The FBI says there were 251 "hate crimes" against Jews in New York in 2009, while during the same period there were just 11 such crimes against Muslims.
Updates on the Ground Zero mosque situation can be found at www.no911mosque.org.
THE PRESIDENCY
OBAMA AND TERRORIST NON-FACTS – On New Year's Eve a bomb exploded in front of a Coptic Christian Church in Alexandria, Egypt and the immediate response from President Obama was to create imaginary Muslim victims. In his statement he said, "I strongly condemn the separate and outrageous terrorist bombing attacks in Egypt and Nigeria. The attack on a church in Alexandria, Egypt caused 21 reported deaths and dozens of injured from both the Christian and Muslim communities." There were no Muslims killed or injured, and according to the Voice of the Copts there were 45 dead, not 21. Obama is so fearful that he may offend Muslims that even when they commit heinous crimes he tries to cast them as victims.
This was the same attitude Obama took in his statement about the attack on a Baghdad church in October, 2010 when 67 Christians were killed. At that time he issued a statement condemning the attack, without once mentioning that it was Christians who were killed or that it was a church the gunmen had invaded.
TERRORISTS ARE JUST FOLKS TOO – When I saw the quote I didn't believe it, and I checked it twice! In one breath President Obama refers to "middle-class folks" in America and in the next breath he describes terrorists as "folks." This quote is from the President's lips as he talks about the terrorists held at Gitmo: "Are there ways for us to make sure these folks have lawyers, to make sure that these folks have the opportunity to challenge their detention – but at the same time, making sure that we are not simply releasing folks who could do us grievous harm and have shown a capacity and willingness to engage in brutal attacks in the past." This would not bother me much if he didn't call hard working American tax-payers "folks" as well.
THE CONGRESS
OATH ON OLDEST AMERICAN BIBLE – Congressman Robert Aderholt (R-AL)) was sworn in this week by Speaker John Boehner in a truly historic way. Aderholt took his official oath-of-office on the very first Bible ever printed in America. Called the "Eliot Bible," it was published in Cambridge, Massachusetts, in 1663 under the title "The Holy Bible Containing the Old Testament and the New." Aderholt was the only Member  to use the Eliot Bible for the oath of office. The Bible was translated into the Algonquian Indian language by John Eliot for his missionary efforts among Native Americans. The congressman and his family are pictured with Speaker Boehner.
THE GAVEL CHANGES HANDS – The gavel is now Speaker Boehner's and the ramifications are huge for social conservatives. As was former speaker Nancy Pelosi, Speaker Boehner is a Roman Catholic; however there are key differences. Unlike Pelosi, Speaker Boehner is allowed by bishops and priests to celebrate the sacrament, as he is 100% pro-life, Many bills on social conservative issues that Pelosi refused to allow on the floor for a vote, should now be allowed. In addition, this coming December we can look forward to a congressional Christmas tree rather than a "holiday" tree.
CULTURE AND RELIGION
IS ELTON JOHN THE FATHER OR THE MOTHER? – Sixty-two year old homosexual singer Elton John received a gift on Christmas day in the form of a baby boy. The child, Zachary, was born to a woman who sold her soul for cash. He was sired by Elton John although John presents himself as the wife of David Furnish.
The New York Times and most other news outlets carried the birth announcement as they would for any straight celebrity couple. Social conservative organizations and pastors have been quiet on the issue of homosexuals such as Elton John having children bred for their personal pleasure. In our sick society buying a child fries at McDonald's is evil, while raising a child in a homosexual home is normal. Worse, many economic conservatives seem oblivious to the social problems caused by aggressive homosexuals such as Elton John. Conservative talk show host Rush Limbaugh paid Elton John a reported $1 million to perform at his fourth wedding.
COURT BANS WAR MEMORIAL – The Mt. Soledad War Memorial has at its center a cross, and for 20 years it has been the goal of atheists and the ACLU to make sure this memorial to those who lost their lives fighting for our freedom is torn down.  Now the 9th Circuit Court of Appeals, known broadly as the Nutty Ninth, has ordered the cross to be removed.
Congressman Duncan Hunter Jr., who has served in both Afghanistan and Iraq, was quick to call on Attorney General Holder to defend the memorial saying, "The Ninth Circuit's decision is a disservice to these men and women and blatantly ignores the Memorial's proud history as a symbol of military service. I'm confident the Memorial will remain intact as the judicial process proceeds, but it's important the federal government does whatever it can to defend the Memorial and ensure it remains untouched."
CPAC GOES GAY-ER – The Religious Freedom Coalition, of which I am chairman, discontinued sponsoring the Conservative Political Action Conference (CPAC) because of its acceptance of homosexual groups and its refusal to deal with the issue of Islamic terrorism. This year the Family Research Council and Concerned Women for America are also boycotting the CPAC event which has gone even more gay by allowing the homosexual group GO PROUD to have a "planning status."
CPAC became about bucks, and nothing but the bucks, years ago. Anyone with the cash to hand David Keene gets presence, and he has even rented booths to the ACLU and other radical groups. Many social conservatives no longer attend, having been too often offended by beer toting college students there for more of a good time than conservative thought.
INTERNATIONAL
A REAL WAR ON CHRISTIANS FOR CHRISTMAS – Christmas Day was not celebrated until January 7th in Egypt by Coptic and other Christian denominations. About 130 Christians, including children, remained imprisoned on January 7th, nearly three months after they were arrested when 2,000 members of the state security forces attacked their church building. Several people were killed during that attack in which police chanted Islamic war cries and tried to tear down the three story building that was under reconstruction. The object of the attack was to prevent the building from being used for Christmas services.
About 25 homes surrounding the church in the Christian area of Giza, a Cairo suburb, were burned to the ground by local police and one news agency reported that more than 20 people were blinded deliberately in one or both eyes.
Although St. Mary's Church had a permit for renovation and additions from the national government, the governor of Giza, Sayyed Abdel-Aziz told a news agency that the permit had been "misused" by the Christians and the acts of the police were justified.
This was followed by an attack on New Year's Eve at the Church of All Saints in Alexandria in which officially 21 died although the Voice of the Copts reported 45 dead. A car bomb exploded in front of the church as parishioners left the New Year's Eve service just after Midnight. In the weeks leading up to the bombing, Islamic internet sites featured links to a manual on "destroying the cross," that included videos on how to build bombs and listed the locations and times of the services of churches in Egypt. The Church of All Saints was one of those targeted for attack on the Internet.
Alexandria, Egypt has become increasingly radicalized by Islamic hard-liners who have held weekly anti–Christian demonstrations which demonized Christians and called for violence against them.
Meanwhile in Nigeria, at least 80 Christians were killed in attacks by Islamists on Christmas Eve. Churches there hold special services on Christmas Eve which is celebrated on the 24th as it is here. Knowing this, armed Muslims of the Boko Haram sect attacked several churches in Nigeria simultaneously, including several which were bombed in Jos. In other cases,  such as at the Victory Baptist Church in Danjuma, Akawu, armed Muslims simply entered the church and murdered worshippers. Nigeria is divided, with the northern half impoverished by Islamic extremism while the Christian south is by African standards, well off.
Then there is Iraq, the nation the United States invaded in order to bring freedom and equality. As Americans safely opened their brightly decorated boxes of Chinese made junk this past Christmas morning, Christians in Iraq prayed that they would just live to the end of the day. There were no Christmas decorations put up, nor were there any Christmas Eve or Christmas Day services in Iraq. Even an appearance by Santa Claus was canceled.
Christian leaders called off Christmas celebrations all over Iraq because of continued Islamic threats of terror. Dozens of Christians have already been killed this year and the exodus of Christians from Iraq has escalated.
In previous years in Pakistan, Christians have suffered severe attacks at Christmas including murders during their services, but this year they did not put up displays and services were held in secret, so the violence by Muslims was marginal although it can come at any time. Earlier this year 150 armed Muslims invaded the Christian district of Pahar Ganj which is north of Karachi.  They damaged two churches, beat Christians and burned shops and vehicles because a young Christian boy touched a piece of fruit on a Muslim vendor's cart.
The war on Christmas by secularists in America pales in comparison to the real violence of the war being waged against Christians in Islamic areas of the world.
William J. Murray, Chairman
Religious Freedom Coalition, 601 Pennsylvania Ave, NW  #900 , Washington, DC 20004 * (202) 742-8990
https://religiousfreedomcoalition.org/wp-content/uploads/2011/01/MtSoledadCross.jpg
584
778
Air Spark
https://religiousfreedomcoalition.org/wp-content/uploads/2020/03/RFCFinal.jpg
Air Spark
2011-01-14 16:17:06
2019-08-13 19:48:49
Chairman's Report for January 12, 2011