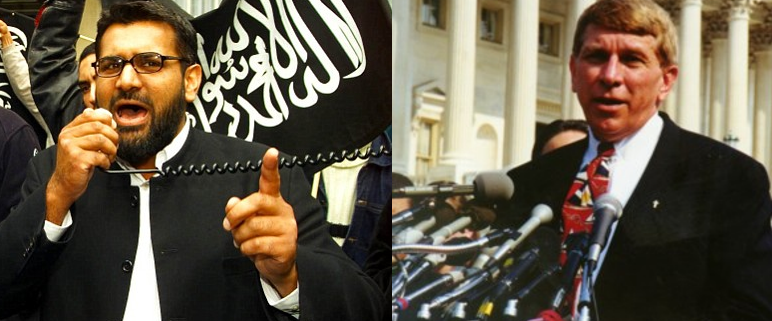 Imam Anjem Choudary, whose group has been banned in the U.K., announced a pro-sharia law rally in front of the White House for March 3, 2011. Choudary said that by force the Islamic flag would fly over the White House and that sharia, or Islamic law, would replace the Constitution. Numerous leaders of the anti-Sharia movement including William J. Murray of the Religious Freedom Coalition held a news conference in front of the White House at noon on the day the demonstration was to occur. Below is Murray's statement:
Statement of William J. Murray
March 3, 2011-Washington, DC – The only minister in the Pakistani government who was a Christian was gunned down by assassins on March 2nd. Shahbaz Bhatti died when his car was hit by more than 25 bullets in broad daylight in Islamabad, the capital of the Islamic Republic of Pakistan.
Bhatti was the second high level government official killed by Islamists in the last 60 days for failing to follow Sharia law, which is the way of the Qur'an. Both he and Punjab province Governor Salman Taseer were murdered because of their opposition to Sharia blasphemy laws. Tens of thousands of Muslims flooded the streets to celebrate the murder of Taseer, showing the true nature of this "moderate" Islamic nation that is an ally of the United States.
Sharia is not something separate from Islam, it is an integral part of Islam. Just since January 1st there have been hundreds of terror attacks in the name of Sharia in Europe, Africa, the Middle East and Asia. In Thailand alone, although never mentioned in the American media, there have been more than 35 attacks killing over 60 people.
Imam Anjem Choudary, is here today in front of the White House to call for a murderous revolt against our Republic. Ask Choudary and he will tell you that democracy is an apostate religion that must be destroyed and that there can be no peace in the world until "the flag of Islam" waves over every capitol in the world. Ask him and he will tell you that he wants for America the same system that murders in the name of Islam in Pakistan. The same system that hands out death penalties for those who criticize Islam.
The mainstream media including the Washington Post and the radical left represented by the Huffington Post will paint Anjem Choudary and those that follow him as extremists, but this is just not the case. Choudary is following the path of Mohammed faithfully. He wants for America the public whippings of Saudi Arabia. He wants for America the public beheadings of Afghanistan. He wants for America the public hangings of gays as in Iran. Imam Choudary wants nothing less than to bring the barbarity of 7th century Islam to America in the form of Sharia. Just ask him.
William J. Murray is the Chairman of the
Washington, DC based Religious Freedom Coalition
Press call 202.543.0300
https://religiousfreedomcoalition.org/wp-content/uploads/2011/03/ChoudaryMurray.png
330
772
Air Spark
https://religiousfreedomcoalition.org/wp-content/uploads/2020/03/RFCFinal.jpg
Air Spark
2011-03-03 15:11:37
2011-03-03 15:11:37
Anjem Choudary's murderous Sharia