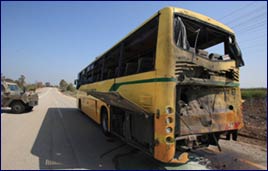 In This Issue: Obama is ignoring the new Nazis / Obama can see radical Islam in Egypt / Obama was sure he would win in Wisconsin / Congress and the debt / We pay $1.4 billion a day in interest / Liberals lose big in Wisconsin / Is the GZ mosque secular now? / Muslims attack school bus / Muslims now control Ivory Coast / Iran executes Christians and Jews
PRESIDENCY 

IGNORING THE NEW NAZIS – Barack Obama's Director of National Intelligence, James Clapper, said that the Muslim Brotherhood was "largely secular" and that there was "no overarching agenda, particularly in pursuit of violence, at least internationally." Today, April 8th, more than a million Egyptian followers of the Muslim Brotherhood gather at "Liberation Square" to demand the destruction of Israel. The Muslim Brotherhood also wants to repeal the free market practices which the deposed President Mubarak had introduced. The Muslim Brotherhood seems to be the new international partner of the Obama Administration to bring "democracy" to the Middle East.
IGNORING THE TRUTH IN EGYPT – Is the Obama Administration ignoring or encouraging the power grab by radical Islamic groups in Egypt? Nagib Gibrail, a Coptic Christian who heads the Egyptian Union of Human Rights, told the Jerusalem Post that the Egyptian revolution has been kidnapped by Islamist radicals. "There are areas in Egypt where Christian girls can't walk outside after eight o'clock in the evening for fear of being kidnapped," Gibrail told The Media Line. "Moderate Muslims should be more scared than Christians. It is very worrying that the military regime hasn't issued a statement declaring Egypt a secular state." Read more
BEWARE BEING POSITIVE OF VICTORY – Barack Obama wants a government shut down. He is convinced that Americans will flock to his side and blame Republicans. He was also sure that labor unrest and near riots at the state capitol in Wisconsin would bring Democrats an important election victory there. It didn't. All Obama has to do to keep the government open is to allow Congress to stop giving money to Democrat pet organizations such as Planned Parenthood and NPR. When the people realize this, which they will, Obama will pay the price. 
 
THE CONGRESS   
CONGRESS AND THE DEBT – For decades liberals in Congress have used the national treasury to fund their pet projects. These include funds to the National Broadcasting Corporation to spew liberal thought on TV and radio, and to Planned Parenthood to champion abortion. Suddenly when Republicans want to end the funding to these special interest groups, they are accused of a political agenda. Hello! Funding left leaning organizations to start with was part of a political agenda that needs to end.  
OVER ONE BILLION A DAY – I spend most of my time on Capitol Hill when Congress is in session, and it continues to amaze me how the minds of liberals there work. The United States is paying nearly $1.5 billion a day in interest on the national debt. Liberal congressmen say that cutting $61 billion of the more than $3.5 trillion budget will starve children and the elderly. Just imagine how many children and elderly could be fed using the money that is paid to the Chinese and the Saudis each month. We need to cut the debt. Note: About 40% of Obama's $3.5 trillion budget for next year will have to be borrowed.
RELIGION AND CULTURE 
LIBERALS LOSE BIG IN WISCONSIN –
This was the watershed moment that was intended to stop the conservative tide in America. The Democrat Party and leftist advocacy groups including gays and the unions, rolled the dice with many millions of dollars to take over the Supreme Court of Wisconsin. They were so confident their candidate would win, that they declared victory just a little too early. Despite the backing of all the major news outlets, radical leftist JoAnne Kloppenburg lost to incumbent conservative Justice David Prosser, meaning that Gov. Walker's anti-union legislation will stay on the books.
APRIL 7th CHAIRMAN'S REPORT NOPW ONLINE –
In this issue: America's new Libyan "allies" are former Gitmo residents, terrorists / Obama wants to fund Gaddafi – no, wait – Gaddafi must go! / Senator Durbin's staff has ties to Islamic extremists? / Congressional caucus saves condemned Afghan Christian / New bill to forbid the use of foreign law in U.S. courts / "In God We Trust' Resolution passes House
NO 911 MOSQUE! 
LIBERAL MEDIA: GZ MOSQUE IS SECULAR –
As the Ground Zero Mosque construction continues to be delayed, the left wing media do their best to portray the proposed mosque as a mostly secular community center which would be a wonderful asset for the city and would already be reality if not for the mean spirited opponents who have raised so many obstacles in the way. In a puff piece for the Los Angles Times, Geraldine Baum gives a sympathetic description of real estate developer sharif el-Gamal, whom she seems to view as bravely persevering in the face of unfair opposition.
Read more 
INTERNATIONAL  

SCHOOL BUS ATTACKED –
It doesn't get much worse than this. An anti-tank missile fired from the Gaza Strip, which is controlled by Hamas, hit a school bus in the Negev area of Israel. By the grace of God all the students but one had just previously been dropped off. Attacks on Jewish school children are not new. Several years ago I visited a kindergarten in Israel on the Lebanon border that been deliberately targeted by Hezbollah. What wasn't reported on the news: For the last several months Israel has not retaliated against several rockets a day being fired into its territory. The rockets have so far not injured anyone.
MUSLIMS NOW CONTROL IVORY COAST –
With the help of the French military, the Christian president of the Ivory Coast has been deposed and and a Muslim government has been installed. The media and the White House have depicted the Christian president as a corrupt strong man who would not honor a fair election, but this is not true. Senator James Inhofe is an expert on Africa and it is important that every American read his view of the disaster which has just occurred in this African nation.
Read more
IRAN EXECUTES CHRISTIANS, JEWS –
Iran secretly tried and then executed a Jewish-Armenian couple along with three others in March. The arrests and executions continue to show that religious minorities are persecuted under the Islamic regime which President Jimmy Carter helped establish while he was in office. The Administration of Barack Obama had no comment on the executions which were reported by Mohabat News. Other Christians, including a pastor, are missing after being arrested.
Read more
GET YOUR EASTER GIFTS HERE!

Our Internet store has more than books and CD's. There is everything from candy to jewelry and all of it has a Christian theme. Unlike Amazon and other major Internet stores we do not sell porn and satanic materials right beside Christian books. Ours is a real Christian store with tens of thousands of items. Please take a look. The store is located at
www.rfcstore.com
Posted by William J. Murray at 5:04 PM
https://religiousfreedomcoalition.org/wp-content/uploads/2011/04/negevbus.jpg
171
268
Air Spark
https://religiousfreedomcoalition.org/wp-content/uploads/2020/03/RFCFinal.jpg
Air Spark
2011-04-08 17:29:52
2011-04-08 17:29:52
Report from Washington, DC - April 8, 2011