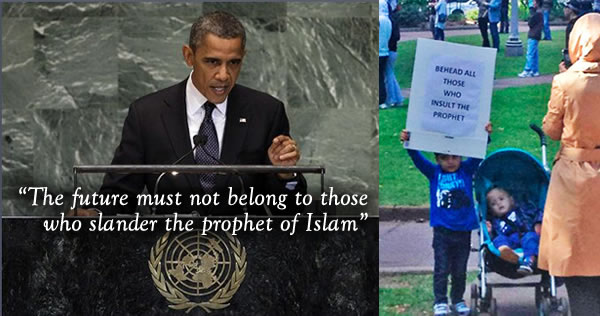 Editor: William J. Murray
Join me in a fact finding mission to Israel – A once in a lifetime mission led by William J. Murray, William Federer and Frank Gaffney, all three experts on Israel and Islamic affairs. Not a standard "tour," the mission includes visits to settlements and military bases plus evening panels. Read more
In this issue: State Department issues report warning of "Islamophobia" / IRS chief's proven anti-Christian bigotry / Obama supported jihadists still hold Bishops / Congressman protests attacks on religious freedom in military / What happened to the First Amendment? / Chechen jihadist shot by FBI in Florida / Video on Saudi slavery / UK soldier beheaded in London / Muslims riot in Sweden / Muslims murder more Christians worldwide
The Presidency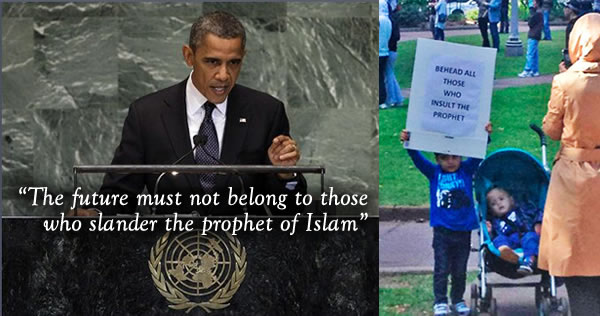 Obama State Department's Islamophobic report – Obama's State Department under John Kerry has just issued a religious freedom report that denounces what it calls a "spike in anti-Islamic sentiment in Europe and Asia." Murders of Jews by Muslims in Europe not a concern. Read more
Obama IRS chief's history of anti-Christian bigotry – Lois Lerner, the IRS bureaucrat who oversaw the harassment of Tea Party, conservative and Christian groups for nearly two years, has a long history of persecuting Christian organizations and leaders. While at the Federal Election Commission she spearheaded an all-out attack on the Christian Coalition. Read more
Obama's Syrian rebels still hold Bishops – A Middle East news service is reporting that two Syrian Bishops who were kidnapped by U.S. supported Islamists may be near the Turkish-Syrian Border. This is the first news about their whereabouts in a week. Read more
Congress
Congressman exposes Muslim agenda at Homeland Security – Texas Rep. Louie Gohmert spoke on the House floor on Friday on the Department of Homeland Security's pro-Islam guidelines for law enforcement officials – and its previous attack materials on so-called Christian "extremists. Read more
Congressmen protest attacks on religious freedom in military – Seventy-two Congressmen have sent a letter of concern to Secretary of Defense Chuck Hagel over violations of religious liberty in the U.S. Armed Forces. Read more
Congressman: 'What happened to First Amendment? – Congressman Joe Pitts (R-PA) says, "Actions by the President's administration are chipping away at each one of these freedoms in distinct ways." Read more
No tax dollars for jihadists – The Religious Freedom Coalition has begun an online petition asking congressmen to speak out against any funding, military or otherwise, to jihadists anywhere in the world. The petition comes at a time the Obama Administration is furnishing help from the CIA, as well as cash and "humanitarian" aid, to jihadists fighting the secular government of Syria. Provide your name and zip code, and a copy of the petition will be faxed to your congressman free of charge. See petition here.
Religion and Culture
Another Chechen Muslim killer caught in USA – A friend of Boston bomber Tamerlan Tsarnaev implicated himself and Tsarnaev in a 2011 triple slaying of three Jews. Authorities were pressuring Chechen immigrant Ibrahim Todashev, 27, to make a full confession to the murders when they say he suddenly turned violent, and was shot dead by an FBI agent. Read more
New video on Saudi slavery – On May 16th the Religious Freedom Coalition released a new video on the situation of Saudi diplomats holding domestic workers in their Virginia mansion as slaves. The legal word for this slavery is "domestic servitude," but by any name it is slavery. Read more
International
UK – Soldier hacked to death in London – When will the British wake up? Their courts slam men into jail for criticism of Islam and the result is a soldier hacked to death on a street by Muslims screaming Allahu Akbar. "We swear by Allah we will never stop fighting you" the Muslims hollered to horrified onlookers as the man was beheaded. Read more
UK: Afghanistan comes to London – Five years ago, the sight of Muslim terrorists beheading British soldiers was a horror that could happen in Afghanistan or Iraq. Now it has happened in broad daylight in the capital of the United Kingdom. Read more
Sweden: Muslims continue to riot in Stockholm – More on the current Muslim riots in Sweden … Most news outlets refers to the rioters as "unemployed youth" but in reality they are unemployed Muslims demanding money from the state while training for jihad. Read more
Pakistan: Hundreds of Christians driven from homes – More than 250 Christian families have been threatened and thrown out from their homes in the village of Chak 31 in Khanewal district, in southern Punjab. Read more Also more Christians murdered in Niger, Nigeria and Syria by Muslim terrorists.
More from the Religious Freedom Coalition
New Chairman's Report – Now available, the May 23nd, 2013 edition of the Religious Freedom Coalition. This edition includes: Chairman Murray and other leaders pray at the Supreme Court / Saudi diplomats holding slaves in Virginia? / RFC Saudi newspaper ads roll out across the USA / New RFC video on Saudi abuses / "Christian Right" backs adulterer for Congress because he is Republican / More on kidnapped Bishops – READ MORE
My Life Without God – William J. Murray's first book, My Life Without God, is now back in print, as 2013 marks the 30th anniversary of his atheist mother's lawsuit to remove prayer from the schools. Murray writes of his life in the dysfunctional home of infamous atheist/Marxist leader Madalyn Murray O'Hair. Learn more
Christian Bookstore and more – books, CD's, DVD's, cards and much more available at the Religious Freedom Coalition Internet Store. Please visit today!
https://religiousfreedomcoalition.org/wp-content/uploads/2013/05/obama-islam.jpg
316
600
Air Spark
https://religiousfreedomcoalition.org/wp-content/uploads/2020/03/RFCFinal.jpg
Air Spark
2013-05-24 09:27:24
2013-05-24 09:27:24
Report From Washington - May 24, 2013