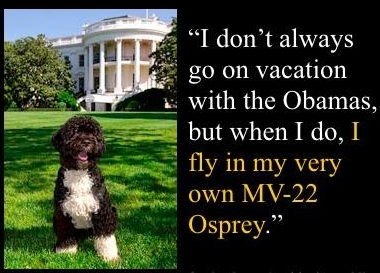 Editor: William J. Murray
In this issue: Obama's gay hypocrisy / Obama praises Islam / Obama's dog gets own helicopter / Social conservative wins NJ primary / McCain and Graham anger secular Egyptians / Huckabee on the mayhem of Islam / Muslim Brotherhood fights for sharia in Egypt / Fatwa in Syria allows looting / No justice yet for Pakistani pastor / Christians attacked in Central African Republic
The Presidency

Obama's gay hypocrisy – Barack Hussein Obama and the U.S. State Department have been crusading on behalf of the "gay" rights movement around the world. Yet, both Obama and State have been careful to avoid calling on powerful oil rich Muslim nations to reform their laws in order to embrace open homosexuality in their cultures. The Obama gay refrain is: "Russia bad, Saudi Arabia good." Read more
Obama on Islam – "Throughout our history, Islam has contributed to the character of our country, and Muslim Americans, and their good works, have helped to build our nation – and we've seen the results." Sure Obama – the results of 9-11 and Ft. Hood. A former Boko Haram terrorist who became a Christian has a different view, Mr. President. Read more
Obama's dog gets own helicopter – While Obama constantly complains about the evil Republicans and has described the "sequester" as an event that will shut down Air Traffic Controllers and police forces across the nation, he just had his dog "Bo" flown by an MV-22 Osprey helicopter to Martha's Vineyard. It costs $11,000 an hour to fly an Osprey. The Osprey is a $68 million military aircraft! Read more
Congress
Social conservative RNC win in NJ – A pro-life Republican who believes that marriage is reserved for one man and one woman won the GOP Senate primary in NJ this week. Steve Lonegan, former Mayor of Bogota, New Jersey will run against Newark Mayor Cory Booker in the general election on October 16th. Booker is an Obama supporter who will work to expand the welfare state if elected. He is also a close friend of Gov. Chris Christie whose party identification is hard to tell at any given moment. Read more
McCain, Graham and the Muslim Brotherhood – Senators John McCain (R-AZ) and Lindsey Graham (R-SC) recently made it clear that they are BFF's (best friends forever) with the Muslim Brotherhood and enemies of political freedom in Egypt. In their recent trip to Egypt, McCain and Graham angered millions of Egyptians who had fought to oust Muslim Brotherhood tyrant Mohamed Morsi from power. Read more
Congress in recess – The House will return on September 9th as per the schedule posted at the beginning of the year by Leader Cantor. Because Senate Leader Harry Reid is nuts, there is no telling when the Senate will reconvene, or if they will do anything when they do reconvene.
Religion and Culture
Huckabee on the mayhem of Islam – Former Arkansas Governor Mike Huckabee explored the violent side of Islam on Monday during his radio talk show. He then compared Islam to other religions such as Christianity and said that during Christian holy days such as Easter and Christmas Day, no one fears Christians going into Wal-Mart and trashing the store or going out and killing innocent children. Yet, that's what routinely occurs during Muslim "holy days" he said. Read more
Ad campaign against Saudi evil -The Religious Freedom Coalition's campaign to make Americans aware of the evil that emanates from Saudi Arabia is continuing, with ads recently placed in Alabama and Rhode Island. Lean more here.
International
Egypt: Muslim Brotherhood stands and fights for a pure sharia government – The Muslim Brotherhood in Egypt has been engaging in violent – not peaceful — protests for the past few weeks, and more than 600 are now dead. The
death toll will rise, as Muslim Brotherhood operatives have promised to destroy the interim government. Read more
Syria: Fatwa allows robbery – A fatwa (Islamic religious decree) has been issued by 34 "Duma Scholars" giving "rebels" the right in Duma and Damascus to loot properties of Christians, Alawites and Druz and other minorities. No complaints from Barack Obama who supports the Islamist fighters. Read more
Pakistan: Freedom to murder Christians – Christians in Pakistan's Punjab province were still awaiting justice Tuesday, August 13, more than two weeks after a local Christian leader and landowner was shot and killed by at least one Islamic gunman in front of his young children. Read more
Central African Republic: Muslims kill at least 15 – Attacks by Islamists on Christian villages in the Central African Republic have left at least 15 dead and made around 1,000 people homeless. The raids were carried out by an Islamist militia group, Séléka, which seized control of the country following a coup in March 2013. At least 14 villages in Bouar Diocese were completely abandoned after residents fled, Italian Carmelite missionary, Fr. Aurelio Gazzera, told Aid to the Church in Need. Read more
More from the Religious Freedom Coalition
New Chairman's Report – Now available, the August 18th, 2013 edition of the Chairman's Report for the Religious Freedom Coalition. This edition includes: – Details on the car bombing campaign against the majority Christian city of Jaramana and why so may Iraqi Christians live in Syria. Also the campaign by congressmen to protect Coptic Christians in Egypt. The Florida public schools that promote Mohammed "God's messenger" and trash Christianity  Read it here
Christian Bookstore and more – books, CD's, DVD's, cards and much more available at the Religious Freedom Coalition Internet Store. Please visit today!
https://religiousfreedomcoalition.org/wp-content/uploads/2013/08/BoOsprey.jpg
273
380
Air Spark
https://religiousfreedomcoalition.org/wp-content/uploads/2020/03/RFCFinal.jpg
Air Spark
2013-08-16 16:35:27
2013-08-16 16:35:27
Washington Report- August 16th, 2013