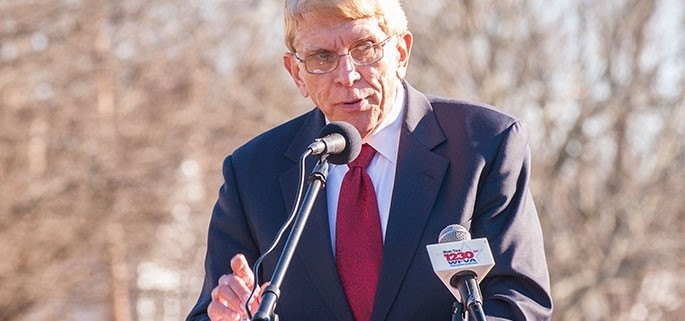 In this issue of the newsletter:
New: Proof Obama ignores Christian refugees yet imports Muslims
Update: Christmas for Refugees program expansion on track for biggest year
New: Billy Graham's Decision Magazine interview on religious freedom
Update: The post card programs – We visit one of the most liberal Senators
Just 53 Syrian Christians admitted by Obama in the last five years!
Why no Christian refugees to the United States? The numbers are just astounding. Christians of the various Catholic, Orthodox, and Protestant traditions in Syria constituted 10 percent of Syria's population before Saudi paid "rebels" began their attacks on the secular government. But only 2.6 percent of the 2,003 Syrian refugees that the United States has accepted since then are Christians. The only conclusion is that the Obama Administration is deliberately blocking Christians, who face the worst persecution from the Islamic State in Syria!
Over the past five years of the Saudi sponsored civil war in Syria, the United States has admitted a grand total of 53 Syrian Christian refugees and just one lone Yazidi, despite all the media attention on the Yazidi situation last year.
It is too easy to blame this just on U.S. reliance on a United Nations refugee-resettlement program that disproportionately excludes Christians. In Muslim dominated nations, the United Nations refugee program is operated almost entirely by Muslims — who exclude non-Muslims. The United States embassies in Amman, Jordan and Beirut, Lebanon will not even accept immigration applications from refugees unless they are sent from the United Nations.
The Obama Administration is well aware of the bias at the United Nations and does nothing to correct the imbalance, because Muslims are favored as immigrants over Christians.
According to the United Nations High Commissioner on Refugees (UNHCR) 19,000 Syrians have been picked straight from "refugee camps in Turkey, Lebanon and Jordan" and given U.N. approval for resettlement in the U.S. But most Christians are NOT in the U.N. refugee camps, because of assaults and rapes by Muslims. Most Christians are "urban refugees" living in basements of rundown buildings — and worse — in the cities. Virtually all of the 19,000 Syrian "refugees" will be Sunni Muslims who have a hatred for free Western governments.
On several occasions I have actually been at the State Department offices in Washington, DC and delivered documents proving the bias of the UNHCR against Christians and Shia Muslims, while favoring the Sunni Muslims. On one such occasion I was accompanied by David Beasley, the former governor of South Carolina. The evidence of United Nations favorable bias in majority Sunni nations toward Sunni Muslims is irrefutable.
OF COURSE … virtually every Islamic terror group, including the Islamic State and    al-Qaeda, is Sunni. Indeed every single one of the 9-11 hijackers were Sunni, and fifteen of the nineteen were Saudi citizens. And still Obama supports the Sunni kingdoms in the Middle East.
Christmas program for refugee children has room to expand!
Two-Thirds of funds already wired:  On November 2nd large transfers of funds were made to the ministries operating our Christmas for Refugees programs in Lebanon, Jordan and Iraq. Combined with the initial funds sent in October, two-thirds of the minimum amount promised has been delivered. Right now less than $50,000 is needed to fund the program in all three nations. But we can expand the program by 100 children for every extra $6,400 received!
Please keep in mind that the total of $64 per child includes food for each child's family, in the form of packages or store vouchers valued at $40 to $60 each, depending on the area. This is a far greater benefit to the families than an American may think. According to a recent report by the Kurdistan Regional Government, the U.N. provides only $19 per month per family, for even the neediest Iraqi refugees, with half of all refugees receiving nothing at all. In Iraq, 80 percent of all humanitarian health programs have been suspended.
[su_button url="http://christmasforrefugees.org/donate/"]Should Christian refugee children be allowed to celebrate Christmas?[/su_button]
Even the average of a paltry $19 per month from the United Nations rarely goes to Christians, because they cannot live in the U.N. camps without fear of assault, rape and murder.
The kind of foods provided by the Christmas for Refugees program will last a family of four for at least a week, and much longer if combined with other aid they may receive from church groups. The Christmas program for the children is about the hope we all find in our Lord and Savior Jesus Christ, and the aid provided to the families is both material and spiritual. Families without Bibles receive one, and children receive workbooks based on Bible themes.
We are on our final leg of fund raising for the Christmas program this year, with real hope that we may reach over 4,000 families this Christmas. Compare the number of Christian refugees we are assisting with the 53 Christian refugees from Syria that President Obama has allowed into the United States in the last five years.
The next Chairman's Report will be issued the first week of December and it is my prayer that I will be able to report to you that the Christmas mission is fully funded.
[su_button url="http://christmasforrefugees.org/donate/"]Should Christian refugee children be allowed to celebrate Christmas?[/su_button]
Billy Graham Association's Decision Magazine
            Standing up to Radical Atheists: Every year as Thanksgiving and Christmas grow near, radical atheists in the United States do their best to remove Christian imagery from public view, and to stop Christians from publicly displaying or even talking about their faith.
As Christians are being killed for their faith all over the world at a rate of one every five minutes, the Freedom from Religion Foundation is filing lawsuits to destroy the presence of the Gospel in this nation as well. In the November issue of Decision Magazine, a lengthy article by Charles Chandler quoted me extensively about this issue. My main point was that the atheists, just like Muslims, want veto power over what Christians may or may not say in public. The demands of atheists, and of Muslims, are that anyone who offends them should not be allowed freedom of speech. We cannot be silent and give up our freedoms because of others' "feelings."
The full article, Standing up to Radical Atheists, can be found at the Decision Magazine Internet site, and I encourage you to read it.
Post Cards to Congress demand: Stop funding Islamic fighters!
The Religious Freedom Coalition's two postcard programs, one to stop funding Islamic fighters and the other to sanction Saudi Arabia for its human rights abuses, have been ongoing for more than a year.  Over one million customized postcards have been distributed to social conservatives, pre-addressed to their congressmen and Senators and ready to for them to sign and send.  The cards demand a stop to funding of Islamic fighters in Syria who often join radical Islamic groups such as Al-Nusra and the Islamic State (ISIL). The weapons they have been given by the United States are then used to kill Christians.
With so many postcards mailed to social conservatives, we frequently receive some that have been mistakenly mailed to our office, rather than directly to the congressional offices.  When this happens, our legislative coordinator, Alyssa Mitchell, will visit the congressional offices to personally drop off the bundles of post cards.
It is much more effective when the Senators or representatives receive the post cards directly from their constituents. However delivering the signed post cards that are received at our office provides Alyssa with an opportunity to gauge the impact of the program when delivering them on Capitol Hill.
During October's delivery of post cards, she visited several Senate offices, including those of senators Ted Cruz (R-TX), Marco Rubio (R-FL), and Barbara Boxer (D-CA).  The increase in recognition of the post cards has grown as the programs continue!  In fact, many office interns immediately recognized the post cards, even though they did not personally deal with mail. Senator Cruz's office told Alyssa that they receive ten to twenty cards per day.
These are effective programs that are having impact. As the cards mount up in various offices, you will note that the public calls by congressmen and Senators to send even more arms and money to "rebels" in Syria have decreased. Senators McCain and Graham are about the only ones left calling for increases in funding and arming of Islamic "rebels" in Syria.
Senator Lindsay Graham, who is running for president, is dead last in the polls. In the last three major national polls he is showing statistically zero support. In his home state of South Carolina he has been able to muster just two percent. I believe much of the reason for these poll numbers is his support of Sunni Islamist fighters and the terrorist government of Saudi Arabia.
[su_button url="http://christmasforrefugees.org/donate/"]Should Christian refugee children be allowed to celebrate Christmas?[/su_button]
Meeting with Senators:
In October, Legislative Coordinator Alyssa Mitchell and I met with Senator Stabenow's (D-MI) Legislative Aide on Foreign Affairs in order to discuss the senator's involvement with Middle Eastern refugees.  We requested the meeting because Senator Stabenow's constituency includes a large number of Chaldean Christians, both native born and immigrants. She has voiced her desire that they be protected in the Middle East.
During the meeting, I took the opportunity to expand upon the "stop funding Syrian rebels" post card program by exposing how Christians in the Middle East are suffering as a direct result of our government's arming and paying salaries to Sunni Muslim rebels in Syria.
At Senator Stabenow's office, Alyssa also made a presentation about how the Obama Administration has been targeting Middle Eastern Christian asylum-seekers and anyone in the United States who attempts to help them.  She presented an update on the imprisonment, deportation, and indictment of twenty-seven Chaldean Christian immigrants held in California by ICE. All but a few have now been deported. European nations and Australia have accepted them as immigrants because those nations understand the fate that would await them with the Obama deportation order to Iraq and Syria.
[su_button url="http://christmasforrefugees.org/donate/"]Should Christian refugee children be allowed to celebrate Christmas?[/su_button]
In addition, Alyssa informed all those present about the indictment of immigration lawyer Robert DeKelaita and his two interpreters, which was reported on in the last issue of the Chairman's Report. Senator Stabenow's office was eager to work with the Religious Freedom Coalition and requested that we supply further updates on the persecution of Middle Eastern Christians.  Alyssa is currently working with Senator Stabenow's office to gain more contacts with other Senate offices that may be sympathetic to our work with the persecuted church.
As we departed the Senator's office, the staff made comments about the two of us being the first conservatives ever to appear in her office, and they were extremely impressed that we made the effort to bring a presentation on the issue of Christian persecution there.
For the most part I have worked with Republicans – the conservative kind – on Capitol Hill for the last thirty years. However, the issue of religious minorities being persecuted, particularly Christians, is not a strictly partisan issue. To get the voices and votes we need to stop Obama from deporting Christian asylum seekers and at the same time importing so many Muslims, we need the support of Senators and congressmen in both parties.
[su_button url="http://christmasforrefugees.org/donate/"]Should Christian refugee children be allowed to celebrate Christmas?[/su_button]
Saudi Arabia again flogs blogger who nearly died after first fifty lashes
            Raif Badawi, a Saudi critic of Saudi Arabia's anti-democratic government and its religious police network, was arrested in 2012 and sentenced to a decade in prison plus 1,000 lashes with a whip during flogging, which is by any count a death sentence by torture.
Badawi endured 50 flogging lashes in January of this year and became so weak he almost died from his injuries. The Saudi government halted the floggings until he could heal. The floggings are to begin again soon, and ordered to be done weekly. That is 50 lashes at a time for 20 weeks in a row. Again, this is death by torture in the nation that President Obama and Senator John McCain call America's "great ally" in the Middle East.
Until his arrest, he wrote a blog called "Saudi Arabian Liberals" in which he advocated for secularism in the religious dictatorship. His wife, Ensaf Haidar, and their three children now live in Canada where she has campaigned for his release from prison. She has set up the Raif Badawi Foundation website to secure his release from the floggings and from prison.
Saudi Arabia, with Obama Administration support, currently holds the chair of the UN Human Rights Council. These are evil despots who are equal to the worst in history.
William J. Murray, Chairman
Religious Freedom Coalition, 601 Pennsylvania Ave. NW #900, Washington, DC 20004 * (202) 742-8990
https://religiousfreedomcoalition.org/wp-content/uploads/2014/01/WJM-speak.jpg
450
685
Air Spark
https://religiousfreedomcoalition.org/wp-content/uploads/2020/03/RFCFinal.jpg
Air Spark
2015-11-17 12:30:32
2019-08-13 19:48:40
Chairman's Report for November 13th