There are aspects of the Christmas for Refugees program that are very special to me. Christmas for the Christian children in the birthplace of the Lord Jesus is something I mean to provide no matter what. I was so touched by being in Bethlehem for Christmas last year that I am brought to tears just thinking of the joy of the children.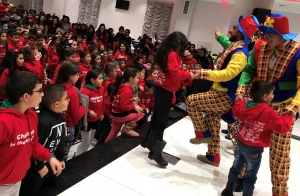 I first visited Bethlehem in the 1980's when it was still majority Christian. The vendors selling to tourists outside the Church of the Nativity were all Christians. The Christian schools were so full that some children had to be turned away.
Then, in 1995 President Bill Clinton's "peace plan" went into effect and Bethlehem, along with the other majority Christian areas, were handed over from Israel to Yasser Arafat and his Palestinian Liberation Organization (PLO).
Now, almost all the vendors outside the Church of the Nativity are Muslims, and the Christian schools are half empty. Even the Christian schools are now required to teach Islam.
In 1948 when the State of Israel came into existence, the "West Bank" was 86% Christian. Now it is just 2% Christian, and the Christian population and the churches there are struggling. ur program is essential to encouraging those Christians who remain.
I have been visiting Bethlehem regularly for more than 30 years, and I have witnessed the change firsthand. I have seen the Christian civilization of the "West Bank" collapse and be replaced by those who hate Christians and work to steal what is left of their land.
No matter what, we must continue the Christmas program in the "West Bank" which includes Bethlehem. Please pray that we can hold the programs there this year.
William J. Murray, Chairman
https://religiousfreedomcoalition.org/wp-content/uploads/2019/09/christmasss.jpg
2379
3634
Claire Marlowe
https://religiousfreedomcoalition.org/wp-content/uploads/2020/03/RFCFinal.jpg
Claire Marlowe
2019-09-04 11:45:11
2019-09-04 11:46:44
Holy Land Christmas