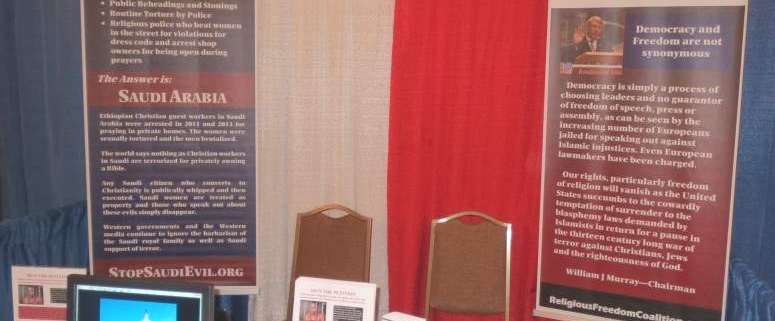 Editor: William J. Murray
[color-box]URGENT: The Pledge of Allegiance to the flag is once again under legal threat by atheists who seem to have a phobia about the mention of God in the classroom or in public meetings. Read more[/color-box]
In this issue: Obama rebels target church in Damascus / Congressional resolution supports chaplains / Former congressman speaks on murder rate / Religious Freedom Coalition at Values Voter Summit / Report on hostility toward religion in USA / Syria: Civilian massacre by rebels documented / Bangladesh: Bomb factory explodes in Islamic "school" / Indonesia: Christians still jailed for Evangelism / UK: Head of M15 warns on Jihadists
The Presidency
Obama rebels target church in Damascus – Three mortar shells landed in the Qassaa district, killing eight civilians and wounding 24 others. Another three people were injured when a fourth mortar slammed into the Holy Cross church in the neighborhood. Read more
Congress
Congressional resolution supports chaplains – The House of Representatives this week passed House Congressional Resolution 58, which ensures that U.S. military chaplains will be free to exercise their constitutional rights during the government shutdown. Representative Doug Collins (R-GA) sponsored the resolution. He's a former military chaplain in the Air Force. Read more
Former congressman speaks on murder rate – At the Values Voter Summit today Congressman Allen West stated that the United States was number three in murder rates of all nations in the world. However, he said, when the Democrat ruled cities of Chicago, Detroit, New Orleans and Washington, DC were removed from the calculation — the United States was 4th from the bottom. This illustrates, explained West, why the Biblical values of conservatives matter.
Religion and Culture

Religious Freedom Coalition at Values Voter Summit – The Religious Freedom Coalition is an exhibitor at the annual Values Voter Summit in Washington, DC. Our booth at the Values Voter Summit this year is focused on our campaign to expose the abuse of Christian guest workers in Saudi Arabia. Many of those attending the Summit are signing petitions asking for Congress to pass a resolution condemning the Saudi abuses. Read more
Report on hostility toward religion in USA – The Liberty Institute and the Family Research Council have just released a report on the dramatic rise in religious hostility in America during the past year. The report, "Undeniable: The Survey Of Hostility To Religion In America," documents 1,200 incidents of hostility to religion – double the incidents in last year's survey. Read more
International
Syria: Civilian massacre by rebels documented – Human Rights Watch, not known to be a "right-wing" organization, has just published a lengthy report documenting the slaughter of Syrian civilians by Obama's "rebels" fighting in Syria. Entire unarmed families were murdered by Islamic rebels fighting the secular government. Read more
Bangladesh: Bomb factory explodes in Islamic "school" – Apparently Muslims make more than shirts in Bangladesh. An explosion ripped through a madrassa (Islamic school) run by Hefajat-e-Islam, an Islamic fundamentalist group. Police investigating found a bomb making factory – Read more
Indonesia: Christians still jailed for Evangelism – There has been no action by President Obama to ask the government of his boyhood home, Indonesia, to release Christians jailed for years for the "crime" of evangelism. The Religious Freedom Coalition is promoting an online petition to Congress for a congressional resolution asking Obama to intercede to help imprisoned Christians in Indonesia. Read more
UK: Head of M15 warns on Jihadists – Andrew Parker, the new head of Britian's intelligence agency MI5, has recently warned that homegrown Islamic terrorists see the public as legitimate targets for attacks. He is deeply concerned about the Jihadists who have left Britain to fight in Syria. When they return to the UK, they'll be even more dangerous than they were before. Read more
More from the Religious Freedom Coalition
New Chairman's Report – Now available, the edition of the Chairman's Report for the Religious Freedom Coalition. In this issue by William J. Murray: In this issue: Obama's support of "good" terrorists breeds more terror / Muslim Americans were among terrorist attacking mall in Kenya / Muslim bombing of church in Pakistan so brutal not even the American media could ignore it / American accused of helping al-Qaeda linked group cut loose by Obama's DOJ / 8-year-old child bride raped to death on "wedding night" by Muslim husband / Tennessee high school students taken to mosque, given Korans – Read it here
Follow us on Twitter @rfcnet
Christian Bookstore and more – books, CD's, DVD's, cards and much more available at the Religious Freedom Coalition Internet Store. Please visit today!
https://religiousfreedomcoalition.org/wp-content/uploads/2013/05/BoothCrop.jpg
629
775
Air Spark
https://religiousfreedomcoalition.org/wp-content/uploads/2020/03/RFCFinal.jpg
Air Spark
2013-10-11 16:50:52
2013-10-11 16:50:52
Washington Report- October 11th, 2013