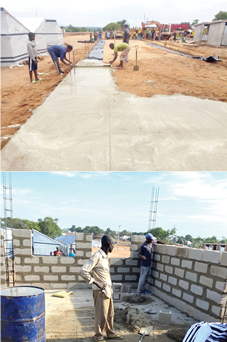 Cement poured: The ruling that our building should be "less permanent" because it was located in an IDP camp has been reversed. The building is being constructed as originally planned.
The original decision was odd. It would  allow us to pour a cement floor, but then have just large openings instead of windows. After the Tiv Tribe worked with the local counsel on the purpose of the building, we were allowed to proceed with the original plans.
As with any building, the cement floor was laid first, then the walls. The building will be finished sometime in June.
When completed the building will have three 60 Sq. meter classrooms (about 645 Sq, ft. each). Each classroom will accommodate 40 students.
The Religious Freedom Coalition is not only constructing but fully outfitting the school for the TIV Tribe. We will furnish desks, chairs, and curriculum materials. Those include bookbags, pens, pencils etc. for the students. We also will supply the teachers' materials.
Each student will also receive a Bible. Because the program is operated by the TIV Tribe and not the United Nations, the programs are Christian based and will include Bible studies.
In addition to constructing the school building at Daudu IDP Camp 3, the Religious Freedom Coalition will supply desks, chairs, and class materials for two existing buildings at Daudu IDP Camps 1 and 2. The buildings at Daudu Camps 1 and 2 are each large enough for 120 students. They were built as part of a United Nations project for another purpose — then abandoned and given to the TIV Tribe to use for schooling.
The below video shows a look into the construction of the school buildings.
https://religiousfreedomcoalition.org/wp-content/uploads/2021/06/1a9dfa91-e6fb-49ef-815e-cb6f1cffdd5e.jpg
810
1080
Claire Marlowe
https://religiousfreedomcoalition.org/wp-content/uploads/2020/03/RFCFinal.jpg
Claire Marlowe
2021-06-10 11:42:12
2021-06-10 11:44:32
WATCH: School Building Under Construction