A dramatic change in the orphanage: I cannot emphasize enough that the orphanage we support in Nigeria takes in children whose parents have been murdered by Islamic terror groups such as the Boko Haram and the Fulani Herdsmen.
This year the orphanage has accepted many more children, bringing the total to above two hundred as more Christians are murdered almost daily. The president of Nigeria is a Muslim who is from the Fulani Herdsmen. His presidency puts Christians in grave danger. The Fulani Herdsmen kill as many or more Christians a year as the Boko Haram terror group.
The Farm: Our biggest success of the year was the creation of a farm for the children to grow their own food. Earlier in the year we rented two hectares (about five acres) and purchased hand tools, seed and fertilizers. The total cost was just $7,500!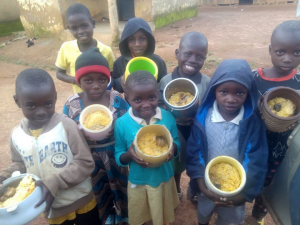 So far the value of the fresh food produced from the farm exceeds by many times the initial cost. The value of fresh food for the young orphans cannot be measured in dollars.
Many hundreds of pounds of Irish potatoes, sweet potatoes, corn, soybeans and groundnuts (sort of a peanut) have been harvested.
But young bodies need protein. Until July of this year, children only were able to receive protein on special occasions.
In July enough funds had been raised to make a commitment to provide protein for the rest of the year. At a cost of $3,700 a month the children receive one egg a day and protein with the other two daily meals.
During the year we also replaced the chapel roof that was blown off during a storm.
These projects at the orphanage were in addition to the wells and water tower we had already paid for.
I pray we can continue to support at the same level in 2020. The number of children has increased and to make a commitment on protein for three meals a day would require $5,000 a
month which is currently not possible for us to promise.
William J. Murray, Chairman
https://religiousfreedomcoalition.org/wp-content/uploads/2019/11/98856c85-c2e9-4912-8bbb-e492b16c54e12.png
810
1080
Claire Marlowe
https://religiousfreedomcoalition.org/wp-content/uploads/2020/03/RFCFinal.jpg
Claire Marlowe
2019-11-27 11:17:07
2019-11-27 11:17:09
Nigeria – Much accomplished in a very dangerous situation