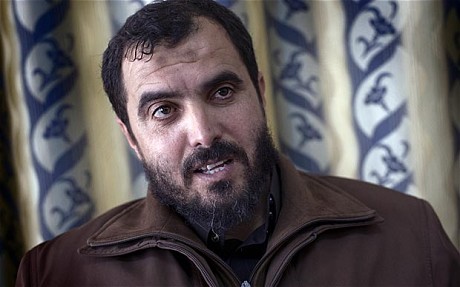 Obama backs fraudulent election in Africa / Is the US in or out, or maybe part of or not — Libyan war? / Senator Durbin's "I love Islam" show in the Senate / International Religious Freedom Caucus in the House / Republicans finally target the left's pet projects / WOW .. the GOP discovers that AARP sells insurance? / Pro-family students attacked on campus / A Jewish museum a few feet from the Ground Zero mosque / Daisy Khan says forget the mosque part / Libyan rebel leader fought US in Iraq / Bangladesh girl whipped to death because she was raped / Wilders tells the truth in Rome
NEW MARCH 16th CHAIRMAN'S REPORT ONLINE -In this issue: Radical imam says Sharia will replace Constitution / Terror attack on our troops in Germany / Congressman King stands firm / Atheists and leftists rally in support of Ground Zero Mosque / Christians in Egypt under attack / Romantic relationship leads to widespread violence / Can democracy survive in the Middle East?
OBAMA BACKS ELECTION FRAUD IN AFRICA –
U.S. Secretary of State Hillary Clinton wants President Laurent Gbagbo of the Ivory Coast to step down and allow the "real" president whose rebel army is marching toward the capital to take control. She and Obama claim that Gbagbo was defeated in a fair election. PROBLEM: The election was not fair. In Muslim areas of the nation up to 200% of registered voters voted. European monitors made sure the election was "fair" in the Christian south, but allowed Muslims to cheat in the north. Obama and European leaders wanted the Christian president out and the Muslim Alassane Ouattara in, because they think this will end an ongoing civil war between the Muslim north and the Christian south. The violence will stop alright, as soon as all the Christians are slaughtered or forced to flee.
Read more
OBAMA EXITS LIBYA –
Within the last 24 hours the Obama Administration announced that US air power was being withdrawn from the Libyan civil war. Up to now, Obama has backed "rebels" whose military leader fought against American troops in Afghanistan. Obama claims he still backs the rebels in Libya, and has encouraged U.S. "allies" to continue the fight. There are reports that CIA operatives are still on the ground assisting the Libyan rebels, many of whom previously fought the U.S. in Afghanistan.
SENATOR DURBIN'S "I LOVE MUSLIMS" SHOW –
Senator Dick Durbin favors the gay agenda, the women's liberation movement, the sexual revolution and, oh yes, Islam. A recent photo shows the good Senator at a mosque surrounded by Muslims good and bad. Two of those in the photo were listed as conspirators in a Justice Department case and have associations with Hamas. It was no surprise then when Durbin announced hearings to prove that Muslims in America are persecuted.
Read more
.
INTERNATIONAL RELIGIOUS FREEDOM CAUCUS –
On Thursday evening, March 31st, the Becket Fund, the Religious Freedom Coalition and other groups held a reception in the Longworth House Office Building next to the Capitol for members of the International Religious Freedom Caucus.
Congressman Trent Franks
, (R-AZ) is the founder and chairman of the caucus which works on issues of religious freedom. Most recently congressmen in the caucus worked for and won the release of an Afghan Christian named Said Musa who was sentenced to death for apostasy.
REPUBLICANS FINALLY TARGET THE LEFT'S PETS –
Politico, which leans to the left, published an article that detailed the House Republicans' agenda of "defunding, investigating and otherwise beating up on liberal causes." The article went on to say: ' At every turn, the GOP is attacking sacred cows of the left. The party has already voted to kill all federal funding for Planned Parenthood, a longtime conservative nemesis. NPR may lose its federal support. Republicans have targeted the Environmental Protection Agency for investigation and are moving to kill a federal program that benefits environmental activist groups like Defenders of Wildlife." All real conservatives can say is "At last they get it."
Read at Politico
.
AARP SELLS INSURANCE? DAH! –
The Ways and Means Committee has just made an amazing discovery. AARP makes tens of millions of dollars a year referring its members to high cost insurance plans. The CEO of AARP and other executives make huge salaries, and the organization benefited from the Obama health care bill it helped to pass.
60Plus
chairman Jim Martin said the revelations are not really new, but need to be stopped. His organization is an alternative to AARP.
Congressional report on AARP
PRO-FAMILY STUDENTS ATTACKED –
TFP Student Action, a Catholic organization, was involved in a peaceful campaign to promote normal heterosexual marriage when they were attacked by about 250 frenzied pro-homosexual students at Brown University. The pro-homosexual gang screamed, spit, taunted, insulted, assaulted, and attempted to destroy a traditional marriage banner. A video of the assault was posted at Youtube for one day until it was removed because of homosexual pressure.
Read more
A JEWISH MUSEUM AT GROUND ZERO MOSQUE? –
The nonprofit Anne Frank Center USA, a partner of the Anne Frank Museum in Amsterdam, plans a large facility across the street from the Ground Zero mosque, at 100 Church Street. The museum will offer educational programs about the Holocaust as well as the life and death of Anne Frank at the hands of the Nazis. A lease has been signed for 100 Church St.
Read more
FORGET THE MOSQUE PART –
Daisy Khan, wife of now fired Ground Zero mosque Imam Feisal Rauf, revealed in an interview that she and her husband are contemplating, instead of a "mosque," an "interfaith cultural center," at 51 Park. She also managed to reveal that the whole thing is just sort of an unfunded grandiose dream.
Read more
LIBYAN REBEL COMMANDER FOUGHT US IN AFGHANISTAN –
Abdel-Hakim al-Hasidi, the Libyan rebel leader, is associated with al-Qaeda and has fought against allied troops in Iraq and Afghanistan. He was captured in Pakistan in 2002 and held somewhere by the US until 2008 when he returned to Libya. In an interview with the Italian newspaper Sole 24 Ore, al-Hasidi confirmed he recruited "around 25" men from the Derna area in eastern Libya to fight against coalition troops in Iraq. Some of them, he said, "today are on the front lines in Adjabiya".
BANGLADESH GIRL WHIPPED TO DEATH –
Hena Akhter was raped by an older married man when she was just 14 years old. The imam and elders of her village in the Shariatpur district found her guilty of adultery for being raped. A fatwa was issued by the village imam that she receive 101 lashes. At 70 lashes she fell unconscious and died. She was taken to a nearly hospital where her death was ruled a suicide. Bangladesh is one of the "moderate" Islamic nations where Kohl's department stores buy a large percentage of clothing because of the near slave labor wages paid there.
WILDERS ATTACKS MULTICULTURALISM –
Dutch Parliamentarian Geert Wilders , who is under 24 hour a day guard because of fatwas issued against his life, made an important speech in Rome on multiculturalism. Wilders was just a few years ago an outcast whom the Dutch government wanted to jail and shut up the truth about violent Islam in Europe. Today he heads the third largest political party in the Netherlands.
Read more
VISIT OUR INTERNET STORE –
Our Internet store has more than books and CD's. There is everything from candy to jewelry and all of it has a Christian theme. Unlike Amazon and other major Internet stores we do not sell porn and satanic materials right beside Christian books. Ours is a real Christian store with tens of thousands of items. Please take a look. The store is located at
www.rfcstore.com
Editor: William J Murray
https://religiousfreedomcoalition.org/wp-content/uploads/2011/04/Hasidi.jpg
287
460
Air Spark
https://religiousfreedomcoalition.org/wp-content/uploads/2020/03/RFCFinal.jpg
Air Spark
2011-04-01 17:10:18
2011-04-01 17:10:18
Report from Washington - April 1, 2011