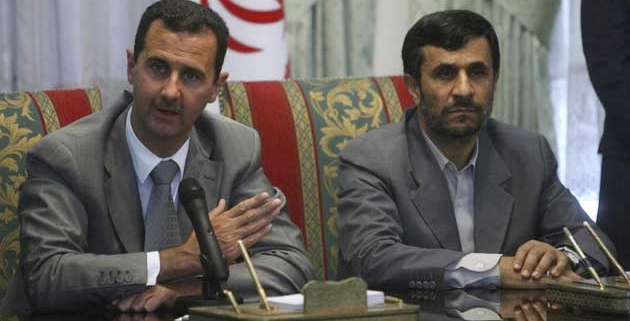 In this issue: Will Obama support Muslim Brotherhood in Syria? / Why India doesn't trust the U.S. / Just print more funny money / Hamas and Fatah make a deal / Farrakhan criticizes America on Al-Jazeera / Hundreds of Christians killed in Nigeria / Christian fear in Iraq / Why the church supports Syria's Assad

PRESIDENCY  

OBAMA WAVERS ON SYRIA – President Barack Obama was frozen for the first several weeks of the turmoil in Egypt and seemed to be supportive of lifelong President Mubarak. As the Muslim Brotherhood declared itself in favor of "change" in Egypt, Obama switched sides. During weeks of turmoil in Syria, once again the Obama Administration seemed to support the current regime and even planned financial aid for the Syrian government. Today the Muslim Brotherhood, outlawed in Syria by the secular government, openly encouraged the protests in Syria. The Brotherhood was crushed by current President Assad's father, Hafez, after an Islamic uprising 1982. My prediction: by Monday President Obama will turn on the secular government of Syria and support the Muslim Brotherhood. Will Assad then turn to Iran? Photo: Assad with Ahmadinejad
OBAMA AND INDIA – India is now on the fast track to buy 126 modern jet fighters worth $10 billion from Europe rather than the United States, and oddly the Obama Administration cannot figure out why. The centuries old Islamic Jihad against India has killed an estimated 80 million Hindus. The United States continues to be allied with Pakistan, the main perpetrator of violence against India. Every year the U.S. gives Pakistan some $3 billion a year in military aid. This American aid to the regular armed forces of Pakistan has allowed that nation to fund the doubling of its nuclear arsenal, all of which is aimed at India. if we want India's business, maybe we should stop funding their radical Muslim enemies to the north.
JUST PRINT MORE MONEY – Just a few days ago the Administration was bragging about how great Obama's spending splurge has been for the economy; then yesterday the real figures came in. The rate of economic growth declined the first quarter to just 1.8% and the weekly first time jobless claims rose for the second time in three weeks. What is going wrong? The powers in Washington temporarily stopped printing funny money. To "revive" the economy without allowing energy exploration, once again the printing presses will have to roll.
THE CONGRESS 
FOREIGN AFFAIRS CHAIRMAN CONDEMNS HAMAS-FATAH DEAL-
U.S. Rep. Ileana Ros-Lehtinen (R-FL), Chairman of the House Foreign Affairs Committee, commented on reports that Abu Mazen's Fatah faction and Hamas, a Foreign Terrorist Organization, have agreed to form a joint Palestinian Authority (PA) government. Statement by Ros-Lehtinen: "The reported agreement between Fatah and Hamas means that a Foreign Terrorist Organization which has called for the destruction of Israel will be part of the Palestinian Authority government. U.S. taxpayer funds should not and must not be used to support those who threaten U.S. security, our interests, and our vital ally, Israel.
Complete statement
CONGRESS IN RECESS –
The House and Senate are in "Spring Break" recess and will not return to session until May 2, 2011. No votes will occur prior to 6:00 PM on that date.
Majority Leader's Calendar
RELIGION AND CULTURE 

APRIL 28th CHAIRMAN'S REPORT ONLINE –
In this April 28th issue: The Peace Prize President / Ignoring the New Nazis / John McCain Fronts for Obama / Senator Reid Drops "Under God" from Pledge / Congressional Resolution Proposed to Honor King James Bible / Cleared, then Murdered for Blasphemy / Good Friday Disaster Averted in Indonesia
PLEASE FORWARD THIS E-MAIL TO YOUR FRIENDS.
Please mark the Internet version as "like" for Facebook  
NO 911 MOSQUE!
FARRAKHAN WANTS GZ MOSQUE, BLAMES CONSERVATIVES FOR 911 –
Louis Farrakhan incites huge crowds with rants against white America and Israel. Now he is inflaming Arabs against America. On Al-Jazeera TV he claimed Muslims in America are in danger of being rounded up and forced into concentration camps and that the 9-11 Jihad attack was a plot by the "neo-cons who surrounded George W. Bush."
Read more
INTERNATIONAL  
EASTER ATTACK IN IRAQ – More than seven people were injured in a bombing at the entrance of the Sacred Heart Church in Baghdad's Karradah neighborhood on Easter Sunday. The church is surrounded by blast walls to protect it as are most churches in Iraq. "Our churches have become like prisons," says Monsignor Pious Casha, "The barbed wire and concrete are new. Yes they protect the churches, but they make the worshippers spiritually constrained." As a result of the extreme security, deaths were averted this Easter. Read more  
CHURCH SUPPORTS SYRIA'S ASSAD – The Muslim Brotherhood wants to see President Assad of Syria fall and their kind of "freedom" brought forth, but the church in Syria that represents 10% or more of the population does not. "We are with the government and against these movements that oppose it," said Bishop Philoxenos Mattias, a spokesman for the Syriac Orthodox Church this month. "Here in Syria we do not have problems like Christians in other countries. We have no problem with the president." The experience of neighboring Iraq is a salutary lesson for Christians across the Middle East. Read more
MUSLIMS KILL HUNDREDS IN NIGERIA – A Christian, Goodluck Jonathan, won the election for President in Nigeria this month. The Muslims of northern Nigeria have already killed 500 innocent people to protest his victory. Every other term, a Muslim must be elected according to the constitution. The Muslim president died last year after serving only three of his four your years and as a result the Muslims believe they should get another four years. I do not expect Europe or the United States to honor the election but rather to try to force a Muslim president on Nigeria as they did in the Ivory Coast. I expect many Christian refugees coming out of the Ivory Coast and now out of the north of Nigeria. Please pray for our brothers and sisters in Christ in these two nations.
CHRISTIAN INTERNET STORE  
VISIT OUR INTERNET STORE – Our Internet store has more than books and CD's. There is everything from candy to jewelry and all of it has a Christian theme. Unlike Amazon and other major Internet stores we do not sell porn and satanic materials right beside Christian books. Ours is a real Christian store with tens of thousands of items. Please take a look. The store is located at www.rfcstore.com
https://religiousfreedomcoalition.org/wp-content/uploads/2011/04/AssadAhmadinejad.jpg
396
630
Air Spark
https://religiousfreedomcoalition.org/wp-content/uploads/2020/03/RFCFinal.jpg
Air Spark
2011-04-29 15:00:07
2011-04-29 15:00:07
Report From Washington, April 29, 2011