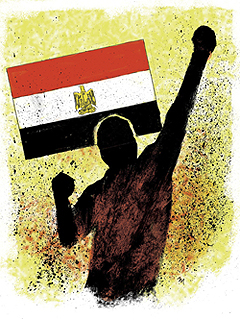 Obama's Egyptian "victory" / Obama ignores Egyptian Islamists / Obama: We can create prosperity with debt / Will congress help protect religious minorities in Egypt? / Defunding Planned Parenthood – A WIN IN THE HOUSE / Royal Caribbean hosts gay drug cruise / Islam's "gay free zone" in London / Rauf wants new mosque site / Islam's war on Thailand / Media discovers slaughter of Christians.
NEW FEBRUARY 3, 2011 CHAIRMAN'S REPORT- Issue highlights: Slumlord Feisal Rauf replaced by "Sheik" Adhami as GZ mosque imam / Elites and gays unhappy with Adhami / Obama, Egypt and the Muslim Brotherhood / Radical Muslim found in car trunk at Mexican border / Suicide bomber book found at Mexican border / Democrats bring out the race card (again) / Congressman enters bill to assist repressed religions in Middle East / Will Congress reaffirm "In God We Trust"
OBAMA'S EGYPTIAN VICTORY –
The left leaning media is celebrating President Barack Obama's "stunning" diplomacy in handling the crisis in Egypt and congratulating him for establishing democracy there. Hello! The Egyptian constitution has been suspended, Parliament has been dissolved and a military council is in charge of the country. On top of that, the largest organized group in Egypt, the Muslim Brotherhood, has declared it will accept nothing short of sharia law. As for Obama, one day he called for democracy, the next day said Mubarak was a friend of America, and the day following that said the people should rule. In other words he flipped and flopped for several days until events played out.
IS OBAMA IGNORING ISLAMIST DANGER? –
In a hard hitting article in the Jewish Exponent, Morton A. Klein and Daniel Mandel clearly lay out the missteps and ignorance of the Obama Administration. "Could the Egyptian population vote in the Muslim Brotherhood? Polls show it could. A 2007 University of Maryland survey shows that 67 percent of Egyptians favor all Arab countries united as one Islamist state. A 2010 Pew poll indicates that 74 percent of Egyptians favor the imposition of strict Sharia (Islamic) law. Eighty-four percent of Egyptians support the death penalty for those who convert out of Islam. So a Muslim Brotherhood takeover is possible.," they write.
Read more of this powerful article
.
CREATE DEBT FOR PROSPERITY –
President Obama has released his budget for 2012. The budget increases taxes and spending and would result in a tripling of the national debt held by the public between now and 2019. in 2012 the total debt of the government will exceed the entire Gross Domestic Product of the nation, something that has not happened since World War II when 20% of the nation's men were in uniform. As of now 40 cents of every dollar the government spends has to be borrowed.
Examination of Obama budget
PROTECT RELIGIOUS MINORITIES –
Congressman Frank Wolf has introduced a bill that would force the State Department to create a special envoy to deal with repressed religious minorities in Islamic nations. Wolf, co-chair of the Tom Lantos Human Rights Commission, said threats against religious minorities have been increasing in recent months and that the United States has an obligation to speak out for the voiceless, "If the international community fails to speak out, the prospects for religious pluralism and tolerance in the region are bleak," Wolf said in introducing HR 440. Please
contact your congressman
and ask him to co-sponsor HR-440.
DEFUNDING PLANNED PARENTHOOD – (URGENT UPDATE: The Pence Amendment passed the House of Representatives on Friday, February 18th by a vote of 240 – 185!)
Congressman Mike Pence is on a crusade to stop Planned Parenthood from receiving tens of millions of taxpayer dollars. As the largest abortion provider in the United States the organization is actually profitable and has no need for federal funds other than to bloat its budget. This week Congressman Pence introduced an amendment to the "CR" or Continuing Resolution to cut all funding from Planned Parenthood for the rest of the year. NOTE: The CR is required because the Democrat controlled House failed to pass a spending bills last year to fund government operations for this year.
ROYAL CARIBBEAN HOSTS GAY DRUG CRUISE –
A young man died of an overdose of drugs on the first night of the Royal Caribbean's "gay cruise" on the Allure of the Seas. He was one of two young men to die on the seven day cruise which began on February 6th. By the time the drug dealer was caught late in the cruise he had already sold $51,000 in drugs and had little remaining to sell. The dealer, Steven Krumholz, age 51, was taken into custody by ICE agents in St. Thomas, USVI. Royal Caribbean advertises the Allure of the Seas as a family friendly ship which features Dreamworks characters from movies such as Shrek, Madagascar, and Kung Fu Panda. Few media outlets have reported on the drug arrest, and those that have did not report on the drug related deaths. The ship's doctors handled more drug related cases during the week than an emergency room in downtown Detroit.
ISLAM'S GAY FREE ZONE IN LONDON-
Homosexual news outlets in the UK are reporting that Islamists in London have posted stickers calling for a gay-free zone. The stickers were put up around schools and pubs, including a gay bar called George and Dragon. The stickers, which were said to be "professional" said, "Arise and Warn. Gay free zone. Verily Allah is severe in punishment." The mainstream media in the UK is too cowardly to report the continued problems between Muslims and homosexuals because they support both groups. Read more at
PinkPaper.com
RAUF WANTS NEW DEVELOPER FOR MOSQUE –
Sharif el-Gamal didn't do much for Imam Feisal Rauf other than to give him media scrutiny that exposed him as a slum landlord. Now, apparently, Rauf is looking for a new developer for a different "cultural center." During a puff interview on
NPR
Rauf said, "If someone were to offer a site that is equal or better," and which could accommodate a multi-faith center … I'd be very receptive to that."
NO 911 MOSQUE –
Visit the RFC site dedicated to the Ground Zero mosque controversy at
www.no911mosque.org
ISLAM'S WAR ON THAILAND –
You will not hear about the Islamic war against Thailand from any American news outlets, but the terror is real. Since the beginning of 2011 there have been 31 terror attacks in Thailand that have been documented, virtually all against innocent civilians who are Buddhists. So far 51 have died and more were injured. Most recently Muslims kidnapped and murdered two young Buddhist children in Yala. Many of the terror attacks are around the Yala and Pattani areas where Muslims want to create a separate sharia state for themselves. See details of the attacks at
www.thereligionofpeace.com
MEDIA DISCOVERS SLAUGHTER OF CHRISTIANS –
For ten years Christian children where kidnapped and murdered in Iraq. Thousands of Christian women were raped, the men murdered and homes stolen. More than half the Christian population was forced to flee and the media was virtually silent, almost giving permission to Muslims worldwide to murder Christians. Suddenly the media has discovered the murders of Christians in Egypt, Pakistan and Iraq. Just in the last few months the bombings of churches and the murders of Christians have become news worthy. It may be too little to late, but at last
Fox News
has acknowledged and reported on the previous lack of media reporting on the slaughter.
VISIT OUR INTERNET STORE –
Our Internet store has more than books and CD's. There is everything from candy to jewelry and all of it has a Christian theme. Unlike Amazon and other major Internet stores we do not sell porn and satanic materials right beside Christian books. Ours is a real Christian store with tens of thousands of items. Please take a look. The store is located at
www.rfcstore.com
https://religiousfreedomcoalition.org/wp-content/uploads/2011/02/EgyptFlagFist.jpg
319
240
Air Spark
https://religiousfreedomcoalition.org/wp-content/uploads/2020/03/RFCFinal.jpg
Air Spark
2011-02-18 15:37:50
2011-02-18 15:37:50
February 18, 2011 – Washington, DC