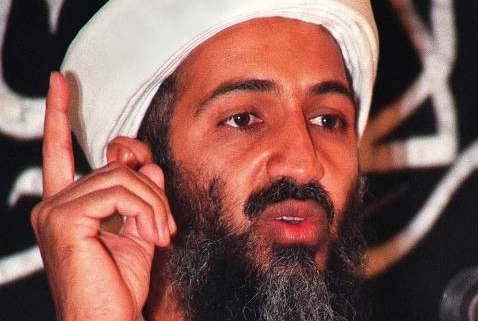 THE PRESIDENT, WAR, TERROR AND ISLAM
SCREWING UP VICTORY – President Barack Obama scored a major victory for America and for himself with the track-down and killing of Usama bin Laden, but then he proceeded to confuse everyone by telling various versions of that victory. First there was a major fire fight at the mansion of Usama bin Laden lasting 40 minutes in which bin Laden was killed resisting. The minute I heard this version I knew it was fiction. Any time the SEALs are involved in a 40 minute battle, something has gone horribly wrong. The actual fire fight took less than 2 minutes and the remaining 38 minutes were used to carry off computers, bodies and clean up the general mess of a crashed helicopter. Although that is what happened, that version has still not been told.
In another version the White House said that bin Laden was unarmed but using a woman to shield himself, refusing to surrender with no time given for the fire fight. Yet another version had only one of bin Laden's defenders fighting back and bin Laden acting cowardly. Here is a reality that was not understood by anyone at the White House: none of the versions, now numbering around six or seven, were ever needed. The only thing the President needed to say was, "We killed him." Thanks to the various and confusing versions of events from the White House the United Nations now wants to investigate the "assassination" to determine if "justice" was done, which is yet another reason why we need to walk away from the United Nations.
OBAMA ORDERED MUSLIM FUNERAL FOR OSAMA – Islamic religious rites were conducted on the deck of the USS Carl Vinson aircraft carrier for Usama bin Laden before his body, according to the White House was "respectfully" lowered into the Persian Gulf. The body of bin Laden was washed twice in accordance with Islamic practice, and wrapped in a white sheet before being buried at sea. Why so much "respect" for a mass murderer whose death  Obama himself ordered? This is the same President Barack Obama who has so little respect for the religious sensitivities of Christian chaplains in the military that he wants them to preach that homosexuality is an acceptable practice.  How odd.
RESET IN THE MIDDLE EAST – President Obama says a "reset" is happening in the Middle East with the so-called "Arab Spring." There is a reset, all right. The new Egyptian government run by the military has now brokered a marriage between the two warring Palestinian factions, Fatah and Hamas. The agreement between Fatah and Hamas, which the United States lists as a terrorist organization, was signed in Cairo under the watchful eye of Egyptian military leaders who now rule the country.
In addition, on May 1st Egypt opened their common border with the Gaza Strip allowing a free flow of materials, including arms. The BBC summed up the new situation in Egypt this way: "The new call marks a move away from Egypt's past compliance with the United States and Israel, which have strongly opposed the Palestinian Authority's campaign to win backing for a unilateral declaration of statehood." Polls show the military is following the will of the people, as the overwhelming majority want to void the current peace accord with Israel. Congratulations Mr. Obama, you have a new Middle East; now what will you do with it?
OBAMA'S CELEBRATE POLICE WEEK – The week of May 13 was "Police Week" and thousands of police came to Washington to visit the memorial to slain police officers. For their part, President Obama and the First Lady invited a hip-hop artist to the White House who has written racist songs that call for killing cops. The "artist" who goes only by the name of Common, wrote one song that celebrates a cop killer who has a $1 million FBI reward on her head. The convicted murderess, who escaped prison, was a part of a violent communist cell. She now lives in Cuba under the protection of Fidel Castro.
So committed is Common to the cause of violent revolution that he even named his daughter Assata Shakur, after this cop killer. He also once called for the burning of President George W. Bush. When the White House was challenged, a spokesman responded that Common's words have been taken out of context. Common, whose real name is Lonnie Rashid Lynn, attended the same church as Obama for 20 years, where Jeremiah Wright was the pastor.
SAME-SEX NAVY MARRIAGES – In the first week of May the Navy, with the blessings of the White House, gave an official OK for chaplains to marry homosexuals. In military terms "OK" means chaplains were ordered to conduct same-sex marriages. Within 48 hours the order was rescinded after it was pointed out that the Navy is not a sovereign state and that there is an existing federal law against same-sex marriage. The ultimate goal of the White House is to eliminate any chaplain from the service who does not approve of sodomy. President Obama believes that sodomy and abortion are compatible with core Christian values.
THE CONGRESS ON RELIGIOUS FREEDOM AND TERROR
FOREIGN AFFAIRS CHAIRMAN CONDEMNS HAMAS-FATAH DEAL- U.S. Rep. Ileana Ros-Lehtinen (R-FL), Chairman of the House Foreign Affairs Committee, condemned the marriage of Palestinian "President" Abu Mazen's Fatah faction to Hamas, a Foreign Terrorist Organization. Fatah and the terror group Hamas will form a joint Palestinian Authority (PA) government. The powerful committee chairman Ros-Lehtinen said: "The reported agreement between Fatah and Hamas means that a Foreign Terrorist Organization which has called for the destruction of Israel will be part of the Palestinian Authority government. U.S. taxpayer funds should not and must not be used to support those who threaten U.S. security, our interests, and our vital ally, Israel.
If you support the efforts of Chairman Ros-Lehtinen to cut funding to the Palestinian Authority please contact your congressman.
EMPOWER INTERNATIONAL RELIGIOUS FREEDOM – Congressman Frank Wolf (R-VA) introduced legislation to amend the International Religious Freedom Act (IRFA), to make international religious freedom a greater priority. Wolf authored the 1998 law establishing the International Religious Freedom (IRF) Office at the State Department, headed by an ambassador-at-large, and creating the U.S. Commission on International Religious Freedom (USCIRF). Among the new legislation requirements, the Secretary of State in coordination with the Departments of Defense, Homeland Security, Treasury and the U.S. Agency for International Development, must issue a one-time report to Congress on the best uses of foreign assistance to promote religious freedom and religious engagement. We prefer a goal that would eventually stop funding to those nations, such as Pakistan, that continue to persecute Christians and other religious minorities. The Religious Freedom Coalition will continue to work with Congressman Frank Wolf's office to stop religious persecution.
CONGRESSMAN SAYS STOP FUNDING PAKISTAN – Congressman Allen West (R-FL) has spearheaded the drive to stop funding for Pakistan in light of the United States locating Usama bin Laden in a mansion in the same city as Pakistan's elite military academy. West has stepped forward to comment on Pakistan's efforts to persuade the Afghan government to abandon the USA in favor of a treaty with China as well. Please send e-mails and notes of thanks to Congressman Allen West for his courageous stand to stop funding to the nation that harbored Usama bin Laden and undermines our nation's security.
CONGRESSIONAL RESOLUTION FOR TEN COMMANDMENTS – In the last issue I reported that Congressman Louis Gohmert (R-TX) introduced H. Res 211, the Ten Commandments Weekend Resolution. The resolution supports the designation of the first weekend of May as Ten Commandments Weekend. Although too late for this year, the resolution may be passed for May, 2012. Please contact your congressman to support H. Res 211.
For nearly a decade I have been working with the Ten Commandments Commission to pass a Congressional resolution designating the first weekend in May as Ten Commandments Weekend. A key sponsor of the resolution in the Senate was Sam Brownback who is now governor of Kansas. This year Governor Brownback did indeed issue a Proclamation designating the first weekend in May "Ten Commandments Weekend" in Kansas. Please contact the Ten Commandments Commission to help obtain a similar Proclamation in your state for next year!
THE GROUND ZERO MOSQUE AND OUR CULTURE
FARRAKHAN, THE MOSQUE AND AL-JAZEERA – Louis Farrakhan is dangerous enough here in America, inciting huge crowds with his angry rants against white America and Israel. It's even worse when he inflames the Arab world, as in an interview on Al-Jazeera TV on April 24th of this year.  He cleverly makes the charge, without exactly saying so, that Muslims in America are in danger of being rounded up and forced into concentration camps.  Farrakhan said it is because of a plot by the "neo-cons who surrounded George W. Bush." He explains that the 9-11 attack was a "neo-con" invention because they wanted a Pearl Harbor type attack to bring the American people together.
Farrakhan said, "it wasn't only those few white families that died in the attack" and they have no right to object to the mosque (Cordoba House) being too close to hallowed ground.  "What makes it hallowed ground?" he asked his Muslim audience on Al-Jazeera TV.
BANKRUPT BUT GAY FRIENDLY – The California Senate has passed a bill requiring public schools to be "gay friendly." The Fair, Accurate, Inclusive, and Respectful Education Act (FAIR) requires teaching about the history of the homosexual movement. Textbooks, class studies and materials would be required to treat favorably homosexuals, bisexuals and transgenders. The bashing of white men, Jews, Christians, and the Founding Fathers of the nation would still be permitted unless, of course, they were found to be gay.
Not wanting to look too foolish, the California legislature is also working to outlaw square bottom sheets on hotel beds. The proposed law would require hotels and motels to have fitted sheets. There was no word as to whether the fitted sheets would be "gay friendly." At some time in the future the California legislature plans on looking into the fact that the state is bankrupt and can't pay its bills or salaries.
Meanwhile in the home city of radical left former Speaker of the House Nancy Pelosi the last car dealership selling American brand cars has closed. It was a Ford dealership.
ANOTHER HONOR KILLING IN MICHIGAN – A Muslim man tracked his stepdaughter through four states, at last finding the girl who had escaped her home in Minnesota and was trying to hide from him. He had threatened to kill her for bringing "dishonor" to his family. The "dishonor" was acting like a typical American girl. Rahim Alfetlawi found Jessica Mokdad, 20, in Warren, Michigan and killed her. The story has had no media play outside of the local news. Most Muslim crimes in the United States are swept under the rug by the media for fear of being called "Islamophobic."
INTERNATIONAL
MORE ATTACKS ON EGYPTIAN CHURCHES – In the first three weeks of May several churches in Egypt have been attacked, Christian homes burned and Christians killed. On May 7th, two churches in Egypt were attacked and destroyed. St. Mina Orthodox Church and the Church of the Virgin Mary were burned and at least 12 died. Hundreds of Christians were injured defending the churches from mobs of Muslim men. At St. Mina's, police did not arrive at the scene until two full hours after the attacks began. There was no mention of the atrocities by the Obama White House and no pressure is being placed on the Egyptian government to stop the attacks against religious minorities. Later in May, Christians protesting the attacks of May 7th in front of government buildings were again attacked by Muslim mobs. This is the "Arab Spring" hailed by Barack Obama and Hillary Clinton.
MORE CHRISTIANS DIE IN NIGERIA – At least 16 people were killed in a pre-dawn attack on May 7th in the Christian village of Kurum in northern Nigeria. The Muslim attackers, which the Western media referred to as "unidentified gunmen," attacked a farming village in Bauchi state killing at least 17 Christians. More than 20 homes were burned to the ground. There was no condemnation of the attacks by the White House or the State Department.
CHRISTIAN SCHOOL ATTACKED IN PAKISTAN – On Saturday, April 30, stone-wielding Muslims smashed up a Christian school and attempted to attack a church in Lahore, Pakistan. A mob of more than 500 Muslim men gathered in the suburbs of Gujranwala district near Lahore, after Muslim clerics claimed that two pages of a burnt Koran were found in a Christian cemetery. A huge amount of damage was done to the school in a community where about 2,500 Christians live. News reports claim there were arrests, but in the past Pakistani police have never actually filed charges in these types of attacks against Christians. There was no condemnation of the attacks by the White House or the State Department.
PRO-BIN LADEN DEMONSTRATIONS IN PAKISTAN – About one hundred Muslims demonstrated outside the US embassy in London the Friday after Usama bin Laden was killed by Navy SEALs. But in Pakistan, thousands took to the streets day after day, and images of President Obama were burned. Christians are staying in their homes and guarding their churches in Pakistan as the death of bin Laden has been used as an excuse by Muslims to attack them once again.
The United States is giving Pakistan over $4 billion a year while that nation helps our enemies and persecutes Christians. Urge your congressman to stop that aid now!
Help persecuted Christians. This month we will ship more than $38,000 in medical supplies to the clinic we support in Jordan.
William J. Murray, Chairman
https://religiousfreedomcoalition.org/wp-content/uploads/2011/05/Usama-Dead.jpg
372
478
Air Spark
https://religiousfreedomcoalition.org/wp-content/uploads/2020/03/RFCFinal.jpg
Air Spark
2011-05-19 22:34:31
2019-08-13 19:48:48
Chairman's Report for May 19, 2011