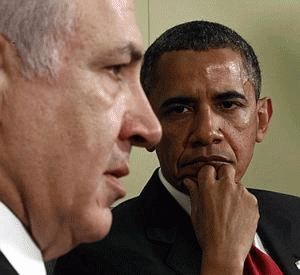 In this issue: Obama's "Jews should love me" delusion / Protecting life and marriage in the military / Congressional pro-Israel resolutions / Jewish Chaplains memorial / Social conservatives and Israel / Atheist Newdow lost another one / Sex change for kids? / ACLU defends sharia / Muslim Brotherhood claims Egypt for sharia / Christian sisters kidnapped and forced to marry same Muslim man / Remember Asia Bibi
PRESIDENCY

"THE JEWS SHOULD LOVE ME" SYNDROME – There was unmistakable hatred in the eyes of President Barack Obama as he listened to Israeli Prime Minister Netanyahu speak during an Oval Office press conference. The President maintained a glaring stare and sneer on his face as the Prime Minister refused to ethnically cleanse 400,000 Jews from their homes and move them into a nation that would be less than nine miles wide, under Obama's terms. Yet Obama undoubtedly saw the Prime Minister's brave defense of his small nation as insubordination. Liberals such as Barack Obama view all minorities as Democrat Party property. These individuals are supposed to support liberal policies simply because of their race, sex or ethnicity. As a Jew, Prime Minister Netanyahu is expected to follow the current liberal line even if it means the destruction of Israel.
THE CONGRESS 
PROTECTING LIFE AND MARRIAGE IN THE MILITARY –
1. Rep. Todd Akin (R-MO) offered an amendment to the Defense Authorization bill (H.R. 1540) that states that only those marriage ceremonies which conform to the Defense of Marriage Act (DOMA) can take place on military installations. DOMA defines marriage as a union of one man and one woman. The Department of the Navy had recently given permission for chaplains to perform same-sex marriages, but quickly reversed itself after congressional pressure.
2. Rep. Duncan Hunter (R-CA) also offered an amendment to the Defense Authorization bill on "Don't Ask, Don't Tell" that would require all four military service chiefs to certify that gays in the military won't impact combat readiness or effectiveness before that White House policy allowing open homosexuality is adopted.
3. Rep. Vicky Hartzler (R-M) offered an amendment to the same Defence Authorization bill that emphasizes DOMA in the military. The amendment defines marriage as a one man, one woman union for the military. All three of these military-related amendments passed out of committee and should be retained in the DoD bill.  
PRO-ISRAEL RESOLUTIONS – In response to President Barack Obama's demand that Israel return to pre-1967 borders that are not defendable, resolutions supporting Israel were introduced in the House by Rep. Louie Gohmert (R-T) and in the Senate by Senator Orrin Hatch of Utah. See Gohmert's video statement
JEWISH CHAPLAINS MEMORIAL – Congress has authorized a Jewish Chaplains Memorial at Arlington National Cemetery. Although 13 Jewish chaplains have died while on active duty, there is no memorial in their honor. Groups have been working to change that, and have raised private funds to pay for the memorial, designed the memorial, and now have Congressional authorization from the House needed to erect the memorial. The final vote on H.R. 1627 was 380 to zero with 51 present/not voting.
RELIGION AND CULTURE 
SOCIAL CONSERVATIVES SUPPORT ISRAEL – Leaders of groups representing tens of millions of Americans including American Family Association, Reclaiming America, the Religious Freedom Coalition and others ran full page newspaper and TV ads supporting Israel after the inflammatory statements of President Barack Obama. Under the banner of Israel, You're Not Alone the coalition of organizations met with congressional leaders in Washington this week.
ATHEIST NEWDOW LAWSUIT KICKED OUT – The Supreme Court rejected atheist Michael Newdow's case challenging "So Help Me God" in the Presidential Oath. This is the second case this year that Newdow has lost at the Supreme Court level. The Court also refused to hear Newdow's case challenging "In God We Trust" on U.S. currency.
SEX CHANGE FOR SEVEN-YEAR-OLDS? – Dr. Norman Spack is a pediatrician who has opened a clinic at Boston Children's Hospital to treat kids as young as seven years old who are "confused about their gender identity." Instead of counseling the youngsters to help them gain confidence in their own God-given biological gender, Dr. Spack and his associates, and the pathetic excuses for parents who bring their children to this clinic, are engaged in something much more disturbing. Read more
NO 911 MOSQUE
ACLU DEFENDS SHARIA –
The ACLU, which was among the first to, in their words, "applaud and congratulate" efforts to build the Ground Zero Mosque, is also among the foremost defenders of sharia law in America. The ACLU has mounted an offensive against the fifteen states which have adopted or are considering the adoption of legislation to ban sharia and other foreign or international laws from being considered in their courts.
Read more at no911mosque.org
INTERNATIONAL 
MUSLIM BROTHERHOOD: SHARIA FOR EGYPT –
A Muslim Brotherhood leader declared that Islamic Sharia Law would be imposed in Egypt if they come to power. Sobhi Saleh, a Muslim Brotherhood leader, claimed Sharia would protect not only Muslims but also those non-Muslims who pay the Jizya (protection money). Obama plans on giving more than $1 billion this year to Egypt.
Read more
CHRISTIAN SISTERS KIDNAPPED AND FORCED TO MARRY MUSLIMS –
In Faisalabad, Pakistan a powerful Muslim businessman, with the help of a group of accomplices, kidnapped two Christian sisters, forced them to convert to Islam and marry him. The girl's father reported the kidnapping to the police but the police blocked investigations by reversing the facts: they said the daughters fled because of their father's violence. A priest from the diocese of Faisalabad points out that the kidnapping of young women has become "common practice", because the authorities and police are "puppets in the hands of extremists." PLEASE NOTE TWO KEY ITEMS .. Both girls were forced to marry the same man. Islam allows men to have up to four wives.
Read more
WHY WE SHOULD DE-FUND PAKISTAN – Read my latest opinion editorial on why the billions of dollars of funding to Pakistan must be stopped. Pakistan is oppressive and repressive. Religious minorities are persecuted in Pakistan and much of our money is going to fund a nuclear program that threatens democratic India.
ARE WE FORGETTING ASIA BIBI – Remember Asia Bibi, the Pakistani Christian women who has sat for over a year in a jail without trial on a blasphemy charge? Read more
CHRISTIAN INTERNET STORE 
VISIT OUR INTERNET STORE – Our Internet store has more than books and CD's. There is everything from candy to jewelry and all of it has a Christian theme. Unlike Amazon and other major Internet stores we do not sell porn and satanic materials right beside Christian books. Ours is a real Christian store with tens of thousands of items. Please take a look. The store is located at www.rfcstore.com
Labels:
https://religiousfreedomcoalition.org/wp-content/uploads/2011/05/obama-netanyahu2.jpg
275
300
Air Spark
https://religiousfreedomcoalition.org/wp-content/uploads/2020/03/RFCFinal.jpg
Air Spark
2011-05-27 22:17:47
2011-05-27 22:17:47
Report from Washington, May 27, 2011