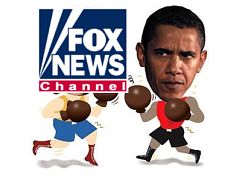 Obama moves against Fox News / Obama fights for gay issues / Gay love in the trenches / Democrats want to force other nations to be gay friendly / Terror in Oslo / Islamic Emirates in Britain / Terror not just in the Middle East / Falsely accused Christian dies in Pakistani jail

PRESIDENCY 
OBAMA MOVES AGAINST FOX NEWS – Do CBS, NBC, ABC, CNN and CNBC pay for news stories? Of course. Do they pay officials in other nations for news leaks? Of course they do. But the U.S. Justice Department is preparing subpoenas as part of preliminary investigations into News Corp, relating to alleged foreign bribery in the U.K. over a phone hacking scandal at one of the company's newspapers. The Obama Administration has ordered the DOJ to go after News Corp in hopes they can shut up Fox News, but Obama may have a problem: It is my understanding that Fox News is currently amassing information on bribes paid overseas for news by the other major networks.
OBAMA FINALLY TELLS THE TRUTH – When Obama ran for president in 2008 everyone knew he was lying when he claimed to support traditional marriage. Just as if we were living in the society ruled by Big Brother in the Orwellian novel 1984, we are now told by an Obama spokesman that Obama has always been against the Defense of Marriage Act (DOMA) and now supports legislation to end it. Ending DOMA would of course end the right of states to refuse to recognize same-sex marriages.
GAY LOVE IN THE TRENCHES – Under President Obama's direction, the new Pentagon chief Leon Panetta has decided to end the ban on homosexuals serving openly in the military. He certified that repealing the gay prohibition will not hurt the military's ability to fight. With that certification from Panetta, President Obama officially lifted the ban today.
THE CONGRESS


FORCE OTHER NATIONS TO BE GAY FRIENDLY –
Enslaving women is OK with Democrats; just don't mistreat gays. In a late night session at a marathon committee markup of H.R. 2583, the Foreign Relations Authorization Act, Democrat Ranking Member, Howard Berman, offered an amendment that would have given the Secretary of State a directive to promote the LGBT agenda internationally. Although the amendment was defeated along party lines by Republicans, one question comes to mind: Why was their no reference to the rights of women or religious minorities in the amendment, only to gay rights? Answer: Although homosexuals are a very small minority, they give huge amounts of money to Democrat congressmen.
NEW CHAIRMAN'S REPORT BY WILLIAM MURRAY
CHAIRMAN'S REPORT FOR JULY 20th, 2011 – William J Murray's Chairman's Report includes: Obama's Voice of America claims that Islamists want "reform." / Obama says no to Canadian oil but yes to Saudi oil / The State Department's Weiner problem / NBC apologizes for "under God" omission in Pledge / Military funding of same-sex marriage / Gays for Jon Huntsman / Honor killings in the West / Islamists want to take over UK cities / Pakistan Christian sex slaves / Islamic school has kids make bombs in Indonesia. Other international and domestic issues reported by William J. Murray
INTERNATIONAL 


OSLO, NORWAY ATTACKED –
The attack on government buildings in Oslo, Norway today highlighted the fear sweeping Europe as a result of the failed policy of massive immigration to foster "multiculturalism." Not only was a car bomb used to attack buildings, including the Prime Minister's office, but a youth camp was attacked by a gunman dressed as a policeman. As of this writing at least seven are dead and many more injured.
ISLAMIC EMIRATES OF BRITAIN? –
Muslims now want to turn twelve British cities, one called "Londonistan," into independent autonomous enclaves ruled by Islamic Sharia law. Called the Islamic Emirates Project, it uses the motto "The end of man-made law, and the start of Sharia law." The U.K. is now 5% Muslim and the radicalism of Islam there has changed the face of that nation and has most of the population in a constant state of fear. A stunning article by Soeren Kern in
Hudson New York
exposes the U.K situation which is on its way to the USA.
NOT JUST THE MIDDLE EAST –
In Xingjian, China, Muslim separatists chanting 'Allah is the only god," attacked a police station last week, hacking two officers to death. They then murdered a woman and a teenage girl in the name of Allah. Many more people were injured, and the Chinese military was called in to restore order. In the last two weeks Islamic terrorists have killed 12 and injured numerous others in Thailand. Most of those murdered were Buddhists.
ANOTHER CHRISTIAN DIES IN PAKISTAN JAIL –
A man accused of blasphemy and said to be mentally challenged, died in Lahore Camp Jail after what police said was a brief ailment. Shaukat Ali, 35, was imprisoned in 2007 under blasphemy charges.
Read more
CHRISTIAN INTERNET STORE 


VISIT OUR INTERNET STORE –
Our Internet store has more than books and CD's. There is everything from candy to jewelry and all of it has a Christian theme. Unlike Amazon and other major Internet stores we do not sell porn and satanic materials right beside Christian books. Ours is a real Christian store with tens of thousands of items. Please take a look. The store is located at
www.rfcstore.com
https://religiousfreedomcoalition.org/wp-content/uploads/2011/07/obama_fnc.jpg
180
240
Air Spark
https://religiousfreedomcoalition.org/wp-content/uploads/2020/03/RFCFinal.jpg
Air Spark
2011-07-22 20:56:45
2011-07-22 20:56:45
Report From Washington - July 22, 2011