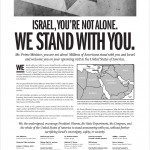 In this week's issue: Obama wants indefensible borders for Israel / Social conservative groups support Israel, run full page ad in DC / Congressional resolution to support Israel / Senate blocks Obama's judge / Muslim US attorney for Jihad? / Who is paying for the new giant Brooklyn mosque / Israel rejects Obama demand for 1967 border / Missiles in Latin America; what would John F. Kennedy do?
PRESIDENCY

OBAMA WANTS INDEFENSIBLE BORDERS FOR ISRAEL – Today President Barack Obama joined the chorus of radical Muslims calling for Israel to return to its 1967 borders, giving Israel less total square miles than the city of Houston, Texas. The 1967 borders are not defensible and at some points Israel is not even eight miles wide. Israel's Prime Minister Benjamin Netanyahu was to meet with Obama on Friday, and Obama chose Thursday to make his dramatic remarks to appease Muslims worldwide. In previous meetings Obama has shown total disrespect for the Israeli prime minister, on one occasion making him enter through a side door. Obama's callus attitude toward Israel has cost him some very large liberal Jewish donors as well as Jewish voters. Still be persists in calling for Israel to return to its pre-1967 borders which is in essence suicide for that nation. Tel Aviv airport will be within the range of a simple mortar attack and Tel Aviv itself a prime target for rockets. In effect Obama has called for the destruction of Israel.
CONSERVATIVE GROUPS SUPPORT ISRAEL – When Israel's Prime Minister Netanyahu arrived in Washington, DC this week he was greeted by a full page ad in the Washington, DC edition of the Wall Street Journal showing the support of numerous social conservative organizations including the Religious Freedom Coalition. The ad, which was signed by numerous social conservative leaders including myself, conveyed the message from millions of Americans to Israel that, "You are not alone." There was also a message in the ad for President Barack Obama that Israel should not and cannot be abandoned. Read more
THE CONGRESS
SUPPORTING ISRAEL – Majority Leader Eric Cantor filed a bi-partisan resolution in support of Israel. The resolution calls for President Obama's ambassador to the United Nations to veto any move to have an independent state declared for Palestinians. The majority Islamic nations and the anti-Semites of Europe want to reduce the size of Israel so that the Jews there can eventually be exterminated. Please contact your congressman and ask him to support H. Res. 268
SENATE GOP BLOCKS RADICAL OBAMA NOMINEE – Today Republicans in the Senate blocked the confirmation of the most radical judicial candidate Obama has yet put forward, Berkeley college professor Goodwin Liu, a man who has never served as a lower court judge and has hardly ever even argued a case before a federal court. If confirmed he would have become a federal judge on the Ninth Circuit Court of Appeals for life. Read more!
RELIGION AND CULTURE
BURNING QUR'AN IS BIG NEWS, PLOTTING TO MURDER IS NOT – Just down the road from where Rev. Terry Jones made headlines talking about burning a Qur'an, two other religious leaders were arrested for conspiracy to murder, maim and kidnap victims in the name of their god. They had even raised and sent funds to a known terrorist organization. The father and son imams were arrested in Florida and other arrest warrants were issued, but don't look for the story on the front page of the New York Times as that paper is using its space to report on "Islamophobia." Read more
NEW MUSLIM US ATTORNEY SAID ISRAELIS ARE LIKE NAZIS – He has led marches against Israel and he shouted out the name of a terrorist leader. He has been an activist in numerous Islamic organizations with a hatred for Jews and Israel. As of this week he is also the new Assistant United States Attorney for the Eastern District of Michigan. His name is Abed Hammoud, and he will be prosecuting cases associated with terror. Sadly, this is not a joke. Read more
May 19th CHAIRMAN'S REPORT ONLINE – In the May 19th issue: Bin Laden's takedown; no explanations needed /"Arab Spring" harbinger of a frightening summer /Obama offends policemen observing Police Week /Same-sex Navy marriages? / Congressman West says, Stop funding Pakistan /Congressional Resolution for Ten Commandments / Bankrupt but Gay-friendly /Another American girl victim of "honor killing" / Brave Egyptian and Nigerian Christians endure more attacks.
NO 911 MOSQUE
WHO IS FUNDING HUGE BROOKLYN MOSQUE? – Concerned residents of Sheepshead Bay in Brooklyn formed a group called Bay People to stop construction of a large mosque in their neighborhood, but lost their appeal in court on May 10th. Yet some of the problems they first pointed out last summer do not seem to have been addressed. The mosque is apparently being funded by the Muslim American Society, a branch of the Muslim Brotherhood, and is an organization which "has a troubling history of associations with radical organizations and individuals that promote terrorism" Read more

INTERNATIONAL
ISRAEL REJECTS '67 BORDER – Prime Minister Netanyahu rejected President Obama's call for Israel to return to the 1967 borders saying, "Israel believes that in order for peace to prevail, the establishment of a Palestinian state cannot come at the expense of the State of Israel's existence." His statement continued, "The Palestinians, and not only the United States, must recognize Israel as the Jewish people's nation-state."
WHAT WOULD JOHN F. KENNEDY DO? – German newspaper Die Welt reported this past week that Iran is building missile silos in Venezuela. This is a clear indication that Iran is doing far more than supplying Venezuela with defensive anti-aircraft systems. The Venezuelan dictator Hugo Chavez and Iranian madman Mahmoud Ahmadinejad are allies and have signed numerous pacts. One of those allows for mining of uranium in Venezuela for sale to Iran. When it was discovered that the Soviet Union was shipping missiles to Cuba in 1960, President John F. Kennedy threatened war to stop them. What will President Obama do?
WHY WE SHOULD DE-FUND PAKISTAN – Read my latest opinion editorial on why the billions of dollars of funding to Pakistan must be stopped. Pakistan is oppressive and repressive. Religious minorities are persecuted in Pakistan and much of our money is going to fund a nuclear program that threatens democratic India.
CHRISTIAN INTERNET STORE
VISIT OUR INTERNET STORE – Our Internet store has more than books and CD's. There is everything from candy to jewelry and all of it has a Christian theme. Unlike Amazon and other major Internet stores we do not sell porn and satanic materials right beside Christian books. Ours is a real Christian store with tens of thousands of items. Please take a look. The store is located at www.rfcstore.com
https://religiousfreedomcoalition.org/wp-content/uploads/2011/05/ISRAEL-AD-WSJ1.jpg
150
150
Air Spark
https://religiousfreedomcoalition.org/wp-content/uploads/2020/03/RFCFinal.jpg
Air Spark
2011-05-22 12:53:41
2011-05-22 12:53:41
Report From Washington - May 20, 2011