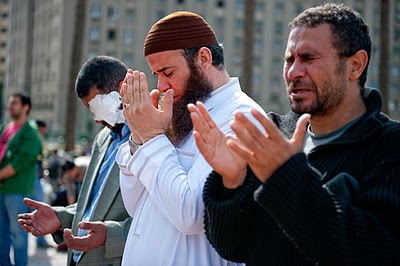 Editor: William J. MurrayIn this issue: CIA specialist claims democracy will make Islam moderate / Obama says nothing about deaths in Egypt / House Out but Senate in session to fix "immigration" / Legalizing the illegals / Rush to get Russian girlfriends to US / Educating Sean Hannity on the Koran / Muslim prayers in public schools / Six year old girl sold to pay debts / French liberate women in Mali / Muslim rapist goes free because he was taught women were worthless
The Presidency

CIA specialist: Democracy will make Islam moderate – The featured column in the Wall Street Journal by former CIA Middle East specialist Reuel Marc Gerecht this week unwittingly reveals why U.S. policy in the Middle East has been so disastrous for the past few administrations. Gerecht's conclusion was simplistic: Democracy diminished religious influence in the West; therefore, creating democracies in Muslim nations will lead to a weakened, moderate form of Islam. This is the kind of "expert" advice that led George W. Bush into disaster in Iraq, and encouraged Barack Obama to usher the Muslim Brotherhood into Egypt, Libya and Tunisia, with an even worse outcome. In a lengthy column at WND, I responded to Gerecht's ludicrous assertions. See my column here
Obama says nothing about deaths in Egypt – in the last days of President Mubarak's secular government, when dozens of protesters died in riots, President Obama was quick to ridicule the Egyptian leader and said he had to go. Now that Obama's Muslim Brotherhood buddy, Mohammed Morsi, has declared martial law and the death toll is almost a hundred,  the White House is strangely silent.
Congress
House out, but Senate in – The House is in "District work session" which means they are either back home in their state offices dealing with constituents, or out fund raising for reelection. Harry Reid's Senate is in session in Washington this week working on "immigration reform."
Legalizing the illegals – Senators Harry Reid, John McCain and a couple others have a bipartisan "comprehensive immigration" bill that most Republicans seem ready to accept. The bill has nothing to do with immigration but rather gives legal status to those who are now here illegally. It does nothing to bring well educated, English speaking workers to our nation. However – those needing good nannies or Russian girl friends should fly them in soon, so they will have legal status when the bill is signed into law.
Religion and Culture
Educating Sean Hannity on the Koran- Sean Hannity has gone after Egyptian President Morsi's anti-Semitic comments for several days on Fox News, but never refers to Morsi source material which is the Koran. Dr. Andrew Bostom attempts to educate Hannity in a well referenced column as to the source of the hatred toward Jews – the Koran. Read Bostom's column here.
Muslim prayers in public school library – In Maryland, the Muslim Brotherhood-founded Muslim Student Association is now on high school campuses, performing dawah and spreading sharia. One of their victories, with the help of terror-linked CAIR, is convincing the school to use the library as a mosque for daily prayers. Read more
Christian Bookstore and more – books, CD's, DVD's, cards and much more available at the Religious Freedom Coalition Internet Store. Please visit today!
International
Afghanistan: Six-year-old girl sold to pay debts – This is happening under the watchful eye of our military on a regular basis. (But so does the drug running.) A poor family unable to pay their debts has sold their six-year-old daughter to a relative for marriage to a boy ten years her senior. You will not hear a word about this outrage from the National Organization for Women (NOW) or other liberals because they only bash Christianity, never Islamic traditions. Read more
Liberated women in Mali – Women in Goa, Mali took to the streets to celebrate after French forces liberated the city from the murdering Islamic terrorists who had occupied it. The big question here is will Huffpost and other liberal outlets declare these women "Islamophobic?" Read more
UK: Muslim rapes 13 year old but no jail time because "He didn't know it was wrong" – In the UK, being critical of Islam on Facebook will get you arrested and tossed in jail. However, this Muslim rapes a 13-year-old girl and there is no jail time because his "religious education" taught him that "women are worthless." Read more
Join me in a fact finding mission to Israel – A once in a lifetime mission led by William J. Murray, William Federer and Frank Gaffney, all three experts on Israel and Islamic affairs. Not a standard "tour," the mission includes visits to settlements and military bases plus evening panels. Limited time for $400 discount! Read more
More from the Religious Freedom Coalition
New Chairman's Report – Now available, the January 18th, 2013 edition of the Religious Freedom Coalition Chairman's Report. In the current issue: William J. Murray writes on hot tub multiculturalism / Obama's gay inauguration – no evangelicals allowed / Obama sends tanks to the Muslim Brotherhood / More social conservatives in Congress, including two new Senators / Planned Parenthood got $542 million of your tax dollars last year / Al Gore and Rupert Murdoch make big bucks on Jew hating TV networks
My Life Without God – William J. Murray's first book, My Life Without God is now back in print as the 30th anniversary of his atheist mother's lawsuit to remove prayer form the schools approaches. Murray writes of his life in the dysfunctional home of infamous atheist/Marxist leader Madalyn Murray O'Hair. Learn more
Christian Bookstore and more – books, CD's, DVD's, cards and much more available at the Religious Freedom Coalition Internet Store. Please visit today!
https://religiousfreedomcoalition.org/wp-content/uploads/2013/02/Reuel-Marc-Gerecht-prayer.jpg
266
400
Air Spark
https://religiousfreedomcoalition.org/wp-content/uploads/2020/03/RFCFinal.jpg
Air Spark
2013-02-01 11:04:17
2013-02-01 11:04:17
Report From Washington - February 1, 2013