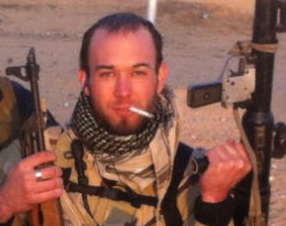 Editor: William J. Murray
In this issue: Obama's "free Syria" covers young girls in black / Obama's "Arab Spring" Tunisia: "Stone her to death!" / Sleeping with the Devil / Congress in recess / Congressman: "Don't arm our enemies" / No tax dollars for jihadists / Using the Fax Congress system / American Al-Qaeda fighter arrested / Christians most persecuted group in world / Syria: Killing students for jihad / Chinese jihadist joins Syria "rebel fighters" / Sudan's Muslim government bombs Christians / Libya: American arrested for "proselytizing"
GOOD FRIDAY – This is the day that Our Lord suffered the Cross as a sacrifice that all who believe may have eternal life. What appeared to be defeat to His tearful followers became a victory over death as He arose the 3rd day. May God bless you on this Holy Day.
The Presidency

Obama's "free Syria" covers young girls in black- Girls are covered from head to foot in schools in the "liberated" part of Syria. This curse on the women of Syria is brought to you by President Barack Obama and his main supporter in the destruction of secular states in the Middle East, Senator John McCain. Under the Assad "regime" wearing coverings to a public school was against the law. In the "new" Syria it is mandatory. Read more See International below for more on Obama's help for jihadists in Syria
Obama's "Arab Spring" Tunisia: "Stone her to death" – A Tunisian preacher is demanding that a protester, 19, be executed for posting her topless pictures on Facebook with an anti-Islamic slogan on her chest. To avoid arrest her parents have apparently placed her in a mental institution. Read more
Sleeping With The Devil – A former CIA operative, Robert Baer, exposes how Washington politics drastically compromised the CIA's efforts to fight global terrorism. Baer turns his attention to Saudi Arabia, revealing how our government's cynical relationship with our Middle Eastern ally and America's dependence on Saudi oil make us increasingly vulnerable to economic disaster and puts us at risk for further acts of terrorism.
Congress
Congress in recess – Both the House and Senate are on a two week "District Work" break. While many Senators can take time off to bask in the sun somewhere, members of the House actually have to return to their districts and meet with constituents. All have offices in their districts. Congress will reconvene on April 9th. See House Calendar
Congressman: " Don't arm our enemies" – Congressman Louie Gohmert, a committed Christian and social conservative, delivered a speech critical of the Obama Administration for the dismantling of our armed forces and the arming of potential enemies such as Egypt with sophisticated weapons. Read more
No tax dollars for jihadists – The Religious Freedom Coalition has begun an online petition asking congressmen to speak out against any funding, military or otherwise, to jihadists anywhere in the world. The petition comes at a time the Obama Administration is furnishing CIA help as well as cash and "humanitarian" aid to jihadists fighting the secular government of Syria. Provide your name and zip code, and a copy of the petition will be faxed to your congressman free of charge. See petition here.
Facebook.com/ReligiousFreedomCoalition for daily posts!
Religion and Culture

American Al-Qaeda fighter arrested – What a contradiction for our government! A former Army soldier from Phoenix who joined rebels fighting the Syrian government and boasted to FoxNews.com of his exploits as a Muslim soldier of fortune earlier this month was arrested Wednesday in Virginia and could face life in prison. WHY? This man was fighting for the terrorists our government supports to overthrow the secular government of Syria and install an Islamist regime. Read more
Christians most persecuted group in world – Nina Shea, Paul Marshall and Lela Gilbert introduced their new book, Persecuted: The Global Assault on Christians at a public discussion on religious persecution at the Hudson Institute in Washington, DC on March 27th. All three have authored previous books on the persecution of religious minorities and the worldwide decline in religious freedom over the last fifteen years. Read more
International
How many Christians will die on Easter Sunday? – As Christians are murdered by Muslims from Good Friday through Easter Sunday, we will try to keep track at ReligiousFreedomCoalition.org. Another site that will try to track the number of attacks on churches by Muslims this Easter is TheReligionOfPeace.com
Syria: Killing students for jihad – America's allies in Syria bombed a university campus today, killing at least 20 and injuring many more. – Graphic photos – Read more
Syria: Chinese jihadist joins fighters – Jihadists have come from all over the world to help the United States overthrow Syria's secular government. In a YouTube video entitled "A message of victory to the people of China from the Mujahidin Brigade Front," a Chinese Muslim talks about helping the Libyan Islamists fight their revolution. See video
Sudan: Muslim government bombs Christians – The Sudanese government's bombing of predominantly Christian, ethnic Nuba civilians in South Kordofan state has taken more lives the first three months of this year. Read more
Libya: American arrested for "proselytizing" – Two years after the U.S. government first militarily intervened in Libya to advance the cause of Libyan revolutionaries, the new Islamist Libyan government has arrested a U.S. citizen for allegedly "proselytizing" Christianity in Benghazi. In addition, numerous Egyptian Christians have been arrested and one was tortured to death. Read more
Join me in a fact finding mission to Israel – A once in a lifetime mission led by William J. Murray, William Federer and Frank Gaffney, all three experts on Israel and Islamic affairs. Not a standard "tour," the mission includes visits to settlements and military bases plus evening panels. Limited time for $400 discount! Read more
More from the Religious Freedom Coalition
New Chairman's Report – Now available, the March, 22nd, 2013 edition of the Religious Freedom Coalition. This edition includes an extensive report on the evils of the Saudi Arabian Kingdom and its financing of Islamic supremacists and anti-Semites. Recent arrests of Christians in Saudi Arabia are explored. Read it here
My Life Without God – William J. Murray's first book, My Life Without God, is now back in print as the 30th anniversary of his atheist mother's lawsuit to remove prayer form the schools approaches. Murray writes of his life in the dysfunctional home of infamous atheist/Marxist leader Madalyn Murray O'Hair. Learn more
Christian Bookstore and more – books, CD's, DVD's, cards and much more available at the Religious Freedom Coalition Internet Store. Please visit today!
Posted by
William J. Murray
at
3:00 PM
No comments:


Labels:
https://religiousfreedomcoalition.org/wp-content/uploads/2013/03/AmericanJihadist.jpg
226
286
Air Spark
https://religiousfreedomcoalition.org/wp-content/uploads/2020/03/RFCFinal.jpg
Air Spark
2013-03-29 15:13:09
2013-03-29 15:13:09
Report From Washington - March 29, 2013