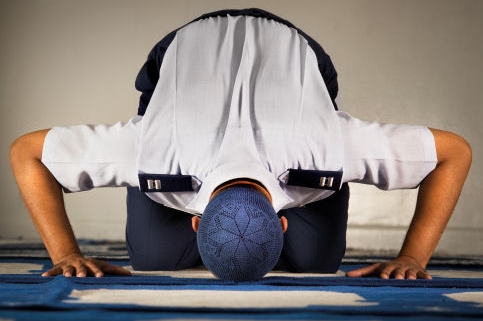 Editor: William J. Murray
In this issue: Bronze Star awarded for PowerPoint on Islamic sensitivity / Obama State Department's new program to import Muslim college students / Obama Arab Spring fuels hatred of Christians in Tunisia / No tax dollars to Syrian jihadists / Nigeria: 80 Christians killed in Easter violence / Pakistan: Muslim mob destroys Christian village / Germany: Muslims demand new Islamic national holidays / The UN versus Israel
The Presidency 
Obama Air Force awards bronze star for politically correct PowerPoint – An Air Force chaplain has been awarded a Bronze Star for his service in crafting an especially good PowerPoint about how to treat Islamic religious materials with sensitivity. The Air Force claims that by teaching Air force personnel to revere Islamic writings, he saved lives. NO – this is not a joke. Read more
Obama State Department wants more Muslims in USA – Better educated Muslims are more likely to be members of terrorists groups, a recent study shows. Therefore, the State Department plans to end terror by bringing more Muslims to the USA to take college spots away from Americans. Program in "high gear." Read more
Obama Arab Spring in Tunisia a new nightmare – The first "Arab Spring" nation, Tunisia, has become a haven for jihadists including many members of Al-Qaeda. Even Huffington Post is reporting the failure of the "Arab Spring" in Tunisia. "Democratic Islamic" is an oxymoron. Read more
Congress
Congress in recess – Both the House and Senate are on a two week "District Work" break. While many Senators can take time off to bask in the sun somewhere, members of the House actually have to return to their districts and meet with constituents. All have offices in their districts. Congress will reconvene on April 9th. See House Calendar
No tax dollars for jihadists – The Religious Freedom Coalition has begun an online petition asking congressmen to speak out against any funding, military or otherwise, to jihadists anywhere in the world. The petition comes at a time the Obama Administration is furnishing CIA help as well as cash and "humanitarian" aid to jihadists fighting the secular government of Syria. Provide your name and zip code, and a copy of the petition will be faxed to your congressman free of charge. See petition here.
Facebook.com/ReligiousFreedomCoalition for daily posts!
Religion and Culture 
Join me in a fact finding mission to Israel – A once in a lifetime mission led by William J. Murray, William Federer and Frank Gaffney, all three experts on Israel and Islamic affairs. Not a standard "tour," the mission includes visits to settlements and military bases plus evening panels. Limited time for $400 discount! Read more
Christians most persecuted group in world – Nina Shea, Paul Marshall and Lela Gilbert introduced their new book, Persecuted: The Global Assault on Christians at a public discussion on religious persecution at the Hudson Institute in Washington, DC on March 27th. All three have authored previous books on the persecution of religious minorities and the worldwide decline in religious freedom over the last fifteen years. Read more
International
Nigeria: Easter attacks kill 80 Christians – Nigerian Christians appealed for prayers Tuesday, April 2, after Easter season violence in troubled central Nigeria left as many as 80 people dead and displaced some 4,500 others. Read more
Pakistan: Muslim mob attacks Christians – Incited by calls from mosque loudspeakers, a Muslim mob attacked a Christian neighborhood in Gujranwala today, injuring at least five Christians, damaging churches and destroying dozens of shops and vehicles. Read more
Bangladesh: Christian children rescued from Islamic training centers disappear again – Eleven of the sixteen Christian children who were rescued from Muslim traffickers in Dhaka, Bangladesh on January 2 have again gone missing. Sources in the Christian community, as well as reports in local newspapers, report that they believe the children were re-trafficked and taken to madrassas, Islamic training centers, where they will likely be forced to convert to Islam and study the Quran. Read more
Germany: Muslims want official holidays – The Central Council of Muslims in Germany proposed that federal authorities formalize two Islamic holidays as official holidays. This is not shocking news, as in some areas Muslims already have that right.                      United Nations: Obsessed with Israel – In the last few decades the United Nations has been obsessed with one country. More resolutions are passed against Israel than all other nations combined. 
More from the Religious Freedom Coalition


New Chairman's Report – Now available, the March, 22nd, 2013 edition of the Religious Freedom Coalition. This edition includes an extensive report on the evils of the Saudi Arabian Kingdom and its financing of Islamic supremacists and anti-Semites. Recent arrests of Christians in Saudi Arabia are explored. Read it here
My Life Without God – William J. Murray's first book, My Life Without God, is now back in print as the 30th anniversary of his atheist mother's lawsuit to remove prayer form the schools approaches. Murray writes of his life in the dysfunctional home of infamous atheist/Marxist leader Madalyn Murray O'Hair. Learn more
Christian Bookstore and more – books, CD's, DVD's, cards and much more available at the Religious Freedom Coalition Internet Store. Please visit today!
https://religiousfreedomcoalition.org/wp-content/uploads/2013/04/AF-prayer.jpg
328
483
Air Spark
https://religiousfreedomcoalition.org/wp-content/uploads/2020/03/RFCFinal.jpg
Air Spark
2013-04-05 14:55:05
2013-04-05 14:55:05
Report From Washington - April 5, 2013