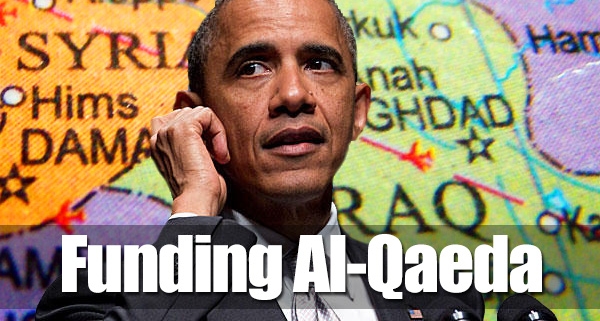 Editor: William J. Murray
Join me in a fact finding mission to Israel – A once in a lifetime mission led by William J. Murray, William Federer and Frank Gaffney, all three experts on Israel and Islamic affairs. Not a standard "tour," the mission includes visits to settlements and military bases plus evening panels. Read more
In this issue: Obama's Army: "Catholics and Evangelicals are extremists like Al-Qaeda / Obama silent on Islamist killings of Christians and secularists / Obama spending spree / AP and other media shield serial killer / No tax dollars for jihadists / Associated Press bows to CAIR / Islamists take over Golan Heights / Christian mourners attacked in Egypt / Nigerian Pastor escapes as Christian village attacked again / Muslims destroy church in Indonesia
The Presidency
Obama's Army: Catholics and Evangelicals are extremists – A U.S. Army training instructor listed Evangelical Christianity and Catholicism as examples of religious extremism along with Al-Qaeda and Hamas, during a briefing with an Army Reserve unit based in Pennsylvania, Fox News has learned. Read more

Obama silent on Islamist killings – A Pakistani grocer running on a secularist party ticket has been shot dead in a drive-by killing in the southern city of Hyderabad. No comment from President Obama. There was also no comment from him on the killings of Coptic Christians in Egypt or the 80 Christians killed on Easter in Nigeria. It seems that any killings of Christians or secularists by Muslims will not be criticized by this White House.
Obama Spending: Economics is not normally the subject of this update, but I was stunned to learn that in 2010 the net spending at all levels of government – including Federal, State and municipal – amounted to $5.94 trillion. Divided among the 118,682,000 households in the United States, that comes to $50,074 per household. The median household income in 2010 was $49,445. This means that government spends more per family than a family on average earns. Read more
Congress
AP and other media shield serial killer – U.S. Congressman Marlin Stutzman spoke on the House floor this afternoon to call attention to the horrific crimes of Kermit Gosnell, an abortionist in West Philadelphia being tried for the deaths of seven newborn babies and one adult woman. Stutzman remarks at YouTube clip below are striking at just one minute.


No tax dollars for jihadists – The Religious Freedom Coalition has begun an online petition asking congressmen to speak out against any funding, military or otherwise, to jihadists anywhere in the world. The petition comes at a time the Obama Administration is furnishing CIA help as well as cash and "humanitarian" aid to jihadists fighting the secular government of Syria. Provide your name and zip code, and a copy of the petition will be faxed to your congressman free of charge. See petition here.
Facebook.com/ReligiousFreedomCoalition for daily posts!


Religion and Culture 
Associated Press bows to CAIR – In a stunning move, the Associated Press (AP) capitulated to pressures by Islamist group CAIR to drop the use of the term "Islamist" when describing self-declared Islamist militants and movements. Read more


International


SYRIA: Islamists take over Golan Heights – The Syrian government has withdrawn large numbers of troops from the Golan Heights, leaving the area under the control of armed Islamist groups threatening Israel. Read more
EGYPT: Christian mourners attacked – Coptic Christians attending a funeral service at St. Marks Cathedral in Cairo for four Copts killed two days earlier in an anti-Christian rampage, were attacked themselves by at least 200 Muslim rioters. Instead of protecting the Christians, police joined the rioters. Read more
Nigeria:Pastor and family escape death – Rev. John Dakwat and his family escaped death during an attack by Muslims on their village Read the amazing story.
Indonesia: Muslim mob destroys church – Muslim persecution of Christians in West Java has been intensifying in recent months, culminating in the destruction of a church by a Muslim mob with the collusion of the local authorities. Read more


More from the Religious Freedom Coalition


New Chairman's Report – Now available, the April 11th, 2013 edition of the Religious Freedom Coalition. This edition includes: Bronze Star awarded for a politically correct PowerPoint on how to be sensitive in handling Islamic religious materials / Obama State Department wants more Muslim college students in USA / Obama's "Arab Spring" Tunisia: "Stone her to death". Read it here
My Life Without God – William J. Murray's first book, My Life Without God, is now back in print as the 30th anniversary of his atheist mother's lawsuit to remove prayer form the schools approaches. Murray writes of his life in the dysfunctional home of infamous atheist/Marxist leader Madalyn Murray O'Hair. Learn more
Christian Bookstore and more – books, CD's, DVD's, cards and much more available at the Religious Freedom Coalition Internet Store. Please visit today!
https://religiousfreedomcoalition.org/wp-content/uploads/2013/04/obama-funding-al-qaeda.jpg
400
600
Air Spark
https://religiousfreedomcoalition.org/wp-content/uploads/2020/03/RFCFinal.jpg
Air Spark
2013-04-12 17:23:59
2013-04-12 17:23:59
Report From Washington - April 12, 2013