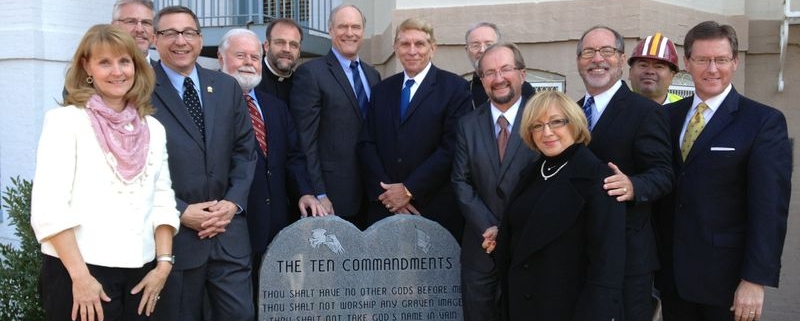 Editor: William J. Murray
In this issue: Obama created the Syrian terrorist nightmare / Obama Army attacks "Healthy white, Christian heterosexual men" / Leading economic conservative attacks Senator Ted Cruz / Congressman Allen West on anti-Christian army / Sudan: Bulldozing churches for Muslim businessmen / Syria: Location of kidnapped bishops known / Egyptian newspaper exposes Muslim Brotherhood in the USA / Iran: Christians whipped for taking communion wine
The Presidency
Obama created the Syrian terrorist nightmare – A new Brookings Institute report shows that Syria has become al Qaeda's largest safe haven, with more than 10,000 fighters; al Qaeda fighters in Syria actually outnumber the terrorist network's core organization in Pakistan and its affiliates in North Africa and the Arabian Peninsula. Read more
Obama Army attacks "Healthy white, Christian, heterosexual men" – A controversial 600-plus page manual used by the military to train its Equal Opportunity officers teaches that "healthy, white, heterosexual, Christian" men hold an unfair advantage over other races, and warns in great detail about a so-called "White Male Club." Read more
Congress
Senator asks Secretary Kerry to speak out on religious freedom – Senator Jim Inhofe (R-OK) has recently sent a letter to Secretary of State John Kerry urging the United States leverage its influence to end the increasing attempts in the Middle East to silence religious freedom. Read more
Leading economic "conservative" attacks Senator Cruz – Grover Norquist, the alleged "conservative" who runs Americans for Tax Reform (ATR), has launched an attack on Senator Ted Cruz (R-TX), one of the finest men in the U.S. Senate. Norquist, who has a history of promoting the spread of Islam in America, recently went on Sirius radio with leftist Pete Dominick to attack Cruz. Read more
Congressman Allen West on anti-Christian army – Former Congressman Allen West (R-FL) speaks out on the anti-Christian bias within the U.S. military in an article he wrote at West's Steadfast And Loyal site. West demands to know who authorized listing Christian organizations, conservative Catholics and Evangelical Christians as "hate groups." Read more
Religion and Culture

Vandalized Ten Commandments monument rededicated – The monument of the Ten Commandments in front of Faith and Action ministry center directly behind the Supreme Court which was vandalized and toppled to the ground on its face has been re-dedicated at a service on Capitol Hill. Read more
International Religious Freedom Day – Robert George,chairman of the U.S. Commission on International Religious Freedom (USCIRF), says the United States should continue its vigorous opposition to efforts at the UN to restrict speech deemed religiously offensive or controversial. For more than a decade, the Organization of Islamic Cooperation (OIC), has pushed for blasphemy laws by means of its annual resolutions focusing on "combating defamation of religions." Read more
International
Sudan: Bulldozing churches for Muslim businessmen – After months of bulldozing or taking over church buildings on the pretext that they belong to South Sudanese who are no longer citizens of the country, authorities are aiding a Muslim businessman's effort to take over church property in Khartoum North. Read more
Syria: Location of kidnapped bishops known – Lebanese General Security chief Maj. Gen. Abbas Ibrahim said Tuesday he knew the whereabouts of the two bishops kidnapped in Syria last April, describing their case as more complicated than that of the recently released Lebanese pilgrims. The McCain/Obama supported "rebels" who are holding the Bishops have made no demands. Read more
Egypt: Egyptian newspaper exposes Muslim Brotherhood in the USA – The Egyptian newspaper El Watan has just exposed a network of Muslim Brotherhood operatives in the United States. The newspaper discussed the influence that the Muslim Brotherhood has over the United States government including the White House and army. Read more

Iran: Christians whipped for taking communion wine – A Christian was "whipped with extreme violence" as a lashing sentences carried out. Two of the four members of the Church of Iran denomination sentenced to 80 lashes for taking wine during a communion service were lashed yesterday. Read more
More from the Religious Freedom Coalition
New Chairman's Report – Now available, the edition of the Chairman's Report for the Religious Freedom Coalition. In this issue: The Religious Freedom Coalition exhibit at the Values Voter Summit exposed the evils of Saudi Arabia including the arrests and torture of Christian guest workers from Ethiopia. RFC Chairman William J Murray met with several Senators concerning the evils of the ruling Saudi royal family. See it here!
Follow us on Twitter @rfcnet
Christian Bookstore and more – books, CD's, DVD's, cards and much more available at the Religious Freedom Coalition Internet Store. Please visit today!
https://religiousfreedomcoalition.org/wp-content/uploads/2013/10/Ten-Commandments-Rededication-01.jpeg
600
800
Air Spark
https://religiousfreedomcoalition.org/wp-content/uploads/2020/03/RFCFinal.jpg
Air Spark
2013-11-01 15:54:45
2013-11-01 15:54:45
Washington Report - November 1st, 2013