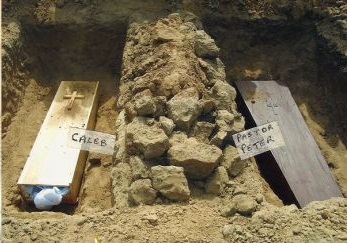 Editor: William J. Murray
Join me in a fact finding mission to Israel – A once in a lifetime mission led by William J. Murray, William Federer and Frank Gaffney, all three experts on Israel and Islamic affairs. Not a standard "tour," the mission includes visits to settlements and military bases plus evening panels. Read more
In this issue: Young Nigerian Christian victims of terror denied visa for camp in USA by Obama / Study shows Obama's Arab Spring causes repression / Obama spy program on churches allowed, but mosques off limits / Senators move to block aid to Syrian jihadists / Congressmen and Senators want protections for military religious liberty / The Koran says: Being a Christian worse than being a murderer / More Saudi evil / Nigerian Muslims brag bout killing kids / No word on kidnapped bishops in Syria / 300 Western jihadists held in Syria
The Presidency

Obama admits Muslim victim of terror to USA, but not Christians – The non-profit group Tuesday's Children invited four victims of terror to a summer camp in the USA. Of the four Nigerian teenagers who applied to the U.S. embassy for visas at the behest of Tuesday's Children, the embassy denied visa requests for the three who are Christian but accepted the one who is Muslim. Read more
Petition to Congress: Allow Christian terror victims to come to camp in USA – A full investigation must be made by both the House and Senate as to why three Christian kids who were victims of terror were denied visas for a summer camp, while the one Muslim on the same application was approved. Send a free fax to your congressman demanding an investigation.
Obama's Arab Spring causes persecution – A Pew Research Center study has found that since the beginning of the so-called "Arab Spring" in 2010 – engineered by Barack Hussein Obama – religious persecution against Christians has increased throughout the Middle East. Read more
Obama spy program on churches OK, but not on mosques – The Washington Examiner has published a two-part expose on Obama's spying program in American churches, looking for those who have "anti-government" opinions. While this spy program is going on, targeting conservative Christians, Obama has put spying in mosques off limits. Read more
Congress
Senators move to block aid to Syria jihadists – A bipartisan group of senators has introduced legislation to block the U.S. from escalating its involvement in the Syrian civil war, as concerns mount on Capitol Hill over the Obama administration's plan to directly arm rebels. Senators Rand Paul (R-KY), Mike Lee (R-UT), Tom Udall (D-NM) and Chris Murphy (D-CN) introduced the bill Thursday to prohibit the Defense Department and intelligence agencies from funding operations in Syria. Read more
Congressmen and Senators want military religious liberty protections – President Obama is objecting to an amendment proposed by Rep. John Fleming (R-LA) and amendments by Senator Ted Cruz (R-TX) and Senator Mike Lee (R-UT). Fleming's amendment to the National Defense Authorization Act would expand protection of the rights of conscience to members of the Armed Forces and to Chaplains. Read more
Religion and Culture
Being a Christian worse than being a murderer? – What then does it mean when the Koran says that "fitnah is worse than killing"? According to Ibn Kathir, to disbelieve in Allah is to be guilty of the crime of shirk or, as he puts it, "committing disbelief." Shirk, he says, is fitnah, the crime worse than killing. Just being a non-Muslim – a Christian, a Jew or a pagan – is worse than murder, Dr. mark Durie explains in this extraordinary article. Read more
No tax dollars for jihadists – The Religious Freedom Coalition has begun an online petition asking congressmen to speak out against any funding, military or otherwise, to jihadists anywhere in the world. The petition comes at a time the Obama Administration is furnishing help from the CIA, as well as cash and "humanitarian" aid, to jihadists fighting the secular government of Syria. Provide your name and zip code, and a copy of the petition will be faxed to your congressman free of charge. See petition here.
International
Saudi Arabia: Years in jail for helping a woman in need – Saudi women's rights activists Wajeha Al-Huweidar and Fawzia Al-'Uyouni were sentenced to prison for trying to help a Canadian woman living in Saudi Arabia.
The woman was locked in the basement with her kids and without food; her Saudi husband will not allow her to return to Canada. Read more
Nigeria: Muslims brag about killing kids – The Muslim terror group Boko Haram issued a statement bragging about the murders of nine young students at their school for the "crime" of helping the Nigerian army. This is the second attack on children by the Boko Haram this week. The Obama Administration refuses to list the Boko Haram as a terror organization. Read more
Syria: No word on kidnapped bishops – Lebanon's Maronite Catholic patriarch and Syria's Greek Orthodox patriarch called for the release of two Orthodox bishops kidnapped in Syria. "We demand the kidnappers and the countries concerned" to release the two bishops and the two priests kidnapped before them," said Lebanese Cardinal Bechara Rai, the Maronite patriarch, and Greek Orthodox Patriarch John X in a joint statement. You can help save the Bishops by signing this petition to Congress!
Syria: At least 300 Western jihadists held – Hundreds of Western jihadists from more than a dozen nations including the United States, France, Italy, the United Kingdom and even Sweden have died in Syria fighting the secular government. The Syrian government has now revealed that it is also holding about 300 Western jihadists, including Americans, as prisoners..
Syria: UN says "rebels" used poison gas – A United Nations commission of inquiry into the use of Sarin by Syrian terrorists is led by Carla Del Ponte. She said her investigators "have been in neighboring countries interviewing victims, doctors and field hospitals, and, according to their report – which I have seen, there are strong, concrete suspicions but not yet incontrovertible proof of the use of Sarin gas, from the way the victims were treated. This was use on the part of the opposition, the rebels, not by the government authorities." Read more


More from the Religious Freedom Coalition


New Chairman's Report – Now available, the June 14th, 2013 edition of the Religious Freedom Coalition. This edition includes: – More Religious Freedom Coalition newspaper ads exposing the evils of Saudi Arabia / Obama's FBI: Koran is "God's revealed word" / Obama's State Department wants "rights" of terrorists protected / Senator McCain finds the "right" terrorists to back / Beheading in London / UK and Syria share jihadist pain / American woman fighting for jihad killed in Syria – Read it here
My Life Without God – William J. Murray's first book, My Life Without God, is now back in print, as 2013 marks the 50th anniversary of his atheist mother's lawsuit to remove prayer from the schools. Murray writes of his life in the dysfunctional home of infamous atheist/Marxist leader Madalyn Murray O'Hair. Learn more
Christian Bookstore and more – books, CD's, DVD's, cards and much more available at the Religious Freedom Coalition Internet Store. Please visit today!
https://religiousfreedomcoalition.org/wp-content/uploads/2013/06/Nigeria-Grave.jpg
243
347
Air Spark
https://religiousfreedomcoalition.org/wp-content/uploads/2020/03/RFCFinal.jpg
Air Spark
2013-06-21 15:59:33
2013-06-21 15:59:33
Report From Washington - June 21, 2013