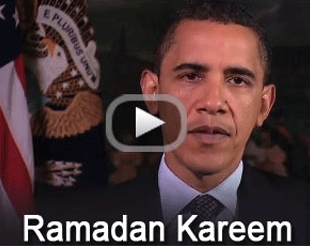 Editor: William J. Murray
Join me in a fact finding mission to Israel – Space now limited! – A once in a lifetime mission led by William J. Murray, William Federer and Frank Gaffney, all three experts on Israel and Islamic affairs. Not a standard "tour," the mission includes visits to settlements and military bases plus evening panels. Read more
In this issue: Obama's Ramadan / Al Gore's gateway to Islamist propaganda / Congressman warns of new "global caliphate" / Religious freedom becoming a "second tier right"? / No funds for atheist "chaplain" / No tax dollars for jihadists / Immigrant wins battle to keep Jesus statue up / Air Force chaplain under attack / Congressman speaks out against arming Syrian "rebels" / Syrian "rebels" attack convoy of unarmed Christians / Young girl flees forced Muslim marriage

The Presidency

Obama's Ramadan – At the beginning of Ramadan, President Barack Obama stated, "I wish Muslims across America and around the world a month blessed with the joys of family, peace and understanding. Ramadan Kareem." So far into the "holy" Muslim month of Ramadan, there have been 178 terror attacks including 18 suicide bombings. In these attacks 836 people died and 1646 have been wounded. Read more

Former VP Al Gore's gateway to Islamist propaganda – Al-Jazeera is supportive of both the Muslim Brotherhood and Hamas, as the article below describes. And with plenty of money, the organization is buying up a lot of talent, many with Irish and German sounding names, to disguise the fact that it is an outlet for radical Islam. "Liberal" Al Gore took tens of millions from Former Qatari emir Sheik Hamad bin Khalifa Al Thani and from the Qatari government in return for handing over his cable network. Read more
Congress
Congressman warns of new "global caliphate" – Speaking for almost an hour, Congressman Louie Gohmert (R-TX) warned that we are witnessing "the rise of a new Ottoman Empire in the Middle East, which, unfortunately, the Obama Administration has helped jump-start." Read more
Congressman: Religious freedom becoming a "second tier" right- Congressman Randy Forbes (R-VA) believes that religious freedom is becoming a "second tier" right in the United States. He stated, "When the government says, 'You can believe whatever you want, but you will be penalized if you exercise those beliefs,' we have entered dangerous territory." Read more
Congressman says no funds for atheist "chaplain" – Congressman John Fleming (R-LA) is working to create an amendment to the defense budget bill that will prevent any atheist or humanist chaplains in the military. According to Fleming: "When it comes to the idea of an atheist chaplain, which is an oxymoron – it's self-contradictory – what you're really doing is now saying that we're going to replace true chaplains with non-chaplain chaplains. Read more
No tax dollars for jihadists – The Religious Freedom Coalition has begun an online petition asking congressmen to speak out against any funding, military or otherwise, to jihadists anywhere in the world. The petition comes at a time the Obama Administration is furnishing help from the CIA, as well as cash and "humanitarian" aid, to jihadists fighting the secular government of Syria. Provide your name and zip code, and a copy of the petition will be faxed to your congressman free of charge. See petition here.
Religion and Culture

Immigrant wins battle to keep Jesus statue up – Tuan Pham, a Vietnamese refugee who moved to the United States in 1980, has won a legal victory against the city of St. Paul, Minnesota over a statue of Jesus he had erected on his property. The city of St. Paul had ordered him to take it down. Read more
Air Force Chaplain under attack – The atheist group in the military called "Religious Freedom Foundation," which is headed by Mikey Weinstein, is once again in the news. This time, Weinstein is seeking punishment for Lt. Col. Kenneth Reyes, a Christian chaplain based in Alaska. What's Reyes' crime? He wrote a "Chaplain's Corner" column that was titled: "No Atheists In Foxholes: Chaplains Gave All In World War II." Read more
International
Syria: Congressman speaks out against arming "rebels" – Rep. Jeff Fortenberry (R-NE) is speaking out against the shipment of arms to Obama's so-called Syrian "rebels," who are actually Islamic terrorist killers who recently attacked a convoy of Christians in Aleppo.

Syria: Obama "rebels" attack convoy of unarmed Christians – The Obama/McCain backed Syrian terrorists this week attacked a convoy of trucks and buses in northern Syria. The convoy was a group of Syrian-Armenian Christians civilians who travel together for safety. Read more
Yemen : Young girl flees forced Muslim marriage – Nada Al-Ahdal, an 11-year-old Yemeni girl, recently fled her parents' home in order to avoid being married off against her will. Recounting her story in an impromptu video recorded in a car, she said that she would rather die than enter a marriage at her age. Read more
India: Hindus join Muslims in persecuting Christians – India's Madhya Pradesh state has passed legislation that would send those who convert to Christianity, along with their religious leaders, to prison for failing to obtain permission from authorities at least one month prior to conversion. Read more


More from the Religious Freedom Coalition


New Chairman's Report – Now available, the July 25th, 2013 edition of the Chairman's Report for the Religious Freedom Coalition. This edition includes: – First the Saturday people, then the Sunday people / Stealing organs from Falun Gong prisoners in China / RFC chairman William J. Murray's address to crowd on Capitol Hill on July 18th / More RFC newspaper ads exposing the evils of Saudi Arabia / Some congressmen still stand for truth and freedom. Read it here

https://religiousfreedomcoalition.org/wp-content/uploads/2013/07/Obama-Ramadan-Kareem.jpg
246
310
Air Spark
https://religiousfreedomcoalition.org/wp-content/uploads/2020/03/RFCFinal.jpg
Air Spark
2013-07-26 16:21:27
2013-07-26 16:21:27
Washington Report- July 26th, 2013