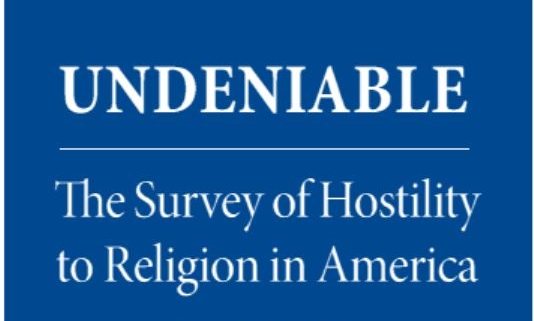 The Liberty Institute and the Family Research Council have just released a report on the dramatic rise in religious hostility in America during the past year.
The report, "Undeniable: The Survey Of Hostility To Religion In America," documents 1,200 incidents of hostility to religion – double the incidents in last year's survey.
According to Liberty Institute General Counsel Jeff Mateer: "Attacks on religious liberty are continuing to increase at alarming rates in the United States, both in frequency and the severity. However, when those who value religious liberty stand up against these threats, we are successful in defeating the secularists' agenda, which seeks to remove faith from public life."
The Executive Summary of this report notes:
[color-box]"Attacks on religious liberty in the public arena are perhaps the most widely recognized and one of the fastest growing forms of hostility to religion in the United States today. This category covers all attacks on exercising religious liberty in public, including challenges to praying in public, challenges to publicly displaying Nativity scenes or menorahs, challenges to displaying the Ten Commandments, and challenges to veteran's memorials that include crosses. Since last year's edition of this survey, a new attack on religious liberty in the public arena has exploded, threatening to shut down any company that refuses to fund abortion-inducing drugs because of religious convictions: Obamacare's "HHS Mandate." The HHS Mandate is a federal regulation that requires any company that provides group health insurance to also fund coverage for abortion-inducing drugs such as Plan B (the "day-after pill") and Ella (the "week-after pill"). Many companies with religious convictions against funding abortions are being forced to sue the government to avoid having to either violate their religious beliefs or go out of business. One of the largest of these companies is Hobby Lobby, which is being threatened with fines exceeding one million dollars per day for refusing to fund abortion-inducting drugs."[/color-box]
One of the biggest threats to religious liberty in America is the Barack Hussein Obama, his officials, and their anti-Christian, anti-Jewish, pro-homosexual, pro-Islam, and pro-abortion political agendas.
https://religiousfreedomcoalition.org/wp-content/uploads/2013/10/ReligiousHostility.jpg
485
534
Air Spark
https://religiousfreedomcoalition.org/wp-content/uploads/2020/03/RFCFinal.jpg
Air Spark
2013-10-11 10:39:46
2013-10-11 10:39:46
Liberty Institute/FRC Release Religious Hostility Report