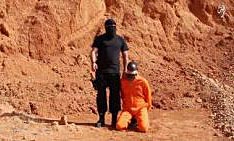 According to European Union's special enjoy Jay Figel, the persecution of Christians is getting worse and up to 75 percent of the world's population now lives without religious freedom.
In an interview with Premier Christian Radio on October 27, the International Freedom of Religion or Belief Day, Figel said that the majority of the world's population continues to lack freedom of religion or belief, so "therefore, those who believe that humanity should prevail can, and should do, much more for freedom of religion… We are witnesses of a systematic and mass murder, martyrdom and persecution on several territories."
According to Open Doors, a Christian persecution watchdog group, more than 7,000 Christians were killed for their faith between November 1, 2014 and October 31, 2015. They also found that 3,000 more Christians were killed for "faith-related reasons" during its reporting period for its 2016 World Watch List than it found during the reporting period for the 2015 list.
Over 2,400 churches were attacked, damaged or destroyed worldwide during the 2016 reporting period, which is more than double the number from the year before.
The increase of Christian persecution is due to the rise of Islamist extremist groups like the Islamic State, Boko Haram and Al-Shabaab in the Middle East and Africa.
"The data shows that the Islamic State caliphate has effectively carried out genocide against Yazidis and Christians in Syria and Iraq, pushing hundreds of thousands of Christians into refugee camps in North Iraq and other countries," Open Doors USA President David Curry said earlier.
The Islamic State wants to establish a caliphate in the Levant region and beyond. Jay Figel added that "this crime of crimes is calling for all serious people to do more."
Religious Freedom Coalition sponsors two programs specifically for helping Christians facing persecution in the Middle East.
The Diapers for Refugees program aims to send 160,000 high quality disposable diapers to these Christian refugee families located in camps around Erbil every three months. Families in these camps are dying from diaper rash because of the inability to wash cloth diapers with soap and clean water. Due to the lack of diapers, mothers are forced to use donated clothing as diapers for their children, which still can't be cleaned properly.
The Christmas for Refugees program helps displaced Christians from Iraq, Jordan and Lebanon that are being ignored by Islamic run charities. In 2013, 2014, Christmas events that included hot meals were served to Christian refugee children in Jordan and Lebanon. In 2015 the program was expanded to Christian IDP's (Internally Displaced Persons) in Iraq who fled the Islamic State as the city of Mosul and Christians villages nearby were overrun. Much of the Nineveh Plain was also stolen from Christian families who fled to the Kurdish areas in the northeast. In 2016 the number of children served will be increased.
https://religiousfreedomcoalition.org/wp-content/uploads/2015/10/SudanChristianBeheaded.jpg
141
234
Air Spark
https://religiousfreedomcoalition.org/wp-content/uploads/2020/03/RFCFinal.jpg
Air Spark
2016-10-31 14:51:05
2016-10-31 14:51:05
Christian Persecution on the Rise