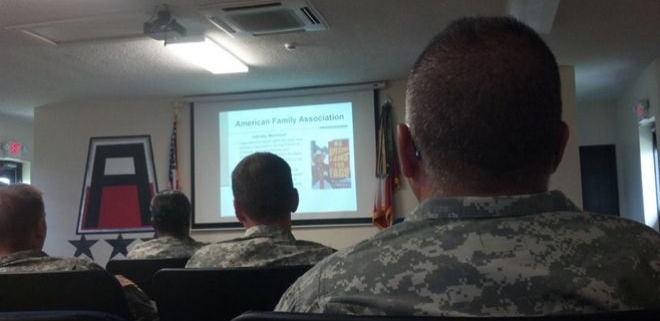 Editor: William J. Murray
In this issue: Obama's DOD threatens priest with arrest / Obama's Army says Christian groups are "hate" groups / Obama rebels collect jizia tax / McCain attacks Congressman Gohmert / California law allows boys to enter girls' restrooms / Morocco: Court persecutes Christians / Pakistan: Christian families in hiding / UK: Muslim terrorists arrested on plot to attack mall / Thailand: New bombings by Muslims kill at least 13
The Presidency
Obama's Army says Christian groups are "hate" groups – Officials at the Pentagon have issued a statement that listing the American Family Association as a hate group doesn't reflect the policies of the Department of Defense. However, more and more reports are coming from bases showing this is continuing. Read more
Obama's DOD threatens priest with arrest – During the recent partial shutdown of the government the Department of Defense blocked at least 50 Catholic priests from saying Mass and giving the sacraments at military facilities around the world. Catholic Priest Ray Leonard, who serves as Catholic chaplain for the Naval Submarine Base in Kings Bay, George, is now suing the DOD over this violation of his congregation's right to the free exercise of religion! He is being represented by the Thomas More Law Center. Read more.
Obama rebels collect jizia tax – A journalist discovered that in areas controlled by the Obama supported Free Syrian army, the "rebels" collect a jizia tax on Christians to support their jihad against the secular government of Syria. Read more
Congress
McCain attacks Congressman Gohmert – Senator John McCain (RINO-AZ) attacked Congressman Louie Gohmert (R-TX) calling him a "person of no intelligence" – clearly suggesting that Gohmert was dim-witted and not worthy of dealing with. He was responding to Gohmert's very accurate statement that McCain was assisting al-Qaeda linked "rebels" who are killing Christians in Syria. Read more
Religion and Culture
California law allows boys to enter girls' restrooms – California public schools will be required under the "School Success and Opportunity Act" (AB 1266) beginning next year to permit K-12 students to use facilities, including restrooms and showers, and participate in school programs and activities, including athletic teams, according to their self-defined gender identity, irrespective of their birth gender. Those Californians who are not insane are raising signatures for a referendum to stop the law which would allow any boy of any age to walk into a girl's restroom or locker room if he "feels" like a girl that day. Read more
International
Morocco: Court persecutes Christians – A court in "moderate" Morocco postponed until Dec. 31 an appeals hearing for a convert hastily sentenced to prison for alleged "proselytizing," in hopes that international publicity over his conviction will subside by then, Christian sources said. Read more
PAKISTAN: Christian families in hiding – A Pakistani Christian family was hiding Sunday, October 13, after allegedly receiving death threats for protesting against twin suicide attacks at a historic church in the violence-plagued city of Peshawar, in which their friends were killed. In total at least 171 people died and some 150 people were injured in the September blasts at Peshawar's All Saints Church. Read more
UK: Muslim terrorists arrested in plot to attack mall – London police and British intelligence services foiled a Nairobi-style terrorist attack on London citizens recently. Four Islamists were arrested. All are British nationals but are ethnics from Turkey, Algeria, Pakistan, and Azerbaijani. Still the UK imports tens of thousand of Muslims per year. Read more
THAILAND: New bombings by Muslims kill at least 13 – Two separate bomb explosions hit Thailand's southern Narathiwat province on Saturday, injuring 13 people, including five reporters, police said. More than 5,000 people have been killed and over 9,000 injured in Thailand's three Muslim, ethnic-Malay dominated southern border provinces since January, 2004. Read more
More from the Religious Freedom Coalition
New Chairman's Report – Now available, the edition of the Chairman's Report for the Religious Freedom Coalition. In this issue: The Religious Freedom Coalition exhibit at the Values Voter Summit exposed the evils of Saudi Arabia including the arrests and torture of Christian guest workers from Ethiopia. RFC Chairman William J Murray met with several Senators concerning the evils of the ruling Saudi royal family. See it here!
Follow us on Twitter @rfcnet
Christian Bookstore and more – books, CD's, DVD's, cards and much more available at the Religious Freedom Coalition Internet Store. Please visit today!
https://religiousfreedomcoalition.org/wp-content/uploads/2013/10/Starnes-AFA-briefing.jpg
371
660
Air Spark
https://religiousfreedomcoalition.org/wp-content/uploads/2020/03/RFCFinal.jpg
Air Spark
2013-10-19 17:54:41
2013-10-19 17:54:41
Washington Report- October 18th, 2013