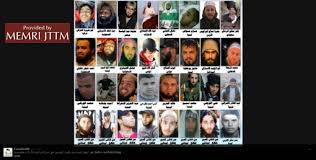 Better late than never is a good saying – and it certainly applies to the Washington Post for its woefully late coverage of Syrian terrorists who post photos of their fallen "martyrs" on Facebook and Twitter.
Yesterday morning, the Post finally got around to publishing an article describing the use of social media by Syrian terrorists to memorialize killers who died in battle. The terrorists also use these dead men's faces to recruit thousands of new terrorists to kill civilians and overthrow the Assad regime.
Religious Freedom Coalition and WorldNetDaily ran stories on these Syrian "martyrs" back in July and correctly labeled them as terrorists, not "fighters" as does the Post.
"Politically Correct" thinking still apparently paralyzes liberal reporters on the Post from being honest in their reporting of the terrifying carnage that is taking place in Syria and elsewhere by Islamic jihadist killers. These butchers are determined to kill or enslave non-Muslims and to impose a Sharia-style dictatorship on those who surrender to Islam.
Who knows, maybe it will only take another five months for the Post to run an honest article about the Muslim Brotherhood's infiltration of the Obama Administration or CAIR's subversive activities in the U.S.
As we said, better late than never – but RFC and WND were on the stories as they happened. Perhaps the reporters at the Post are finally learning how to use the Google search engine.
Read more: Faces Of Death – Part II: On Twitter, Jihadis Disseminate Death Photos Of Martyrs; Photos of 'smiling martyrs' hit Internet; Islamist rebels in Syria use faces of the dead to lure the living.
https://religiousfreedomcoalition.org/wp-content/uploads/2013/11/SyrianFacesOfDeath.jpg
160
316
Air Spark
https://religiousfreedomcoalition.org/wp-content/uploads/2020/03/RFCFinal.jpg
Air Spark
2013-11-05 11:04:09
2013-11-05 11:04:09
RFC & WND Publish Syrian Terrorist Story Five Months Before Washington Post