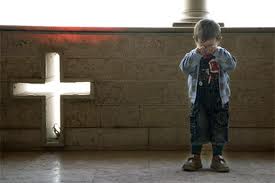 (Reprinted from BosNewsLife)
AMMAN, JORDAN (BosNewsLife)– Preparations were underway in Jordan's capital Amman for "the first ever Christmas meal for Christian refugee children from Iraq and Syria" who have been "mostly ignored by Islamic charities," organizers said.Project Director William J. Murray, who leads the Washington-based Religious Freedom Coalition (RFC), told BosNewsLife he would supervise the dinner "to make sure all the children we can reach out to and invite will have a special occasion."
Others involved in the dinner include David Beasley, former governor of South Carolina and American church leaders Bishop E. W. Jackson', founder of Exodus Faith Ministries and Keith Roderick, provost of the famed Anglican Church Cathedral of St. Paul the Apostle.
"Tens of thousands of Christian families with children have escaped the attacks of radical Islamic groups in Syria and are now in Jordan and Lebanon. Mostly well-educated and middle class, they now live in the tents supplied by the United Nations and are mostly ignored by the Islamic run charities in Jordan," he explained.
American style turkeys are available in Jordan, but the dinner for the refugees will have "the festive foods they are familiar with," Murray said. "A typical meal is usually rice with chicken and other meats along with vegetables, yogurt, bread and kanafe for dessert."
TRADITIONAL JOY BAG
The traditional "joy bag," or gift, each child will receive reportedly contain at least a week's worth of food for families, including rice, oil, pasta, cheese, milk, sugar, tea, halawi dates and candy.
Organizers explained that a hall has been rented to provide Christmas meals for at least hundreds of refugee children who are mainly Christian. "The room will be cheerful, with lights, decorations, a Christmas tree, and table centerpieces.
The children will also have a warm place to stay for a day rather than in the cold wet tents they have become accustomed to. There will be games to play and Christmas songs and plenty to eat," Murray said.
Yet, because it is a Christmas meal Muslim children will probably not be allowed to attend by their parents or their religious leaders, organizers said.
Murray admitted "There are so many Christian children that we cannot help all of them." However, he stressed, "We can make one special day brighter for just some by arranging a traditional Christmas meal for them."
RAISING FUNDS
Murray said he was still raising funds through his tax-exempt RFC to continue these and other projects in the future among often traumatized children, who survived war and other hardships.
He said the dinner was still "a pilot program" but added that if "all goes well for Christmas 2014", they will expand the dinners to as many as ten in Jordan and ten in [neighboring Lebanon].
Murray stressed the program was inspired by the story of Jesus. "The Redeemer whom God had promised to send for so many years was finally born in Bethlehem, the city of David, yet he was threatened with death from the day he was born," he said.
"His mother Mary and Joseph had to flee their homeland, much like the Christian refugees of today have been forced to flee the homelands they have lived in for two thousand years."
The dinner comes at a time of growing concerns about the expanding conflict in especially Syria, were Christians are among those being targeted by both Islamic rebel groups and government forces loyal to embattled President Bashar al-Assad.
BATTLES CONTINUE
Government forces' nine-day bombardment of rebel-held areas of Aleppo, Syria's biggest city, has killed more than 300 people, as the government steps up its 18-month battle with rebel fighters in the region, rights activists and reporters said.
Elsewhere in Iraq, many minority Christians are also be forced to mark the birth of Jesus in private, Christian leaders say. Amid ongoing bombings of churches and other key areas, and kidnappings, Christians have been afraid to put up a Christmas tree or other decorations in several areas of the troubled nation.
Displays of faith in the increasingly extremist nation can bring threats and violence, say human rights groups, forcing families, including many Christians, to flee.
Murray said he has urged Christians to "help reach out to help these frightened and suffering Christians who were driven from their ancient homeland" in Syria or Iraq. "Large Islamic charity organizations, as well as the Islamic governments, are providing relief to Muslim refugee families from Syria. Sadly, Christians are seen by many Islamic charity groups as "kafir" or unclean infidels and they receive no help. We help these Christians," added Murray.
https://religiousfreedomcoalition.org/wp-content/uploads/2013/12/Syrianchildrenpraynow.jpg
183
275
Air Spark
https://religiousfreedomcoalition.org/wp-content/uploads/2020/03/RFCFinal.jpg
Air Spark
2013-12-24 10:03:01
2013-12-24 10:03:01
Christmas Dinner For Christian Refugee Children From Syria, Iraq