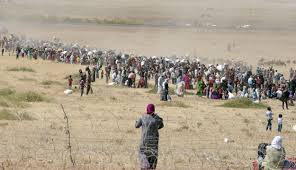 The Wall Street Journal reports on the Christmas that Christian refugees from Iraq and Syria will have this year – as they have been driven from their homes by Islamic State terrorists.
As Pastor Youssef Denha put it: "This is a holiday of sadness, not happiness. Daesh (Islamic State) has left us with nothing."
There an estimated 6,000 Iraqis living in Lebanon now, among the more than 1.4 million refugees who have also fled from Syria.
A Christian woman noted: "I left in fear that my daughters may be raped and my husband attacked by Daesh."
How will she spend her Christmas? She said that her children "are crying for Christmas, but we have no tree, no gifts, nothing. We need the U.N. to help us because all we have is them and God."
Fortunately, the Religious Freedom Coalition – through the gifts of our supporters –  has provided Christmas meals for child refugees who have fled their countries to avoid being killed by Islamic State terrorists. RFC launched this program in 2013 and will continue this ministry for as long as it is needed.
https://religiousfreedomcoalition.org/wp-content/uploads/2014/10/Kobanirefugees.jpg
170
296
Air Spark
https://religiousfreedomcoalition.org/wp-content/uploads/2020/03/RFCFinal.jpg
Air Spark
2014-12-24 10:56:11
2014-12-24 10:56:11
Iraqi Refugees Who Fled Islamic State Face Somber Christmas in Lebanon