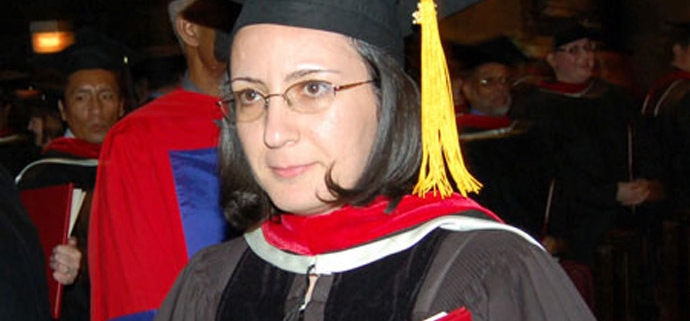 Sister Diana wants to tell Americans about ISIS persecution of Christians in Iraq, but the State Department won't let her in.
By Nina Shea — (Hudson Institute)
Why is the United States barring a persecuted Iraqi Catholic nun — an internationally respected and leading representative of the Nineveh Christians who have been killed and deported by ISIS — from coming to Washington to testify about this catastrophe?
Earlier this week, we learned that every member of an Iraqi delegation of minority groups, including representatives of the Yazidi and Turkmen Shia religious communities, has been granted visas to come for official meetings in Washington — save one. The single delegate whose visitor visa was denied happens to be the group's only Christian from Iraq.
Sister Diana Momeka of the Dominican Sisters of Saint Catherine of Siena was informed on Tuesday by the U.S. consulate in Erbil that her non-immigrant-visa application has been rejected. The reason given in the denial letter, a copy of which I have obtained, is:
You were not able to demonstrate that your intended activities in the United States would be consistent with the classification of the visa.
She told me in a phone conversation that, to her face, consular officer Christopher Patch told her she was denied because she is an "IDP" or Internally Displaced Person. "That really hurt," she said. Essentially, the State Department was calling her a deceiver.
The State Department officials made the determination that the Catholic nun could be falsely asserting that she intends to visit Washington when secretly she could be intending to stay. That would constitute illegal immigration, and that, of course, is strictly forbidden. Once here, she could also be at risk for claiming political asylum, and the U.S. seems determined to deny ISIS's Christian victims that status.
In reality, Sister Diana wanted to visit for one week in mid-May. She has meetings set up with the Senate and House foreign-relations committees, the State Department, USAID, and various NGOs. In support of her application, Sister Diana had multiple documents vouching for her and the temporary nature of her visit. She submitted a letter from her prioress, Sister Maria Hana. It attested that the nun has been gainfully employed since last February with the Babel College of Philosophy and Theology in Erbil, Kurdistan, and is contracted to teach there in the 2015–16 academic year.
She, along with the town's 50,000 other, mostly Christian, residents, fled for their lives from ISIS during the second week of August.
She also submitted an invitation from her sponsors, two highly respected Washington-area institutions, the Institute for Global Engagement and former congressman Frank Wolf's (R., Va.) 21st Century Wilberforce Initiative. For good measure, she also had a letter of endorsement for her visit from Representative Anna Eshoo (D., Calif.).
The State Department wasn't buying. It either thought that they were all in on a scheme by the nun or that Sister Diana was plotting to deceive her well-placed friends and supporters, as well as the U.S. government.
Until ISIS stormed into Qaraqosh last August, Sister Diana had a distinguished academic career and had been teaching an intensive course on spiritual direction at St. Ephrem Seminary, as well as English and peacemaking courses. She, along with the town's 50,000 other, mostly Christian, residents, fled for their lives from ISIS during the second week of August. Since then, the 30-something religious woman has served as a spokesperson for this community, as well as for the over 100,000 other Christians driven into Kurdistan under the ISIS "convert or die" policy. Through this, she has become internationally known as a charismatic and articulate advocate for religious freedom and human rights. Mr. Wolf, who met her in Kurdistan a few months ago, explained, "We had hoped to facilitate her trip to the States so that she could speak with great candor, as is her custom, to policymakers. Perhaps just as significantly, we viewed her as a critical voice to awaken the church in the West to the suffering of Christians and other religious minorities in Iraq."
But in the eyes of the U.S. consulate, she is just another Christian IDP. (Last October a delegation of IDP Yazidis were given U.S. visas to come to Washington to speak.)
Adding insult to injury: In its 2015 Quadrennial Diplomacy and Development Review, issued this week, the State Department pledged that "every overseas post and domestic bureau will seek opportunities to engage religious leaders," as part of its pursuit of countering "violent extremism." Opportunities to engage with everyone, that is, except Catholic nuns in Iraq — all of whom are now IDPs.
— Nina Shea is director of Hudson Institute's Center for Religious Freedom.
https://religiousfreedomcoalition.org/wp-content/uploads/2015/05/sister-momeka.jpg
388
690
Air Spark
https://religiousfreedomcoalition.org/wp-content/uploads/2020/03/RFCFinal.jpg
Air Spark
2015-05-04 14:15:07
2015-05-04 14:15:07
With Malice Toward Nun