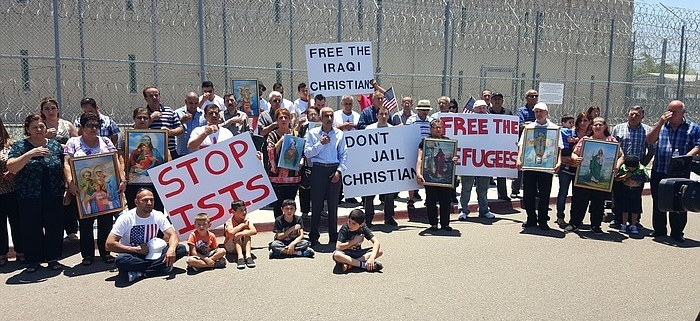 In this issue of the newsletter:
New:       Christmas for Refugees can now help more kids through matching gifts
Update:  Congress takes note of your demands to halt tax dollars for Islamic fighters
Update:  Obama Administration targets Iraqi and Syrian Christians here in USA
Update:  Obama stops training "vetted" rebels but air drops 50 tons of arms to others
For Christmas for Refugees – Matching gift program launched
Benefactor helps to expand Christmas program: A generous supporter of the Religious Freedom Coalition has made a "matching gift offer" to help bring a real Christmas to children living as refugees in wretched conditions in Lebanon, Jordan and Iraq. Every dollar donated until December 1st, 2015 will be matched by the anonymous benefactor up to $25,000.
That means the first $25,000 received as part of the program will be doubled to $50,000. Literally every dollar donated to Christmas for Refugees through December 1st will have double the impact. This is a blessing given by one man who had his heart touched by the Lord. The donor was not solicited, the Lord led him to this generous act.
As of October 20th our Christmas program was still about $100,000 short of the current budget. The matching gift program will bring the total needed down to less than $50,000. The projections, as of now, indicate that including this matching gift program, all funds needed for the current number of kids and their families will be received by the first week of December.
Please note that I have underlined "current" in the paragraph above. We can continue, though, to expand the Christmas program this year right up until December 1st. For each $6,400 dollars we receive above the current budget, 100 children and their families can be added.  The cost for each child, on average, is $14. This includes transportation, building and personnel expenses, and the child's food, activities, workbooks, and Bibles. Another $50 per child is required to provide the family with a week's worth of good staples such as rice, beans, flour, canned meats, cooking oil and dates.
Based on our projections, the number of children to be served in Iraq has already been expanded and can be expanded further.
A separate appeal letter to those who have previously supported Religious Freedom Coalition mission programs was mailed two weeks ago announcing the matching gift program and already some gifts have been received. To participate, please designate your gift to the Christmas for Refugees program this month.  Please help refugee children have a little bit of Christmas joy, and strengthen their faith in the Savior who gives hope to all believers.
[su_button url="http://christmasforrefugees.org/donate/"]Should Christian refugee children be allowed to celebrate Christmas?[/su_button]
Post Cards to Congress demand: Stop funding Islamic fighters!
Congressional offices hear voter disapproval: Religious Freedom Coalition's two postcard programs to stop funding Islamic fighters and to punish Saudi Arabia for its human rights abuses have been ongoing for over a year. More than one million customized postcards have been distributed to social conservatives to send to Congress demanding they stop funding Islamic fighters in Syria who often desert to ISIS or some other group that murders Christians.
With so many postcards sent to social conservatives, we frequently receive some post cards that have mistakenly been mailed to our office, rather than to the congressional offices directly.  When this happens our legislative coordinator, Alyssa Mitchell will personally visit congressional and Senate offices to drop off bundles of post cards that have arrived at our office.
Although it is not as effective for us to deliver the cards as when they are mailed directly from constituents like you, the visits do provide Alyssa with a good opportunity to gauge the impact of the program.  During a visit to the office of presidential candidate Senator Ted Cruz during the last week of September, she delivered an unusually large bundle of the post cards.  The intern working the front desk in Senator Cruz's office that day immediately recognized the cards, as it had been her job for several weeks to sort them.
When Alyssa asked how many postcards his office was receiving, the intern estimated that Senator Cruz receives approximately eight to ten postcards per day, per program.  That is eight to ten for the Saudi post card and another eight to ten of the cards demanding a stop to funding for Islamic rebels. This is in addition to those we deliver in bulk. Just multiply that out times another 49 Senators and 435 congressmen! This is excellent news and means that your participation is making a difference in gaining the attention of Congress.
Obama arms Islamic fighters, then persecutes Iraqi and Syrian Christians in U.S.
This year, Obama's so-called Justice Department has decided to wage war against Iraqi and Syrian Christian refugees seeking asylum in the United States.  Since the beginning of September, our legislative coordinator Alyssa Mitchell has been working to raise congressional awareness of a case involving a highly esteemed Chicago-based immigration lawyer, Robert DeKelaita, who helps persecuted Christians enter the United States.
DeKelaita, of Iraqi heritage himself, has dedicated his career to serving Iraqi and Syrian Christians seeking asylum in the United States, but now the Obama Administration has brought his work to a halt. The U.S. Justice Department has indicted Robert DeKelaita on charges that he falsified asylum request records by claiming Christians were "persecuted" in Iraq and Syria!
Obama prosecutors allege that DeKelaita changed the extent of persecution and falsified details involving Christian asylum-seekers, in order to manipulate the court's ruling. In other words he is accused of exaggerating persecution to obtain asylum for them. Just to make sure anyone associated with these cases also goes to jail, the Justice Department also accused his interpreter of changing the testimony of the individuals in order to sway the Court's opinion.  Both men face decades in jail and hundreds of thousands of dollars in fines if convicted. This is yet another case of the Obama Administration's bias, even hatred toward Christians.
The Justice Department claims are unbelievable.  There is irrefutable evidence that Christians are being tortured, raped, and beheaded for Christ's name in both Iraq and Syria.  Regardless, the Justice Department alleges that Iraqi and Syrian Christians would be safe enough to return home – in spite of the fact that many of them have no home to return to, since it has either been confiscated or burned by Islamic Sunni fighters.
On the other hand the Obama administration has paid to transport tens of thousands of Muslim refugees from the exact same region without hesitation.  It is absurd for the Justice Department to argue that it is safe for Christians to return to a raging Islamic war zone at the same time "moderate" Muslims are freely admitted to the United States — because the same area is deemed unsafe for them.
The Religious Freedom Coalition has also been providing information to congressmen and Senators on the 27 Chaldean Christians who have been held in a California ICE detention camp for over six months. These Iraqi Christians in desperation did enter the United States from Mexico illegally, then requested political asylum as do many others from various nations.
Normally those entering the United States and requesting asylum are usually kept in detention for a few days before receiving a court date, and then allowed to live with family members until there is a hearing on their request.
But not Iraqi Christians – they are tossed into detention camps indefinitely.
The Chaldean Christian immigrants are still imprisoned, with half of them facing deportation even though all of them have relatives and churches in the United States willing to help them. Why are peaceful Christian immigrants — who would be an asset to our country and not a security threat — facing such intense scrutiny by Obama officials?
(UPATE: Australia has offered to take at least some of the Chaldean Christians the United States plans to deport.)
Alyssa Mitchell has been visiting congressional offices and providing staff members with informative packets in order to raise awareness of this injustice.  Some of the offices that she has visited include those of Congressman Fortenberry (R-NE), Congresswoman Eshoo (D-CA) Senator Stabenow (D-MI), and Senator Rubio (R-FL), who is a presidential candidate.
Alyssa has been requesting that members of Congress write letters to the Justice Department demanding an explanation of the treatment of the Chaldean Christians and the unjust charges brought against immigration attorney Robert DeKelaita. There can be no defense for the Obama Administration importing Muslims while deporting Christian Iraqis!
[su_button url="http://christmasforrefugees.org/donate/"]Should Christian refugee children be allowed to celebrate Christmas?[/su_button]
Fifty (50) tons of weapons dropped to "vetted" groups
            The first week of October the Obama Administration gave up training a proxy army of Sunnis to fight the Islamic State, admitting that "about five" of the one hundred or so trained were still "in the field." Most of those trained and armed in the $500 million program joined al-Nusra and other al-Qaeda linked Islamists groups. Millions of dollars' worth of advanced American weapons these "vetted" and trained Sunni fighters controlled were also handed over to al-Nusra. About a third of the "vetted" rebels were killed by the Islamic State.
The original goal was a laughable proxy army of 5,000 "vetted" pro-American rebels to fight the Islamic State and the Syrian Army simultaneously. On a CBS news program President Obama, who sold the program to Congress said, "I've been skeptical from the get-go about the notion that we were going to effectively create this proxy army inside of Syria."
A few days after canceling the program to build the proxy army, the Obama Administration air dropped 50 tons – that is 100,000 pounds – of weapons and ammunition to "vetted Arab" rebels in northern Syria. The Obama Administration emphasized that the arms went to Arabs and not Kurds, as this would anger President Erdogan of Turkey who is currently using American fighter aircraft to bomb the Kurds in Turkey and Iraq. Supposedly these "rebels" are fighting the Islamic State. In reality only the Kurds have had success against the Islamic State but the Obama Administration will only furnish them with trucks that have no armor.
Saudi Arabia sends 500 missiles to Sunni rebels in Syria – CRUCIFIES TEEN!
            At the same time the United States delivered the 50 tons of arms to "vetted" Arab rebels the Obama Administration helped Saudi Arabia deliver 500 TOW missiles to Sunni fighters who are trying to topple the Syrian government. The TOW missiles are for use against armored personnel carriers and tanks. Does the Obama Administration believe that the worst human rights offender in the world- Saudi Arabia – is dedicated to establishing a democratic state in Syria that will give rights to Shiites and Christians which they do not have in Saudi Arabia??
Meanwhile Saudi Arabia has ordered the crucifixion of a teenager. Ali Mohammed al-Nimr was seventeen when he joined a demonstration with other Shiites who are a persecuted minority in Saudi Arabia. Several of those who participated in the demonstration have already been beheaded. After Al-Nimr's mother was allowed to visit him she said this:
"When I visited my son for the first time I didn't recognize him. I didn't know whether this really was my son Ali or not. I could clearly see a wound on his forehead. Another wound in his nose. They disfigured it. Even his body, he was too thin."
"[When] I started talking to him [he told me that] during the interrogation [he was] being kicked, slapped, of course his teeth fell out … For a month he was peeing blood. He said he felt like a mass of pain, his body was no more."
Saudi Arabia, with Obama Administration support, currently holds the chair of the UN Human Rights Council. Selling arms to these evil despots is criminal.

William J. Murray, Chairman
Religious Freedom Coalition, 601 Pennsylvania Ave. NW #900, Washington, DC 20004 * (202) 742-8990
https://religiousfreedomcoalition.org/wp-content/uploads/2015/10/chaldean.jpg
393
700
Air Spark
https://religiousfreedomcoalition.org/wp-content/uploads/2020/03/RFCFinal.jpg
Air Spark
2015-10-28 14:43:26
2019-08-13 19:48:41
Chairman's Report for October 23rd