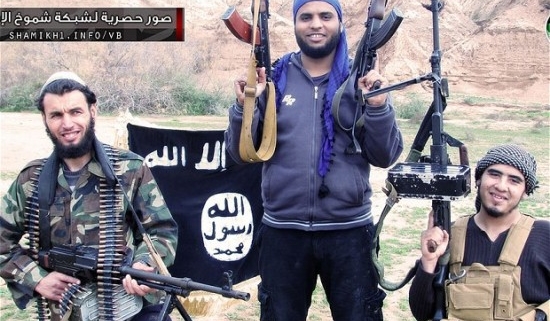 [su_box title="In This Issue"]Update on our post card program asking congress to stop arming Islamic fighters
Update on our new "boycott Saudi Arabia" program calling attention to human rights abuses in Saudi Arabia and the royal family's support of terror.
Update on our continued efforts to assist Christian families who have fled Iraq and Syria
Update on our efforts to move Christian orphans from Kurdish areas of Iraq
New: Information on our new program to move Iraqi Christian widows with children to Europe [/su_box]
Our truth videos on Saudi Arabia doing well!
The Saudi Video: YouTube, Western Journalism and Facebook versions of the Religious Freedom Coalition video focusing on the January journey made by President Barack Obama and Senator John McCain have made an impact. The video has been picked up by numerous Internet sites, along with the lengthy column I wrote that accompanies it.
The video can be watched at YouTube.com/ChristianRefugees. There are several other current videos about the situation in Syria and the Middle East in general. I try to get as many videos as I can posted because they are watched by many in the Millennial Generation who will just not sit down and read a lengthy column to learn the news of the day.
Not only are the videos placed on our YouTube channel but on Facebook as well. Both WesternJournalism.com and WND.com often run the columns I have written with the videos embedded. If an individual does not want to read the entire column they can at least get the main thrust of the column out of the video. On average my video editorials run about two to three minutes but we also publish longer videos of speaking engagements as well.
At the Religious Freedom Coalition site there is a dedicated page called Saudi Evil that has links to many of the articles and columns we have run on the abuses of the Saudi government, from slaves kept at the homes of Saudi diplomats in Washington, DC to the torture of Christian guest workers in Saudi Arabia who were caught praying in the name of Jesus.
The Saudi Postcard: The last Chairman's Report contained a new post card to mail to congressmen and Senators demanding that the United States treat Saudi Arabia just like we treat other nations that abuse human rights. The sad truth is that Iran – which is a horrible place –treats Christians better than does Saudi Arabia. While Christians are often intimidated and sometimes arrested, Iran has 600 open churches and about 350,000 Christians who are at least allowed to worship in them. There are NO churches in Saudi Arabia despite the fact that hundreds of thousands of Christians from other nations, including the United States, work there.
Because the Koran is the constitution of Saudi Arabia, no churches may ever be built and even worshiping in the name of Jesus is a crime. Ethiopian guest workers have been the hardest hit because they can't afford to live in the gated compounds as the Americans do.
Ethiopians have been arrested and tortured for months for the simple act of holding a prayer meeting in a private home. Saudi Arabia should be treated no differently than any other human rights abusers.
And now the Saudi royals want to head the United Nations Human Rights Commission?! Even worse, it appears that the United States will not make any attempt to block the Saudi's from taking over the chairmanship. Get this: a nation that will not allow women to drive, and beats critics of the king to death, will lead a "human rights" commission.
I do hope those who received the customized post cards with the last Chairman's Report mailed them to their congressmen and Senators demanding that action be taken to treat Saudi Arabia like every other despotic human rights abuser rather than bowing to them as President Barack Obama has done. His whole entourage paying homage to King Salman in January was a national embarrassment.
Campaign to stop Congress from funding Islamist fighters hits one year mark
First round of postcards mailed in June, 2014: For one solid year the Religious Freedom Coalition has mailed tens of thousands of personalized postcards to concerned Americans that were pre-addressed to their congressmen and Senators. The cards, which many signed and mailed, demanded that the Congress stop giving President Barack Obama money to train and furnish weapons to Sunni fighters in Syria and other areas.
After twelve months of distributing about 70,000 cards per month, we have distributed about 900,000 cards and our best calculation is that 85% of those were mailed to congressmen and Senators by their constituents.
If you recall we began this campaign after it became public that three years ago both the United States and Saudi Arabia were training and arming the supposedly "moderate" faction of what became known as the Islamic State, the brutal Islamist murderers who have killed tens of thousands of men and forced many thousands of women into forced Islamic marriages.
This year – in 2015 – Sunni fighters armed and trained by the United States took their heavy weapons and joined al-Qaeda linked terrorists. In February the Hazzm Movement, associated with the Free Syrian Army, backed by the U.S. Central Intelligence Agency defected. It was one of the last of the non-jihadist opposition groups fighting Syria's secular government lead by President Bashar al-Assad. Hazzam Movement's leadership, suffering continued losses, decided to join the Islamist coalition of the Levant Front.
It is now May of 2015 and Barack Obama and the CIA still don't get the fact that when  secular nations give guns to Islamists, things may not go well. This month a new set of Sunni fighters began training in Jordan, this time allegedly to fight the ISIL on the ground. I would like to point out that the United States spent billions of dollars to arm and train an entire new army for Iraq that is literally getting kicked around by the ISIL. Now the United States is arming and training more Sunnis to go and fight the Sunni fighters we previously armed and trained.
This is the reality: The Sunni fighters now being trained in Jordan are mercenaries that the CIA recruited out of UN refugee camps. They were each given a cash sign-on bonus that will feed their families. Each month the CIA will supply money and food to each of their families plus pay each of the fighters some cash. Where does their loyalty lie, and what if the ISIL offers them higher pay?
Will this new set of mercenaries fight to the death? If outnumbered, will they stand and fight and possibly die, or just take off –like the Iraqi army the United States armed and trained did in Mosul and Ramadi? I think we all know the answer to that question.
Effect of our post card campaign: Most of those who mailed the post cards we printed and who received answers from their congressmen and Senators have been disappointed. Many people have sent me copies of the letters they received. When I compare them I find that in many cases the language in the reply letters from both Democrat and Republican congressmen is the same. Why? Because the letters consist of talking points handed out to congressional offices by the State Department. But the cards still matter.
The post cards are letting congressmen and Senators know that many voters are paying attention to the training and arming of Sunni Muslim fighters. As the cards mount up, votes will start to change on this issue. Sadly it takes time and persistence to get this done. Just as the call for Congress to treat Saudi Arabia like other human rights abusers in policy comes slowly.
There is another upside to the post card campaigns: We are educating hundreds of thousands of voters who have been just sitting back scratching their heads wondering what is going on in the Middle East, as they listen to the muddled messages from CNN, Fox News and the other major outlets. The major media never mentions that the Saudi royals are Sunni, much less that they have recruited the United States to do their dirty work for them in wiping the Shiites off the map.
So far we have mailed an average of 70,000 sets of the funding terror post cards per month for over a year to social conservatives like yourself! Not only are these social conservatives being told the truth, many for the first time, but they have been given an action step. Take note that I don't ask for those cards to be mailed back to my office so I can collect the names. Rather I ask those receiving the post cards to mail them directly to their congressman and Senators.
Thankfully about five percent (5%) of those mailing the post cards to their members of Congress are also sending funds to the Religious Freedom Coalition to help continue the program. To keep up this program we do need continued funding. The funds must be designated to the post card program. Funds donated to mission work is only used for that purpose.
You can make up your own post cards or even a short letter version to give to friends and relatives. Those associated with action oriented organizations such as the Tea Party could distribute them there as well. You can find the suggested text for cards or letters and instructions on obtaining the addresses of congressmen and Senators at www.TerrorPostCard.com.
Christian Orphans in Kurdistan: REDACTED FOR SECURITY REASONS
Iraqi Christian widows with children: REDACTED FOR SECURITY REASONS
Christmas for Refugees: Please don't forget about our Christmas program just because it is not Christmas time. If you are active on the Internet please let others know about our dedicated Internet site at www.Christmas4Refugees.org. We started with 1,000 children in 2013 and doubled that to 2,000 in 2014. This year we want to provide a real Christmas to 4,000 Christian refugee children and their families. Please help us get out the word!
William J. Murray, Chairman
Religious Freedom Coalition, 601 Pennsylvania Ave. NW #900, Washington, DC 20004 * (202) 742-8990
https://religiousfreedomcoalition.org/wp-content/uploads/2013/05/Nusra-Front.jpg
343
550
Air Spark
https://religiousfreedomcoalition.org/wp-content/uploads/2020/03/RFCFinal.jpg
Air Spark
2015-05-29 16:07:31
2019-08-13 19:48:41
Chairman's Report for May 29th, 2015