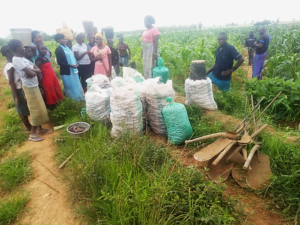 I cried tears of joy when I saw the photos – In just a matter of a few months what was just a hopeful idea has become an incredible reality!
Bag after bag of Irish potatoes have been harvested from the orphanage farm we sponsor. Every dime of the money was worth it!
Next, the corn crop will be mature and be harvested as well.
I am receiving email after email of thanks, along with photos of the farm as the children work on it to help provide their own food. The land was barren except for weeds when it was first leased in April. When I saw the photos of children picking out the weeds by hand, I prayed that their hopes for the land would produce results. The first results of their hard work have arrived.
I received the proposal from the orphanage director just four months ago to help them rent two hectares of land and obtain supplies for a small farm so the older children could plant and grow some of their own food. A lot can be grown on two hectares (five acres) in America using modern farming, but I was unsure of what could be done in that area of Africa. The proposed budget came to 2.5 million Naira, or $7,500 USD.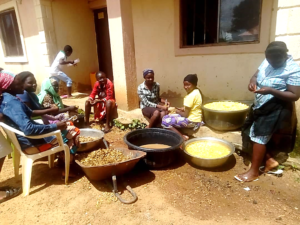 I prayed about participation in this brand-new program that was not in the ministry budget. There was no way to contact supporters in advance because the planting season for that area of Nigeria was at hand.
Even if the farm did not provide much, I thought, still it would help to teach the children self-responsibility as well as providing an opportunity to work together for a common goal.
One thing did really worry me.
I had visited several farms in the same area of Nigeria where the orphanage is located. All the farms I visited had been invaded by Muslim Fulani Herdsmen, and most of the farmers murdered. From day one I had a great fear that the small orphanage farm would be invaded, but the orphanage leaders were confident in the Lord's protection of the children.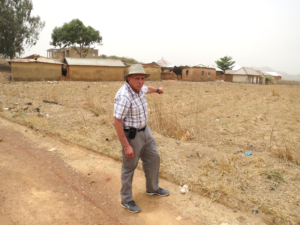 During the entire time of preparing the land, planting and now the harvest, I have prayed for the safety of the children and the success of the farm.
The orphanage kids, particularly those that are close to adulthood, have learned to provide for themselves and they will have the self-respect that comes with that success.
There is no way to gauge the real effect because the values that are learned will be passed on to their children and grandchildren.
The potatoes are in, but the rest of the crop is not. Please pray for a harvest from the crops of sweet potatoes, corn and soybeans. And above all, pray for the kids.
https://religiousfreedomcoalition.org/wp-content/uploads/2019/08/Potatoes-N11.png
810
1080
Claire Marlowe
https://religiousfreedomcoalition.org/wp-content/uploads/2020/03/RFCFinal.jpg
Claire Marlowe
2019-08-19 11:27:19
2019-08-19 13:49:17
First Crops Harvested at Nigerian Orphanage Farm